 Actress Shannon Elizabeth won't be eating turkey this Thanksgiving. She'll be saving them.
The "American Pie" star is the new 2012 spokesperson for Farm Sanctuary's Adopt A Turkey Project. The farm animal rescue organization hosts an annual project encouraging people to "adopt" a rescued bird in their New York and California shelters. Started over 25 years ago, Farm Sanctuary reports that their Adopt A Turkey Project has helped them to care for over 1,000 rescued turkeys.
Elizabeth, a vegetarian for over 12 years, fell fast in love with the animals on her visit to Farm Sanctuary last year. She was first greeted by "Turkey Lurkey," an affectionate bird who followed her through the farm, cuddling and playing like a domesticated pet.
"Too many people only consider cats and dogs when they think about loving animals," she told HuffPost. "They don't realize how every animal out there has feelings, has a heart and soul, has emotions. It only takes meeting them once to really feel that."
Elizabeth suggests that "this would be a different conversation if it was the olden days where we had to hunt these animals for food ... That's not what happens these days. The way these animals are treated, shot up with antibiotics and hormones, just to get really big, really fast, it's a whole different situation and it's not healthy for you."
This year, 254 million turkeys will be raised in the U.S. In 2011, HuffPost's Lynne Peeples reported that a large majority of turkeys in the U.S. are raised on factory farms, with most fed a diet that includes low doses of antibiotics. Experts warn that the common agricultural practice poses a large risk to public health.
Given the many alternatives now available, Elizabeth feels "there's absolutely no reason to contribute to the killing of these animals. We're not living like cavemen."
Come Thanksgiving Day, she looks forward to other traditional foods like potatoes (both sweet and mashed), green beans, and last but certainly not least, the desserts. "Who needs to kill an animal?" she said. "That's not a good tradition. I think it's time that we start setting new traditions."
Related
Before You Go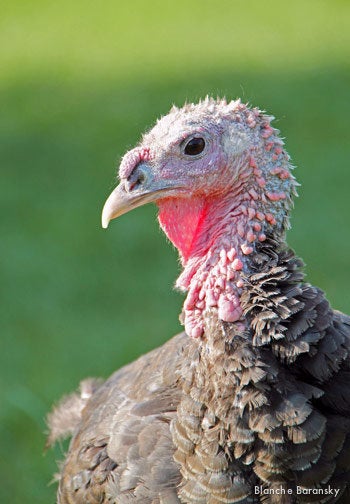 Farm Sanctuary's Turkeys
Popular in the Community