Last spring, Pat "PJ" Newton applied for a local business license to open a bar and cafe in Shannon, Miss., two hours away from her Memphis, Tenn., home.
A few weeks later, at the mayor's request, she attended a meeting at the Shannon town hall. As she arrived, she noticed the parking lot was full. Latecomers had parked on the street. Newton, 55, grew up near Shannon and ran a bar there back in the '90s. She'd been by the town hall many times. She had never seen so many cars parked there.
Inside, she was met by a contingent of 30 or so townspeople. The crowd was "stone-faced," she recalled. "There was not one smile or nice gesture from everyone in that whole room." A man in the back stood and held up a petition signed by nearly 200 residents. "We don't want another bar here in the town," Newton remembers him saying. The petition declared that the bar would offer "no benefits or enhancements to the citizens of the Town of Shannon." At the end of the meeting, the town's aldermen voted 4 to 1 to reject Newton's application.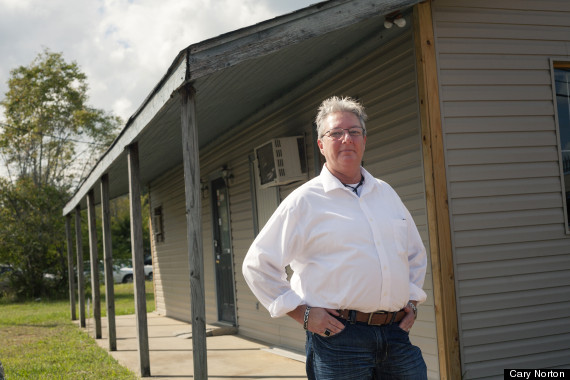 PJ Newton stands on the site in Shannon, Miss., where she hopes to open a gay bar.
Mississippi is the poorest state in America. Shannon, population 1,753, is not one of its more affluent towns. Newton figured that her old neighbors would welcome any new business, especially one that brought people there from surrounding areas. But at the June town hall meeting, none of the residents acknowledged her bar's potential economic benefits. Instead, residents made vague insinuations about Newton's morals. "The children will be influenced," one man said, according to the meeting minutes. One woman said her son practiced soccer in a nearby field. "I don't want my son playing soccer anywhere near the bar," she said, according to Newton.
No one asked whether the bar would serve gays and lesbians, but maybe they didn't need to. Newton is gay. Her former establishment, O'Hara's, which opened in Shannon in 1994, was a gay bar. So was Rumors, the bar that opened in the same location after O'Hara's closed in 1998. Rumors was the subject of a 2006 documentary called "Small Town Gay Bar." It closed in 2010. Now Newton wanted to reopen O'Hara's on the same spot.
Although some people at the town hall meeting said they simply didn't want another bar in town, no matter the sexual identity of its patrons, several residents who signed the petition presented that night confirmed to The Huffington Post that they did so because they knew the bar would cater to gays. One 80-year-old resident, Betty Scott, put it bluntly: "I'm anti-gay."
"I know that's not politically correct these days, but that's the way I feel," she said. "I'm a Christian and in the eyes of God it's an abomination."
For gay people living in small towns throughout the country, and especially in the South, it may come as no great surprise that a town like Shannon would reject a gay establishment. As the gay rights movement has cleared a path to equality for gay citizens in Democratic-leaning states and at the Supreme Court, towns across Mississippi have made news trying to restrict gay people from living openly. In 2009, a school in the southwest part of the state excluded a lesbian from her high school yearbook because she wore a tuxedo in her photo. In 2010, a school district in northern Mississippi canceled a high school prom after a female student demanded she be allowed to attend with her girlfriend and wear a tuxedo. And last year, a state-owned agriculture and forestry museum in Jackson refused a same-sex couple's request to hold a commitment ceremony on its grounds. In 2004, the same year that Massachusetts became the first state in the country to allow gay and lesbian couples to marry, 86 percent of Mississippi voters passed an amendment to the state constitution banning same-sex marriages.
Legal groups that support gay rights are increasingly focused on instances of discrimination in places like Shannon, where voters and legislators aren't expected to pass laws to protect their gay citizens. Last month, Newton and the Southern Poverty Law Center, a prominent civil rights organization, filed a lawsuit accusing the town and its current and former aldermen of unconstitutionally discriminating against gays. They accused the mayor of starting the petition and of conspiring with the aldermen and the townspeople to foil Newton's plans.
The town's lawyer declined to comment on the matter, and the six current and former aldermen named in the suit did not respond to repeated attempts to reach them for comment.
The day after the lawsuit was filed, Shannon Mayor Ronnie Hallmark sat behind his desk at the town hall with his arms crossed. Hallmark, who owns a furniture manufacturing company in town, first told this reporter that he was not aware of the lawsuit and then said he would not comment on pending litigation. "I don't know anything about the matter," he said. "And besides, it really wasn't up to me."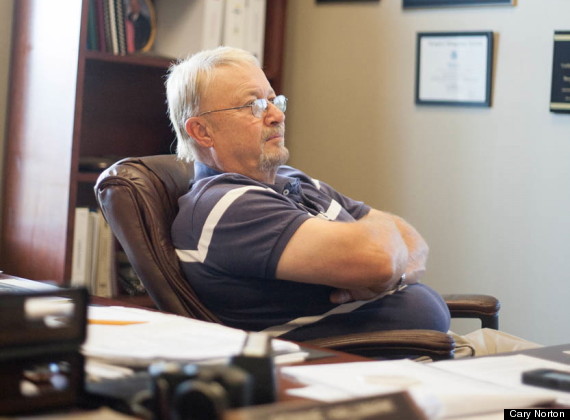 Shannon Mayor Ronnie Hallmark in his office last month.
Shannon's main commercial strip is a flat, lonely stretch of two-lane highway scattered with plain gray buildings. It has an auto body shop, a liquor store, a sports bar, a darkened fried chicken establishment, a produce stand, a grocery that sells loose cigarettes and a number of boarded up buildings and gas stations without pumps. Eleven miles down the road is Tupelo, a small city best known as the birthplace of Elvis. Between Shannon and Tupelo lies a sea of soybeans. On Shannon's website, a message attributed to the mayor pitches the town as a good place to start a business: "We have the potential for growth and are ready when something comes our way."
Newton opened O'Hara's when she was in her 30s. She didn't tell the town that the bar would serve gays. She named the place after Scarlett O'Hara, a fellow embattled businesswoman who famously responded to adversity by declaring, "As God is my witness they're not going to lick me."
Outside, the bar was drab and plain, like most of the other businesses in town. Inside was different. Newton and her friends covered one of the wood-paneled walls with framed black-and-white photographs of Clark Gable, Vivien Leigh, Marlene Deitrich and other icons of Hollywood's golden age. They built a small stage for the Saturday night drag show and put up a glittery gold curtain.
The bar was open three nights a week, and it was the only gay bar for 100 miles. People came from Tennessee and Alabama and all across Mississippi. They danced, watched comedians perform and ate barbecue in the back. Some customers, particularly those from around Shannon, would park down the road so passersby or police wouldn't see their cars in the lot.
But the bar never brought in much money, and in 1998 Newton decided to sell. She and her partner moved from Tupelo to Memphis, where Newton worked in marketing. Over the years, they ran a variety of businesses in Tennessee, including two other bars and a company that works with realtors to prepare houses for sale. Newton assumed her time in Shannon was behind her. But in 2010, when the owners of Rumors decided it was time to sell, too, they called Newton and asked her if she would consider buying the bar back.
At first she said no. She liked living in Memphis. She changed her mind only after hearing from dozens of former customers and old friends. "I said, 'Okay, if you really want it and you're going to come out and spend money, we'll do it,"' she recalled. She leased the building and poured thousands of dollars from her savings account into fixing it up, clearing the nearby lots that were filled with trash and old tires, replacing the deteriorating wood with new siding and getting the building up to code. To save money, she did most of the work herself.
Newton is tall, with spiky white hair. She wears cowboy boots and bolo ties. She's both confident and mild-mannered. "If I could just meet with every person in town and talk to them, I know they'd change their minds," she said.
The day after the lawsuit was filed, she held a party at a restaurant in Tupelo for old customers and friends. Her partner, a blonde in her 50s who asked not to be named, drove in from Memphis, where the two women still live. Newton made the rounds, reminiscing with old customers and handing out blue and melon-colored cocktails and bottles of beer.
Someone had ordered plates of fried pickles with ranch dressing -- a local speciality. Newton ate a pickle and drank something blue, before reflecting on the lawsuit. "I just go back to thinking about Stonewall," she said.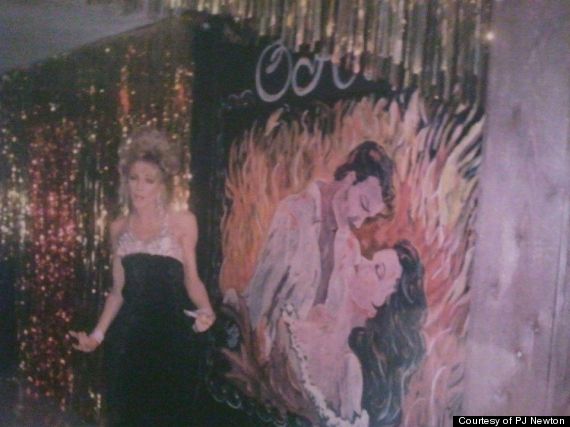 A typical night at O'Hara's when Newton ran the bar in the 1990s.
The modern gay rights movement began at a bar. In the early morning hours of June 28, 1969, police raided the Stonewall Inn, a Mafia-owned gay bar in New York City. The raid set off three days of rioting in the streets around the bar, with queer patrons hurling bottles and bricks at the the police. Within weeks, activists in New York had formed some of the country's first gay rights organizations.
At the time, homosexuality was a crime in every state but Illinois, and bars were among the only places where gays and lesbians could gather. Gay bars were to the gay rights movement as black churches were to civil rights, as one commentator observes in "Stonewall Uprising," a 2010 documentary about the riots.
The lawsuit against Shannon draws on that history, arguing that O'Hara's is more than a bar: Like the Stonewall Inn and Montgomery's Dexter Avenue Baptist Church before it, Newton's bar would be a sanctuary for politically marginalized individuals and a symbol of freedom and equality. It not only would make free speech possible for the people who gather there, but would itself be a form of free speech, the lawsuit contends. "In opening and maintaining the bar, Newton intends to convey a particularized message: it is okay to be openly gay, and LGBT people are due an equal and respected place in the community," the complaint reads.
David Dinielli, one of lawyers with the Southern Poverty Law Center who is working on Newton's case, believes that while this particular legal argument has a strong precedent, it is also breaking new ground. "There are a lot of LGBT people out there who have not yet received the benefits of all the headlines we see in the papers every day, and we're looking to find those people and make sure they do," he said.
Founded in the 1970s to "ensure that the promises of the civil rights movement became a reality for all," the SPLC has gone to court and won on behalf of black children who were not allowed to attend a YMCA summer camp, Vietnamese fishermen who were harassed by the Ku Klux Klan, and undocumented immigrants who were accosted and beaten by a volunteer organization that claims to protect the United States-Mexico border. In 2010, it established a legal team dedicated to LGBT issues, particulary in the Southeast, where few other advocacy groups operate.
Shannon's official website endorses "family values" and "protecting ... our cultures for future generations," phrases that are often used to convey anti-gay sentiment, the lawsuit notes. In this context, Newton's bar would carry a "particularly important expressive message," according to the lawsuit, and so by denying Newton the license, the town is violating Newton's right to free speech.
The town is also violating her right to equal protection under the law, the suit alleges. Since Rumors closed, Shannon has turned down three other proposals to open gay bars in the same location. But in 2010, the town approved a proposal to open a non-gay bar and grill in another part of town. The town clerk told one gay applicant that the "community would not tolerate an establishment that catered to the LGBT community," according to the lawsuit. The applicant then suggested a recreation center instead of a bar, but the clerk rejected that proposal, too.
The lawsuit cites several examples of the mayor and town aldermen allegedly conspiring to prevent Newton's bar from opening. Lucy Blair, a Shannon resident who is active in community affairs, told HuffPost that she overheard Alderman Joey McCord telling two women outside a town meeting that he welcomed the possibility of a lawsuit. "Hell, we know they're gonna sue us, but that's okay," Blair recalled McCord saying. "It will be tied up in court for two years and that's two years she won't be able to open."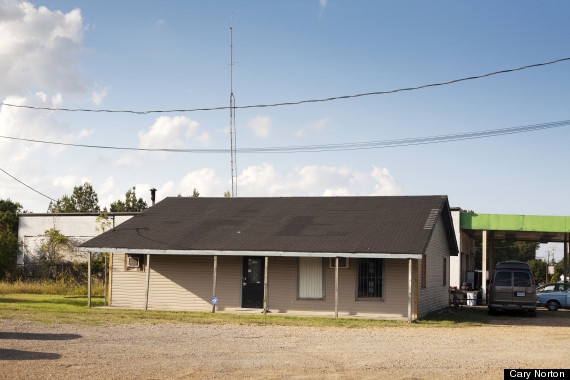 The nondescript building that once housed Rumors, and O'Hara's before it.
Along with an endorsement of family values, Shannon's website offers a somewhat poetic description of a town gone to seed: "At one time Shannon was known of having quite of few aspiring artists. At one time they were three cotton gins, corn elevator and a grain elevator in operation here. Coca Cola was bottled here in around 1915 and 1916. Sadly only remnants remain of what once was the bustling downtown."
Tom Lyles, the owner of the auto body shop next door to the one-story gray building where gays once gathered for drag shows, summed up the town's economic problems this way: "When I'm closed, they say the whole town is dead."
Lyles is black, with freckles across his nose and white hairs sprinkled in his goatee. He is 65 and has lived in Shannon his whole life, serving as a county constable for the last 12 years. He was angry about the town's decision to reject Newton's application, he said, but not because he condones homosexuality. "Two men, two women, I'm against it," he said. "But I can't stop it. The thing of it is, it's freedom of choice, freedom of speech. We're in America."
"They never bothered nobody, and they brought a lot of business to the town," he said of Newton's former customers. Striking a philosophical note, he continued, "We live in a society with all kinds of people, and we all got to meet our maker at the end of the day. I think everybody got their rights."
Outside the shop, a half dozen older black men sat on stools and in beat-up office armchairs. Some gathered there said they remembered when blacks in Mississippi were barred from entering white establishments. Lyles said he'd never turn away a gay customer. "This is a business," he said. He turned to a man sitting in one of the office chairs. "Who do we cater to?" he asked.
"All people," the man replied, laughing and nodding.
"Ain't that the truth," Lyles said.
There was a chorus of approval. But one of Lyles' associates, a black man in a baseball cap, wasn't laughing. "It's a disgrace and an abomination," he said, shaking his head disapprovingly. He wouldn't elaborate.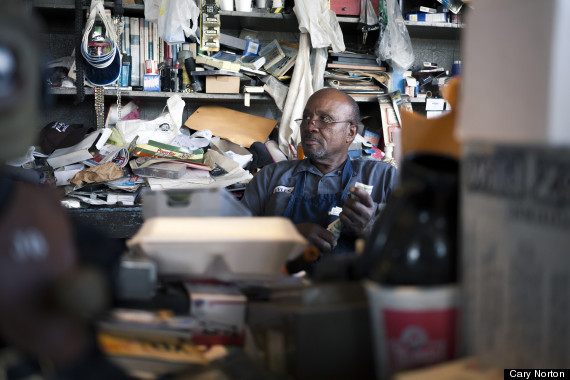 Tom Lyles welcomes new business in Shannon.
Of the two dozen Shannon residents interviewed for this story, most who condemned homosexuality declined to give their names. Among them was a 60-year-old woman who signed the petition against Newton. "I don't think we need any bars, but we sure don't need a gay and lesbian bar," she said. "That's for New York and places like that. Not for a little town."
Warming to her theme, she continued, "You'll never get Mississippi to go for same-sex marriage. That may be 200 years down the road, but I don't think it'll ever happen in Mississippi." Asked if she knew any gay people, she replied, "I have no one in my family who is gay, I don't. I might feel differently if I knew somebody, but I don't."
Ultimately, she couldn't comprehend why anyone would want to open a gay bar in Shannon. "I don't know why she's doing it," she said of Newton. "She could go to Tupelo and have a lot more people."
Newton did look into the possibility of opening a bar in Tupelo this spring, but she thought better of it. The city is home to the American Family Association, a prominent evangelical group dedicated to the preservation of "family values." The AFA runs a radio network of 200 stations in 39 states broadcasting Christian-oriented talk shows and regularly calls for boycotts of gay-friendly brands. Bryan Fischer, a radio personality and spokesman for the organization, once wrote a blog post in which he claimed that homosexuality "gave us Adolph Hitler ... the Brown Shirts, the Nazi war machine and 6 million dead Jews."
The group's history with the Southern Poverty Law Center goes back a ways. In 2010, the SPLC added the AFA to its list of active hate groups, a distinction shared by neo-Nazis and black separatists. Leaders of the AFA responded by calling the law center a hate group for oppressing Christian students and attempting to silence those who oppose homosexuality. The American Family Association did not respond to requests for comment about the Shannon case.
At the party in Tupelo the day the lawsuit was filed, Benson Hill, a 34-year-old gay man who grew up there and sits on the board of a local advocacy group called Equality Mississippi, said he remembered thinking about an AFA radio campaign the first time he went to Rumors eight years ago. The AFA had devoted a broadcast to the Folsom Street Fair, an annual street festival in San Francisco that celebrates all things kink, bondage, and leather. Hill had never been to a gay bar before, and he didn't know what to expect. Guys with whips?
"That's not what I was looking for," he said. "I was just looking for a place I could be myself. Be me, be safe. I'd not gone to the bar several times because of the image I had." Eventually, a friend talked him into going. "I was just so shocked and so pleased to find it was just a neighborhood bar."
This story appears in Issue 74 of our weekly iPad magazine, Huffington, available Friday, Nov. 8 in the iTunes App store.
Popular in the Community