Shantel VanSanten has never been accused of shooting the president.
But she's still had to do some fighting to get to where she is today, which is a starring role in USA's new action drama Shooter, premiering Tuesday at 10 p.m. ET.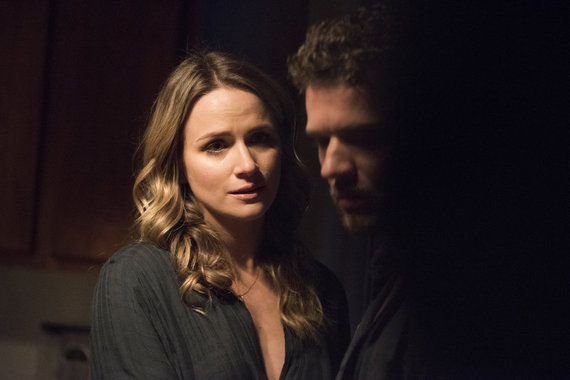 VanSanten plays Julie Swagger, wife of Bob Lee Swagger (Ryan Phillippe) (above). He's a retired Marine, and they're living quietly in the country with their young daughter Mary (Lexy Kolker).
An exciting night is when he brings home Indian takeout. Life is good.
Then a former colleague asks a favor. There have been reports a sniper may try to kill the president, so could Bob Lee scope out the site of a presidential visit and figure out where a sniper might lurk?
Sure, he says. Except when the sniper fires the shot anyway, Bob Lee becomes the prime suspect. After all, he was seen prowling around the site.
Suddenly life is not quiet any more for Bob Lee and Julie, who has to navigate a treacherous situation largely by instinct.
"She isn't as experienced in this as he is," says VanSanten. "But she's a fighter. She always has her wits about her. This is just a situation she couldn't have foreseen.
"Also, she knows her first job is protecting their daughter. She needs to shelter Mary, as much as possible."
Since Shooter is an action adventure, however, she can't just stay at home and play defense. There are moments of what VanSanten bemusedly calls "physicality."
"Fortunately, I work out," she says. "Although working out doesn't always prepare you for what you have to do here."
Nor, VanSanten adds, was she entirely prepared for where Shooter would go - though she says that's not a bad thing.
The series is based on Stephen Hunter's novel Point of Impact, which was previously adapted for a 2007 movie that starred Mark Wahlberg, who now is an executive producer of Shooter.
The TV show takes different tacks from the film, VanSanten notes, and not just because it has room for more detail and storylines.
"I was a fan of the movie," she says. "I love Mark Wahlberg. But the series is a different world than we saw in the movie. It's a modern-day take. It's not what I would have expected, but I love what it became.
"They say there are three versions of every show - the script, what you shoot and what comes out of the editing room. Here I was pleasantly surprised with the final results, and that's definitely not always the case."
While VanSanten is just 31, she's been around long enough to make that comparison. She fell into acting in college and has been doing it ever since.
"I had the traditional upbringing, where you go to college and get a 'real job'," she says. "I wanted to be an investigative journalist. I wanted to learn things and report on them."
She wrote a play and started acting "as an escape." She discovered she was good at it. At the same time she also landed gigs as a model, though she says that may sound more exotic than it was.
"I did catalog shots for J.C. Penney and Dillard's," she recalls. "It was good. It helped me pay for college."
The real left turn was staying with the acting.
"I never thought acting would be a career," she says. "Even now, I sometimes wonder, is this a real job?"
Her breakthrough came in 2009 when she landed the role of Quinn James for the last three seasons of the cult TV hit One Tree Hill.
The real struggle there, she says, came when One Tree Hill ended and she found herself in a spot familiar to a whole lot of young actors and actresses. They're known for playing someone young, and now they have to convince some producer to let them play a grownup.
"I'll be honest," says VanSanten. "It was not easy. I didn't work for a year and a half. I went on 97 auditions. Ninety-seven. I counted. I didn't get anything. I was going to do one more pilot season and quit.
"Then I got a role on a Fox show, Gang Related, and I'm so grateful for that. I played an adult and that got me in.
"So it wasn't smooth. I don't know if anything is smooth in our industry. But I'm a fighter. I keep telling my agent, 'Just get me in the door.' If it's something I believe I can do, I'll fight for it."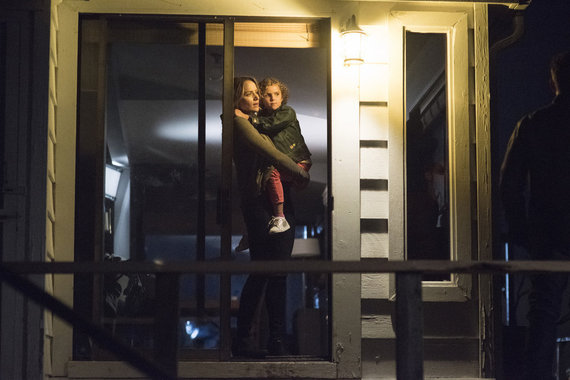 She adds that with Shooter, there was one other reason to like the show and the role.
"There are 22 million veterans in this country," she says. "My grandfather is a veteran. My uncles are veterans. I think we have a responsibility to tell their stories.
"To get ready for this role, I can't tell you how many blogs I read by military wives. I wanted to be sure I would be representing their stories. This isn't just a show about one person. It's about all the veterans and their families."
REAL LIFE. REAL NEWS. REAL VOICES.
Help us tell more of the stories that matter from voices that too often remain unheard.