Mteto Maphoyi (Mthetho Mapoyi), a kid from a small Xhosa township in South Africa's Western Cape and a subject of the 2011 documentary, The Creators, was recently given a Big Apple welcome. The film tells the stories of various artists who struggle with the affects of living in post apartheid South Africa.
As a child, Mteto played his Pavarotti CD one phrase at a time, sounding out the Italian lyrics to teach himself to sing "Santa Lucia" and "'O Sole Mio." Soon Mteto and his friends formed the Six Tenors, a group of six teenagers who sang opera on the streets to support their families in a shantytown with over 40% unemployment.
After his mother's death from HIV/AIDS:
Mteto fell into a pattern of crime... enduring multiple stabbings and a burning in gang wars and chance fights. Now a 22-year-old with a knife scar stretching the length of his cheek, Mteto has used opera to pull himself out of the cycle of gang life. He is now receiving formal training at South Africa's prestigious Black Tie Ensemble at the State Theatre, Pretoria.
Things began to change even more for Mteto after the New York City premier of The Creators in November. Cecilia Lewis, a photographer, who attended the screening and spoke with the filmmaker, Laura Gamse, decided to become Mteto's advocate and patron.
She brought his story to the attention of Jess Teutonico, the TEDx Teen curator at the We Are Family Foundation. Styled upon the popular TED Talks, TEDx Teen is an independently organized event where the focus is upon teens and their ability to change the world. With Lewis as his sponsor, Mteto was brought from South Africa to speak at the recent TEDx Teen conference held in New York City at the Scholastic (publisher) headquarters. There he inspired the 300 teens present and the 5000 who were viewing it online with his story of abandonment, violence and how music and opera changed his life.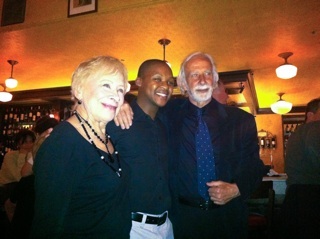 Word of Mteto's talent spread from SoHo to midtown Manhattan where Leopoldo Mucci, who the Wall Street Journal calls "the missionary of opera," runs a weekly opera salon. It is called Caffe Taci and is held at Papillon Bistro each Friday and Saturday evening. He invited the 22-year-old to come that evening to perform. And so he did where he was received with open arms. "Everyone loves him," exclaimed Mucci after Mteto's performance, marking his New York City "debut" as an opera singer. In the audience was Roy Innis, the National Chairman of CORE, who expressed an interest in Mteto's singing. Before his return to his studies in Pretoria and his dream of becoming a professional opera singer, his whirlwind visit ended with a behind the scenes tour of the Metropolitan Opera.
On April 14th the film The Creators will be featured as part of the New York African Film Festival at the Film Society of Lincoln Center with Laura Gamse, the filmmaker attending.

Popular in the Community