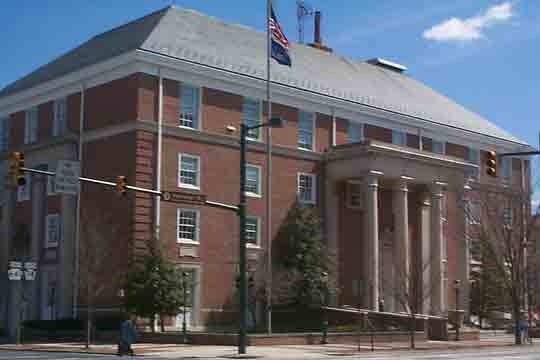 The new year starts in less than seven weeks. Wondering what amendment to your lifestyle you'll adopt to make 2018 a better year than this one? The Cumberland County Adult Probation Department has an opportunity for you to improve your community in a substantive way: become a mentor.
Most of the people locked up in the U.S. are non-violent offenders. The same holds true in Cumberland County, Pennsylvania.
Nearly half the convicts in the U.S. who are considered at high risk for reoffending wind up back in jail in the first year they're free. In fact, federal statistics say that by the end of five years, 75% will be back in jail for new offenses or parole violations.
One might assume that this too is the case in Cumberland County, Pennsylvania. But they'd be wrong. In fact, since the county launched the Cumberland County Adult Re-entry Program (CCARP) a little less than a year ago, not a single participant in the program has landed back in jail for a new crime.
Would you like to read that again?
Since the county launched CCARP a little less than a year ago, not a single participant in the program has landed back in jail for a new crime.
You might be thinking, "Wow, I bet we're saving a ton of money." And based on some pretty grim realities, you're probably right. After all, Pennsylvania pays more to incarcerate offenders than at least 35 others states pay. The Keystone state pours roughly $42 thousand dollars a year into the prison system for each and every inmate it holds. Suppose CCARP kept a dozen folks from going back to jail for just one year - well that math's easy - Cumberland County tax payers are looking at a half million dollars in savings.
So we know that eliminating or even reducing recidivism changes the bottom line for already over taxed municipalities and county budgets. But what does staying out of jail do for the inmate? How enormous, yet immeasurable are the gains when the weakest community members find the strength to stay out of jail, in their jobs and with their families?
CCARP director, Ashley Rohm, says it makes a big difference. To the offender and to the rest of the region. Rohm explains, "They're already part of our community. Hospitals, jails, schools, they're all part of our communities. If we can make sure the people that get out of them can thrive, then we're all better off for it." Rohm says that CCARP strengthens the core of the individual by putting a person into their lives that's just there to lend encouragement and bind up the holes in their personal safety net.
It's pretty simple to become a CCARP mentor too. Once you do a little soul searching and decide you'd like to give a few hours a week to someone desperate for a better life, CCARP takes it from there. Would-be mentors attend training sessions and only inmates interested in help are selected for the program. Pre-release, mentors are matched with folks who - for a variety of reasons - have a high likelihood of returning to jail but have volunteered to get help from an ordinary person who wants to make an extraordinary difference.
Hale is a Community Chaplain at First United Church of Christ. Rohm says that many of her volunteer mentors come from religious organizations, but certainly not all, "A certain character of people will do this. Most are social service providers: ex-lawyers, ex-community service." Rohm says nursing and medical professionals are good at it too. Rohm explains that the people who volunteer are, "People who want to help because they've always helped."
Hale echoes Rohm's call to the civic minded. Hale went through the training provided by the CCARP staff and felt well prepared to help inmates cleared for release that needed the sort of support lay persons can provide. Hale explained that everyday living can trip up a person trying to live outside a correctional facility. Hale spent time with her mentee assessing her needs - which could be something as elementary as setting up childcare, getting new identification, finding a ride to work, or looking for a job.
Hale is also there to guide the mentee toward better choices. She's ready to encourage good behavior around tough topics like substance abuse or staying away from bad relationships. Hale says she's not intimidated by the task. CCARP is supportive and available to her and she says, "We're just not driven by fear. We're aware." She also believes her training as a chaplain helps enormously, "We're trained to listen."
Rohm believes the payoff can be enormous. And while statistics don't lie and the lack of re-incarceration points to CCARP's initial success story, Hale says it's even more important to become a mentor than all that. She believes in people and the power to make a positive impact in their lives, "You could shape a life. You could change a life."
If you're considering making a big impact in your community - or just to get more information - send an email with your contact info to ccarprogram@gmail.com
Calling all HuffPost superfans!
Sign up for membership to become a founding member and help shape HuffPost's next chapter
This post was published on the now-closed HuffPost Contributor platform. Contributors control their own work and posted freely to our site. If you need to flag this entry as abusive,
send us an email
.