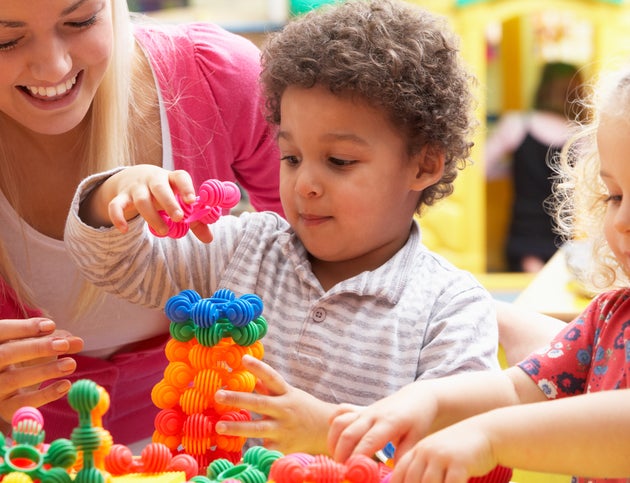 This year, our nation's headlines brought attention to a pattern that is growing all too familiar. Controversial police shootings. Public outcry over bias and disparate impact. Protests. Less widely reported, but no less troubling, were the results of a recent Yale study on the alarming rate of preschool suspensions among young black children.
Yes, you read that right. Our public Pre-K programs suspend roughly 8,000 4- and 5-year-old children each year. The study, conducted by psychology professor, Walter Gilliam, suggests that bias starts early – even among early childhood educators with the very best intentions. I was reminded of the Frederick Douglass quote, "It is easier to build strong children than to repair broken men."
The research is clear: High-quality early childhood education is the most cost-effective way to ensure the healthy development of children in poverty and offer the greatest returns to communities. Every dollar invested in high-quality early childhood education produces a 7 to 10 percent annual return on investment. But young children need to be in high quality programs in order to receive these benefits.
And the stakes are high. Roughly half (44%) of all under the age of 18 live in low income households—and nearly half (21%) of those children live in households with incomes below the federal poverty level. Children living in poverty are less likely to have the kinds of experiences that prepare them for academic learning and the social rigor of a school environment. And if they don't receive a high-quality early childhood education, they are 25% more likely to drop out of school, 40% more likely to become a teen parent, and 70% more likely to be arrested for a violent crime.
Sadly, public access to high quality early care and education is limited. Only about half of all school districts offer any early childhood programs at all, and half of those can only serve a limited number of children. Once enrolled, Pre-K children are three times more likely to be expelled than kids in K-12. And if you are a boy, if you come from a low socioeconomic household, or if you are a child of color, your odds of being suspended or expelled increase dramatically. Black preschoolers, according to Gilliam, are more than three times more likely to be suspended than their white peers. "Implicit biases," he suggests, "begin with black preschoolers and their teachers, if not earlier."
The challenge is daunting, but it also highlights the promise of high quality early childhood education – and central role of the teacher and child relationship. It is a relationship that can serve as a model for all children's future relationships—who they want to be, how to trust, how to love, how to be empathetic, how to be curious, confident, engaged learners. Early childhood educators, in turn, have the power to dramatically influence all of those things—and, ultimately, the type of grownups these children will become.
The good news is that we are learning how to facilitate those relationships at scale. We're seeing a growing appetite for high quality curriculum in early childhood programs—curriculum that fosters creativity, curiosity, and critical thinking in children and their teachers and can be individualized to the strengths, needs, and interests of each child. States and school districts are moving beyond a singular focus on academic skills like math and reading to practices that are strengths based – focused on what the child can do, rather than on what he or she can't do. In order to build strong relationships with children, teachers need to know them well. They need to observe and document each child's development, interests, areas for growth, and abilities. Not just label them with a misbehavior, but understand the need behind that behavior. When early childhood educators develop appropriate expectations for children's development, they can create pathways for children who may be falling behind widely held expectations for their age. This helps teachers see all children in a positive light. And once teachers understand who a child is within the context of all areas of development and learning, he or she is better able to care for and teach them.
We're also seeing investment in the power of relationships at the state level, where progress is being made to improve the quality of state funded Pre-K programs. According to their most recent report, six programs improved against The National Institute for Early Education Research Quality Standards Benchmarks checklist. Another six states (and one program in Louisiana) now meet all of the 10 benchmarks, including specialized training for teachers and ongoing professional development; early learning standards and at least a 1:10 teacher/child ratio. And the good news is that states that meet all 10 minimums for quality standards include some with the highest percentages of children in poverty (including AL, MS, LA, NC, and WV). Sadly, California, Texas, and Florida, which serve largest numbers of children in poverty, have some of the lowest quality standards in the nation. This means that access to quality preschool programs remains highly unequal.
Teacher-child relationships can be transformative. Early childhood education is powerful. Done well, it fosters teacher-child relationships that spark opportunity and put our most vulnerable students on the educational pathways they deserve. Because if we follow the wisdom of Frederick Douglass and embrace the idea that, "It is easier to build strong children than to repair broken men," then the success of early childhood educators extends well beyond the classroom -- and just might help to shape a more hopeful future for us all.
Calling all HuffPost superfans!
Sign up for membership to become a founding member and help shape HuffPost's next chapter
This post was published on the now-closed HuffPost Contributor platform. Contributors control their own work and posted freely to our site. If you need to flag this entry as abusive,
send us an email
.