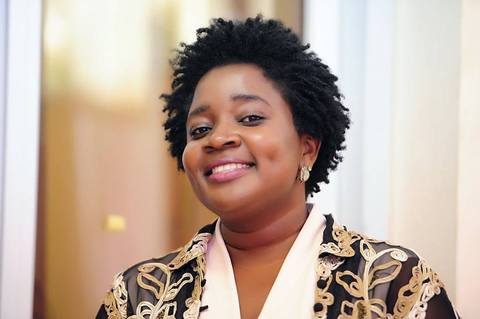 "Where is Africa rising to, when it is easier, 3 times cheaper, safer and less stressful to travel through Europe on a Nigerian passport than it is to travel through Africa?", Nigerian Author and Satirist, Elnathan John, asked this recently on Twitter, and as we discuss the Tourism sector in Africa in course of this interview, this same issue was raised by my guest, Rosalin.
Rosalin Abigail Kyere-Nartey is a Global Shaper and Curator of the World Economic Forum Global Shapers Community in Kumasi, Ghana. She is also a Vital Voice Lead Fellow, Green Growth Tourism Advocate, Hospitality and Tourism consultant and social entrepreneur with extensive experience in tourism and hospitality management, program development and disaster management.
Rosalin is a seasoned and successful leader with a track record of producing, presenting and managing the implementation of innovative hospitality and tourism business solutions and services. She has over five years experience in the hospitality and the tourism sector.
In course of this stroll we discuss the potential of tourism to transform the African continent as well as some work from the Kumasi Hub in Ghana.
You can either listen to this interview on The Stroll Podcast, or read the summarized transcript below
Working in the Tourism Sector
Rosalin: It all started when I was young, I have this passion of hosting people, and basically I love good things and I love to experience things. I don't know if you remember, back at the World Economic Forum on Africa when I was leading the panel, I was like, at the age of 15 when I couldn't read nor write, still I was curious to know everything around me. This grew my interest in hospitality, tourism and getting to know where the fine things surrounding us came from. I'm one of the people that can say, my vision and passion since childhood hasn't changed. I don't know what will make me divert from what I'm doing now or from the tourism sector, I can't say never, but for now I'm very very sure.
The Potential of Tourism to Transform Africa
Rosalin: People see tourism as luxury, and just that. Yes, luxury is part of tourism but there's travel for leisure and also for business purposes. The tourism sector is critical to the betterment of our lives. Africa has enormous potential, but most of it is untapped. If you see the tourism ranking now, you will be shocked to see where countries in Europe and Asia and the Americas are, and you'll ask yourself why aren't countries in Africa measuring up? And this comes to issue we've been discussing for a while now. If procuring a common Visa can be a struggle, then what more can I say?
We say we're a developing continent, but let's study what others are doing to get the right results. I'm not saying we should copy them because they have a different environment, but we also have our rich culture and our own potentials that we can brand, build upon, and market to the world to experience the dividends of tourism.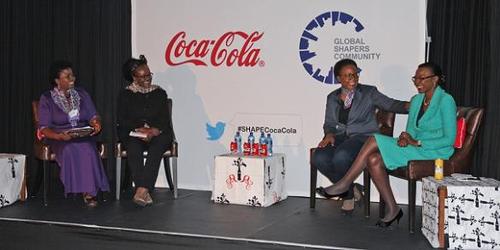 (Rosalin Abigail Kyere-Nartey, first from left, moderating the Cocacola Panel at the World Economic Forum on Africa 2015)
Travel Lessons: Trip to South Africa, Switzerland, and India
Rosalin: First of all let's take my trip to South Africa for instance, and I wouldn't use myself as an example because fortunately I am in Ghana and I'm able to access some of these embassies here but I know a fellow Global Shaper who travels all the way from Monrovia to Accra to be here for 5 full days just to acquire a visa to travel to another African country. And I know another Global Shaper from the Abuja hub who applied for like 3 weeks, and couldn't get the visa to travel to another African country.
This comes back to what I earlier addressed. Other countries are leaving us. But Africa what are we doing to also take the lead? These are questions you and I and others will have to sit down to start addressing because it is sad. Just talking about the visa issues on the continent is a whole lot, and I don't even know if we can conclude that in this interview.
Talking about visa in Europe, Geneva to be precise, it is very easy to get a visa to Geneva when you have all your documents in place. On getting there, everything is also in place from the airport services, to the taxi drivers, all the people within that tourism sector have great customer service skills which we lack back home in Africa.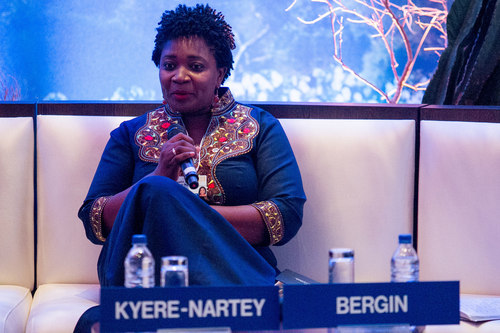 (Rosalin speaking at the panel on Tourism during the 25th Anniversary of the World Economic Forum on Africa)
Let's say you want to travel within Europe, I can buy a ticket and travel from Geneva to Barcelona for about 60 Euros, but coming back to Ghana I travel from Accra to Kumasi for 200 dollars. So ridiculous! And If I want to travel by road, which will take 4 hours, the road is not in good condition. And I'm sure this story repeats itself in so many other African countries. Often times when I travel, I ask myself do our leaders come here. And the answer is yes they do. Do they see all these things? Yes they do. Have they paid attention to it? Yes they have! So how then do we implement some of these great ideas they see abroad?
I also think that some of our tourism ministers do not even understand what tourism is about, and I'm pretty sure because if they do I think they will know how to push for basic policies that will put basic amenities in place so that the tourists who are coming all the way from Americas and the Caribbean will have a great experience and even want to come back another time.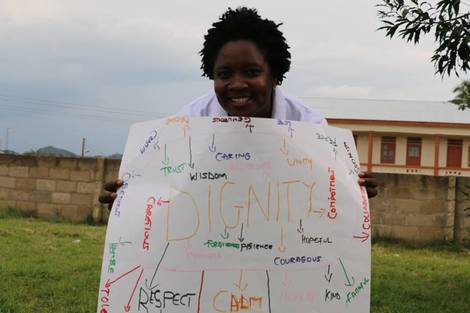 As Curator of the Global Shapers Hub in Kumasi
Rosalin: Last year we had our first Global Dignity Day in Kumasi Ghana and it was very successful. This year we engaged over 520 students to come together to debate what they think dignity means to them in a Ghanaian context. Some of them are going to write essays, some will perform poetry, and all that.
Aside that we have the turning trash to treasure project which won the Cocacola grant last year, and it's also on-going, and hopefully in December we'll bring it to an end, and we'll bring to the market all the products that they have been able to come up with.
We also have some amazing plans in the pipeline, and collaboration with some key institutions which I won't share for now, but with time you'll get to know about it.
How Youths can Change the African Continent
Rosalin: We can all make a difference. Just identify where your passion is and contribute in your own little way. Learn to set goals for yourself; measureable goals. Don't copy because Ebenezar does "The Stroll" so you want to do "The Stroll" too, it may not work for you, or Rosalin is into Tourism so you want to copy me, no. Just identify your interest because these days I see so many young people get involved with a lot of things but they are not passionate about it. So they go all the way and they lose steam along the way.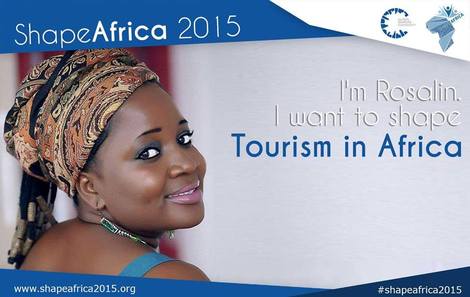 I also believe that we can make it in Africa. If you go back and research you'll find out that the brains behind some of the amazing things we celebrate in the world today are Africans. So we can make it here. We just have to set our goals, and my advice to our leaders also is that they have to give us the opportunity. In fact it's so difficult if you want to approach a leader here in Africa, especially in the Government sector, to support your dream or to support a project you're working on; it's so difficult to get access. So I want them to embrace us, and also see the potentials that are in us and support us. I think we'll go a long way.
_________________________
Food for the Soul: "The God who made the world and everything in it is the Lord of heaven and earth and does not live in temples built by human hands." (Acts 17:24, NIV)
(Images Credit: Rosalin Abigail Kyere-Nartey, Flickr.com/World Economic Forum Photos)
REAL LIFE. REAL NEWS. REAL VOICES.
Help us tell more of the stories that matter from voices that too often remain unheard.