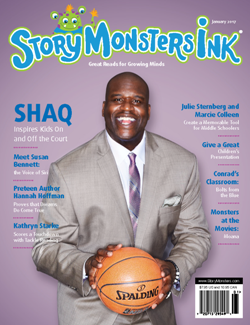 Shaquille "Shaq" O'Neal is larger than life in every sense of the word. A little over 7 feet tall and well over 300 pounds, the basketball superstar and recent inductee into the Naismith Basketball Hall of Fame has also found success in acting, music, and now writing. His Little Shaq series (Bloomsbury Publishing), with the most recent addition of Little Shaq: Star of the Week, has made a slam dunk in the field of children's literature. While a second career as a children's author might seem an unlikely choice for this basketball giant, Shaq explains that he turned to writing books for children in his retirement as a way to continue to champion two of his favorite topics. "I wanted a platform where I could reach young, independent readers," he says, "and combine reading with my love of basketball."
Shaq was born in Newark, New Jersey and spent his childhood there. Like so many other inner-city kids across the nation, he found refuge at the local Boys and Girls Clubs of America. "When I was growing up, the Boys and Girls Club of Newark became a safe haven for me," he explains. "It gave me a safe place to play and kept me out of trouble. I didn't even play on a team at the time, but I would sometimes just go there to shoot hoops."
As a kid on the basketball court, Shaq never imagined he would one day be the youngest man named to the list of the 50 Greatest Players in NBA History, a list compiled in 1996 to celebrate the NBA's 50th anniversary. He had his own idols. "Dr. J. was the man to me as I was growing up," he says. "I always aspired to be as dominant as him." In fact, Shaq considered pursuing a career in law enforcement. "I wanted to protect people and be a policeman," he says. However, over time, it became clear that the future held a different type of promise. "By the time I was 6 feet, 6 inches tall at age 13, I had a pretty good idea that I may be able to make it as a basketball player."
Shaq attended Louisiana State University where he studied business and played ball. A two-time All-American player, he was also named College Player of the Year by the Associated Press and the United Press International in 1991. When the NBA called, Shaq decided to leave LSU to pursue his dreams on the court. He would later earn a bachelor's degree, a master's degree in business administration, and a Ph.D. in dducation. "Education is extremely important," he says. "Unfortunately, the reality is that 0.01 percent of American children have the chance of becoming a professional athlete," he says. "On the other hand, 100 percent of American children have the chance to live productive and meaningful lives with the help of a strong education. That's why it is so important to me."
In 1992, Shaq was the first pick in the NBA Draft, selected by the Orlando Magic. "I will never forget the feeling," he says. "So much hard work had gone into that point, and I was relieved to have finally made my dream a reality." The Magic was the first of six teams Shaq would play for during his 19-year career. He was named Rookie of the Year for the 1992-1993 season. Shaq's first three NBA Championships, in 2000, 2001, and 2002, came after he signed with the Los Angeles Lakers. His fourth, in 2006, was during his time with the Miami Heat. Shaq later played with the Phoenix Suns, the Cleveland Cavaliers, and the Boston Celtics, retiring in 2011. He received numerous honors as an individual player, including being selected for the All-Star Game 15 times, winning three All-Star Game MVP awards, and being named to 14 All-NBA Teams.
Looking back, Shaq has numerous memories of his time on the court. "One of my all-time favorite memories is when I dunked so hard in my rookie year that I ended up pulling down the basketball hoop," he recalls. "As I ran back on defense and heard the cheers from the crowd, I looked behind me and saw the hoop hovering just above the ground! Man, that was funny!"
When Shaq announced his retirement in 2011, he didn't have specific plans for his life after basketball, but he had three tenets he was determined to adhere to for his future. "I wanted to remain active," he says. "I wanted to remain relevant. And I wanted to continue to work hard."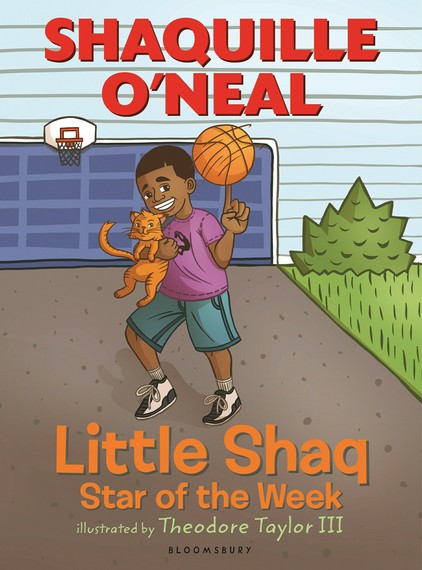 In 2015, Shaq released his first children's book, Little Shaq. Two more books followed: Little Shaq Takes a Chance and Little Shaq: Star of the Week, with Shaq promising that there will be more to come. The books are illustrated by Coretta Scott King/John Steptoe New Talent award-winner Theodore Taylor III. According to Shaq, some of the themes in the books are based on his own experiences as a little boy. They also promote the key values he espouses, such as family, education, and of course, sports.
In addition to writing, Shaq has filled his retirement with acting, music, and video games. He also continues to promote the Boys and Girls Clubs of America, making a significant donation towards building technology centers and working in collaboration with the organization and Microsoft to create an online safety program for children. When asked what's next, Shaq says, "Anything is possible, but one thing I can guarantee is that I will continue to work in the 'fun' business."
Shaq's success both on and off the court are undeniable, but it certainly wasn't inevitable. He's quick to point out that it took effort and determination to become one of basketball's greatest players. "When I first tried out, I didn't make the basketball team," he says. "I still believed in myself, and with the help of a lot of people, I came back and made the team and achieved several of my goals. Don't be afraid to dream big!"
Popular in the Community