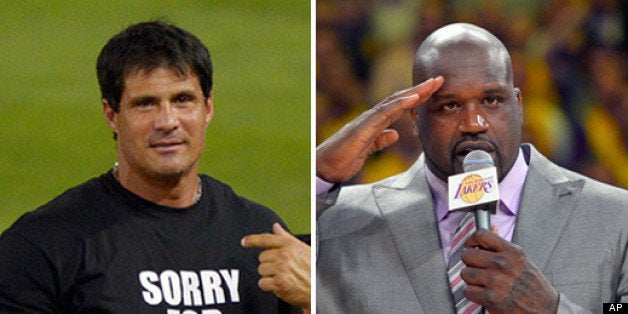 Didn't think that Mayweather-Guerrero fight was worth the pay-per-view price? Did you find the pre-fight trash talk lacking? If so, Jose Canseco has the bout for you -- and Shaq.
Not long after Mayweather defeated Guerrero in a unanimous decision on Saturday night, Canseco renewed his on-again-off-again Twitter feud with Shaquille O'Neal. Perhaps angered by the salty language, @Shaq fired back with a pair of withering tweets.
WARNING: Strong language below
The tension between the three-time NBA Finals MVP and the only member of MLB's 40/40 club to author a book alleging to detail the steroid use of himself and others (so far) has been building for some time. The source of the enmity involves a potential MMA bout between them. In one of the tweets above, Shaq is referencing Canseco's decisive defeat to Hong Man Choi of South Korea in his MMA debut. That 2009 fight lasted 75 seconds.
A day after the heated post-Mayweather exchange, Canseco was tweeting as if the epic bout had been agreed upon. True to the inimitable style of his account, the Sunday tweets from Canseco were all over the place, often combative but occasionally collegial. Best of all, there were photos.
Whether or not these two ever actually face off in person, this latest social media scuffle provides an ideal opportunity to revisit the bizarre, ongoing antagonism between Canseco and O'Neal. It seems to go back at least as far as November of 2011 when O'Neal asked UFC President Dana White to set up a bout between the pair.
Here are some of the previous tweets that led up to this historic exchange, with occasional explanatory notes.

While trash tweeting at Shaq, Canseco also found time to trade messages with @GioTraining. Take note: tangents occur frequently.
In his quest to fight O'Neal, Canseco tweeted at former heavyweight boxing champ Riddick Bowe, who was kind enough to respond.
Aside from discussing his would-be rival on Twitter, Canseco has also used his podcast to discuss Shaq.
But not all attempted interactions have been antagonistic. Canseco also has friendlier queries.
Thankfully, the apparent animosity has never gotten in the way during the holidays. Those are tough enough as it is. The same goes for birthdays.
At times, Canseco has seemingly just felt left out.
Some of those times, he has responded with anger, even threatening to call up a fellow 40/40 club member if he didn't get a response.
Although Canseco has been questing for this fight with an impressive focus, he isn't the only one talking it up.
Canseco has also revealed, perhaps accidentally, that his need to make this fight happen may have as much to do with his critics as with Shaq.
Either way, he's been doing the leg work.
The search has not been easy and Canseco has scoured news reports and enlisted the aid of his followers.
At times, Shaq has proved so elusive that Canseco wondered if he was even real.
Making the strained relations all the sadder is that once these two shared happier tweets.
Of course, this conflict has also produced moments of poetic poignance.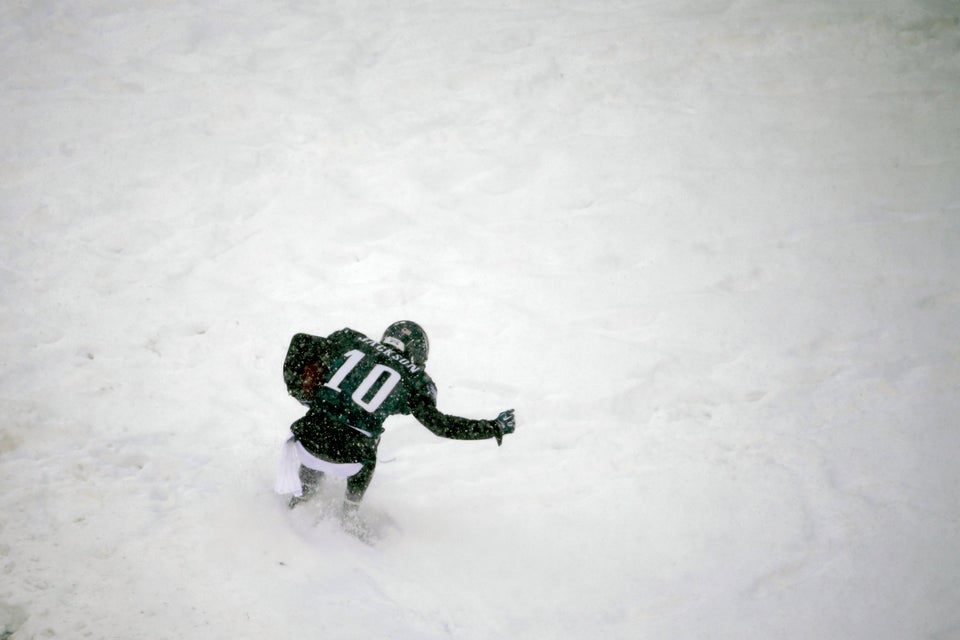 Best 2013 Sports Photos
Popular in the Community