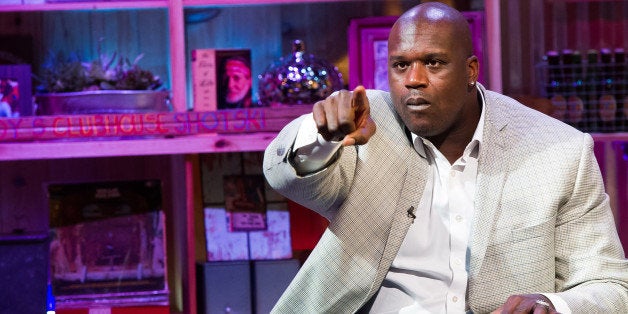 NEW YORK -- Just three years removed from his storied basketball career, Shaquille O'Neal is one of the most marketable retired athletes around. It's the four NBA championships he won, but it's also the big man's personality. As Shaq told HuffPost, "I don't take myself too seriously."
The Huffington Post caught up with Shaq during a visit to New York to promote his partnership with brokerage BTIG LLC for its annual Commissions for Charity Day. The former league MVP assessed the NBA playoffs, the growing legend of Gregg Popovich and the humor of comedian Kevin Hart.
What has happened to the Indiana Pacers, and how can they can turn it around?
Indiana, they have had nine lives already. In the first series [versus Atlanta], I don't want to use the word "got lucky," but they persevered and won that series. They have turned this series around against Washington. If they can close this series out, I think they will be ready for Miami, but I don't really think they're ready for Miami in the sense of going to the NBA Finals and winning a championship.
They're very, very fragile right now, and they can be knocked off their rocker. I mean, Roy [Hibbert]: 0 points, 0 points, 0 points, 28 points, 14 points. When you're on the road to a championship, you have to be majorly consistent, especially in your play from the big-man area.
You mentioned Roy Hibbert (pictured below). He was an All-Star this season and considered one of the game's premier centers. What happened to him?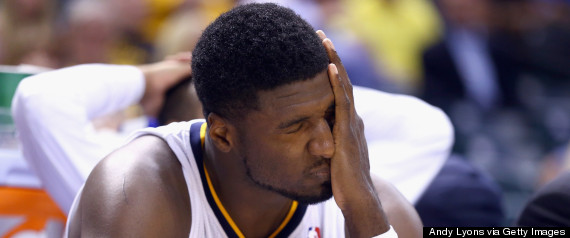 I wish I could answer what happened to Roy. [Game 4 against the Washington Wizards] was the first time I've seen him have a terrible first half, but then he had a better second half. You know he had 2 points the first half and ended up with 15 points in the second half, so hopefully he doesn't continue to be inconsistent, because in the Atlanta series he was inconsistent every game.
As a big man, when you are struggling, is there one definitive way to get back into the flow of things?
I really can't answer that question. I never struggled. And then my thing was, if I struggled in a game on Monday, Wednesday I got to come out gangbuster. A lot of times when you're playing, it ain't about scoring ... it's just about effort. You know you can't practice for getting a rebound, you can't practice for blocking a shot, so if you have a lot of effort and you're in the game and the crowd is in the game, everything else will flow.
The Western Conference, once again, seems to be all about the San Antonio Spurs. How do they match up against Miami?
They only lost by one shot [in Game 6 of the NBA Finals last year]. Kawhi Leonard missed two free throws [he actually missed just one] and they failed to get a rebound -- Ray Allen hit a shot in the corner. Let's just talk about if [Leonard] would have hit those shots, San Antonio would have won. So even though they lost to the Miami Heat, the Miami Heat didn't really beat them -- they beat themselves. So they're very confident against Miami and they just do everything right.
It's the consistency, right? Because he's done it for so long.
It's consistency and his ability to get guys that are not really NBA stars but make them play at a level to which they look and perform like stars.
What would be one thing you would change in the NBA today?
Game is at a good state right now. I would probably take away the flopping. I would probably allow them to have a little more contact because, you know, if you think about hockey, you know fans pay a lot of money to see it, and they want to see some tussle every now and then. I'm not saying let guys get into the Indiana- and Detroit-type brawl, but, you know, let them get into a pushing and shoving without fouling and throwing people out.
What did you think of the Kevin Hart video where he spoofed you and the rest of TNT's "Inside the NBA" gang?
It was hilarious, it was funny. People know that the Shaq brand is a brand 90 percent human. I don't take myself too seriously. A matter of fact, if you're sitting at your desk listening to this, write a joke about me. Tweet it to me @Shaq. I like to laugh.
Email me at jordan.schultz@huffingtonpost.com or ask me questions about anything sports-related at @Schultz_Report and follow me on Instagram @Schultz_Report. Also, be sure to catch my NBC Sports Radio show, "Kup and Schultz," which airs Sunday mornings from 9 to 12 ET, right here.
Calling all HuffPost superfans!
Sign up for membership to become a founding member and help shape HuffPost's next chapter