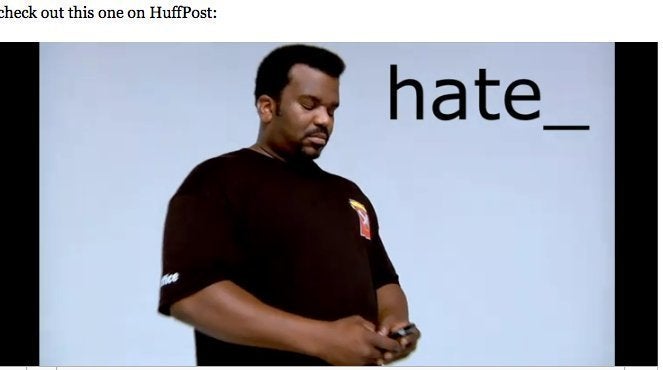 Plenty of people have told us about how young people feel this election cycle. We face a so-called "enthusiasm gap," the media says. We're the driving force that will make the difference, President Obama says. We're furious with the system and want change, Republican leaders say.
Well, let's speak for ourselves now.
With two weeks left until election day, Rock the Vote is teaming up with celebrities, media outlets and our street teams to launch "Vote Fearlessly," a get-out-the-vote campaign online, on air and on the ground ensuring that young Americans have all the information they need to turn out and cast a ballot on Nov. 2.
The national public service advertising campaign features dozens of actors and musicians from Joaquin Phoenix, Casey Affleck, Jesse Tyler Furgeson, and Kate Walsh to young stars Jesse McCartney and JoJo to hip-hop artists David Banner and Nick Cannon to comedians Dane Cook and Wayne Brady. Be the first to check out this one on HuffPost:
All our ads call on young people to stand up and fight for the ideas and values that they believe in, using our democracy as a tool for ongoing justice and social change, and to vote 'fearlessly' on Nov. 2. Additional supporters lending their voices to radio PSAs reminding young people of important deadlines, include Nas, Mike Posner, Pharrell Williams (NERD), Adrian Grenier, and Perez Hilton. Other stars opted to Tweet the Vote, like Faith Hill, Tim McGraw, Pink, Maroon 5 and OK Go The entire PSA campaign was created by and produced by the talented team at Jesse Dylan's Free Form Studio.
Rock the Vote has already surpassed our goal of registering 200,000 people in 2010, logging more than 250,000 registration downloads with just over two weeks left until election day. These registration efforts lay the groundwork for the possibility that 2010 can become the fourth election in a row where young voters have increased their turnout at the polls. In 2006, young voter turnout was 25 percent, an increase by 3 percentage points over the 2002 midterm election. Now we need to get out the vote!
On the ground, Rock the Vote street teams are mobilizing get out the vote efforts across the country from Colorado to Pennsylvania ensuring that every eligible young voter is able to cast a ballot. A key component of our get out the vote efforts is a Trick or Vote canvas planned in youth-dense, major cities around the country. Costumed students who participate in canvassing to encourage their peers to vote will celebrate their outreach with performances by exciting bands, such as Passion Pit at the University of North Carolina in Raleigh on Oct. 29 and OK Go at Ohio State on Oct. 31. More details on our Trick or Vote events can be found here.
Finally, we will provide information on where to go, what to bring and what times the polls are open through Rock the Vote's interactive election center - Electionland - at www.electionland.com and a hotline, 1-866-OUR-VOTE, to help with all of the potential problems they may face at the polls on Election Day. This one-stop shop will help ensure that all eligible voters will have the information they need to cast a ballot.
On Election Day, Rock the Vote's website will have up-to-the-minute statistics on youth turnout at youth-dense precincts as well as stories, photos and video footage from local activity in key states across the country.
We're working to ensure that the real issues young people care about are being addressed this election cycle, and as registration deadlines pass across the country, and now we need young people to join us in our efforts! Help us make history once again by pledging to Vote Fearlessly on Nov. 2. Together with these bold stars and passionate volunteers, let's build upon the momentum we've seen over the last several election cycles, and show the media, the pundits, the politicians that we do speak for ourselves.

Popular in the Community