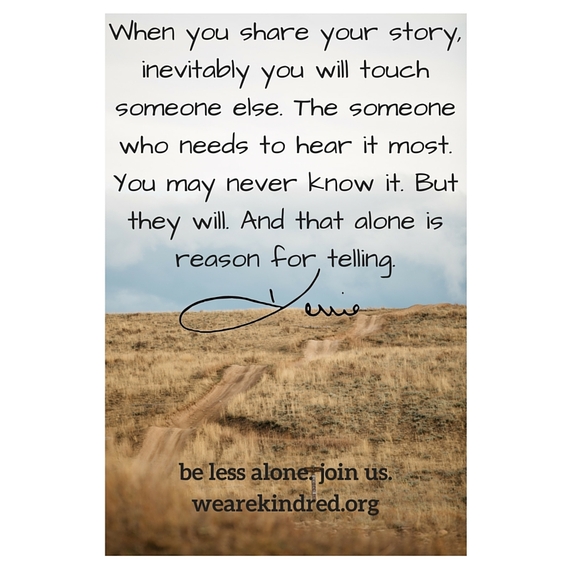 When I was going through the most challenging times in my life, I wanted nothing more than to read something -- anything -- from someone who had been there before me and had come out the other side in one piece.
And then there were the times when I felt totally isolated; when what I was going through was so immensely private I dared not tell anybody out of embarrassment or shame or both. Surely someone has been through this before me, I would think to myself. I'm not the first. I'm not the only one.
In fact it was often in reading someone else's story that I would summon the courage to tell mine. Like Beverly Johnson's story about Bill Cosby in Vanity Fair. Because of it I faced my own truth of molestation at the hands of my baby sitter and hit "publish" before fear got the best of me. Letter to My 12-Year-Old Self (That Took Me Four Decades to Write). She inspired me and I believed and hoped that someone else might be inspired by my story too; or at least feel a little less alone.
"I think I fall in love with anyone who shows me their soul. This world is so guarded and fearful. I appreciate rawness so much." ~ Emery Allen
This is why I write. This is why I started kindred. It's what makes me feel human and vulnerable and honest. While I continue to find and write my anthologies of true stories there are plenty of amazing resources when you need to feel inspired or a little less alone. All of these organizations exist to make us feel more connected. To wake us up to feeling instead of merely scrolling. In short, to make us all feel more human.
Share your truth. You never know who else may need to hear it.
By Kerrie L. Cooper
___________________________________________________
Does someone you know need these words today?
____________________________________________________
Related