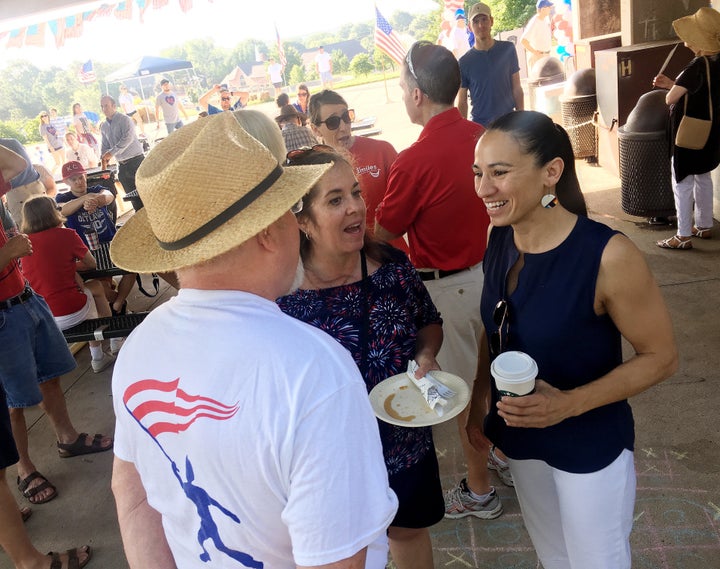 Sharice Davids, a former MMA fighter and White House fellow, won the Democratic nomination in Kansas' 3rd Congressional District in Tuesday's primary, setting up a November matchup with GOP Rep. Kevin Yoder in a swing district.
Davids has a chance at becoming one of the first ever Native American women to serve in Congress, alongside Deb Haaland, who won the primary in New Mexico's 1st District earlier this year and is almost assured a victory in November. Davids would also become one of the only openly lesbian members of Congress.
She defeated progressive labor lawyer Brent Welder, who had the backing of Vermont Sen. Bernie Sanders, and history teacher Tom Niermann, a relative moderate with the backing of local elected officials, to win the primary.
She'll now face Yoder, who is running for a fifth term. The 3rd District, which includes Kansas City, Kansas, and the wealthy suburb of Johnson County, is wealthy and highly-educated. Voters there have swung away from Republicans – and especially President Donald Trump – in recent years.
Davids' victory comes with the backing of EMILY's List, which spent hundreds of thousands of dollars on television ads backing her. The group, which helps elect female Democrats who support abortion rights, was drawn to her astonishing resume: The daughter of a single mom, she worked her way from community college to Cornell Law School to a White House fellowship while also mastering martial arts and competing in two professional MMA fights.
"She's fierce, she's progressive, she's a fighter," a female narrator said in an EMILY's List ad backing Davids.
Democrats were confident any of three major candidates in the district could defeat Yoder. Trump is deeply unpopular there, with an approval rating in the mid-30 percent range.
Trump endorsed Yoder's re-election bid earlier last month, praising his work to increase funding for border security.
Popular in the Community