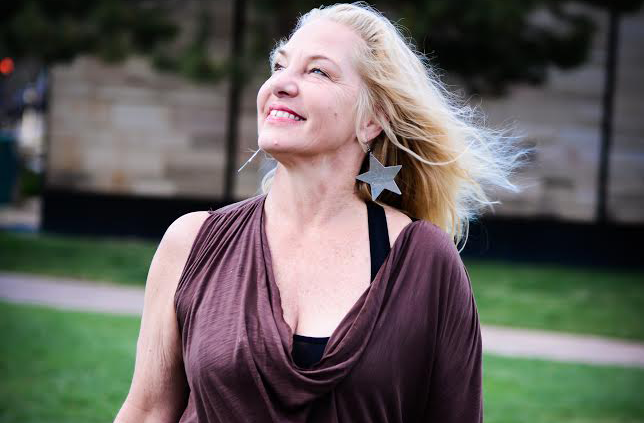 This is an interview with Christine Moore, who attended her first yoga teacher training while her son was serving a second tour with the United States Navy in Afghanistan in 2009. She was inspired during that time to teach yoga to veterans, and did so for a few years at the Denver VA hospital. She now teaches yoga to inmates at the county jail in Boulder CO, and adaptive yoga to people with disabilities at Imagine Santa Fe House, a group home. (Her first love being dance, she developed a class she calls "Shimmy~Asana," where the two ancient arts of belly dance and yoga meet.)
Rob: What originally motivated you to do this work, and what continues to motivate you?
My motivation to teach veterans came from my desire to grasp what I might be faced with on my son's return from his tour in Afghanistan. I drove 45 minutes each way to volunteer for an hour, and it was the highlight of my week. I left feeling lifted and inspired by students who made the effort to make it to the mat with challenges too difficult for most of us to conceive. Their passion ignited my own. I never dreamed how deeply the veterans would inspire me and motivate me to continue to learn more about yoga, adaptive yoga, and to dive deep into learning more about myself.
What keeps me motivated is the persistent reminder of how each of us, with all our differences, are really so alike in our shared humanity. I learn every time I'm with my students, not only about yoga, but about life. And I'm motivated by the constant awareness of how fortunate I am to be in the body I inhabit.
What is the most rewarding aspect of your teaching experience?
One of my students, who is in her 40s, has Down Syndrome. She has very little use of her arm and an arthritic hand. I watch her hands unfold as she slowly brings them into Namaste. It doesn't matter how long it takes to get there; the persistence and determination warms my heart. After much effort, the smile that breaks across her face when her palms touch is priceless.
If I can facilitate a person's inner ability to have this take place, I feel rewarded and honored to witness this. If I were to describe to you the colors of a sunset, it would never be the same as seeing it with your own eyes. Sharing my yoga in this way is like that, witnessing true beauty. These beautiful people teach me to cherish and be resilient; there is little that is as gratifying as that is to me.
What are some of the things your students have taught you?
One of my students left me with a challenge to question my motivation. She was uncomfortable in her body, and the staff at Imagine told me that she had been screaming nonstop for weeks. She seemed frightened in her wheelchair with her feet dangling in space, unable to stop the world from spinning around her. It resonated with me that this client's proprioception was challenged. I sat across from her at eye level and grounded her feet by placing them on blocks. I looked in her eyes and gently held her knees. After a few moments she stopped screaming.
One day when I came to teach I was told she had died during the week. My grief unnerved me. I thought that I should be happy for her that she was released from a body in such pain. She had only ever shared two words with me, "yes and no," and yet our connection felt deep and genuine. I spent several weeks examining myself, and learned a great deal about my ego, my judgments, and even my frailty in this human body.
In what ways do you think yoga addresses some of the societal factors at play in working with people with disabilities?
In response to this work I've had people say, "How does that work, how can you teach yoga to someone in a wheelchair?" I ask that same person how they find Tadasana (standing mountain pose) in their own body when they are sitting. The sensation is the same. This creates a feeling of connection rather than separateness, as it reveals our similarities and unravels what we see as division. The more people see the abilities in others, the fewer barriers there are between us all. Social misconceptions break down and we all gain from these stories. The practitioners build greater confidence and better ability to participate within society. My hope is that this allows others to see people with disabilities in a new light.
What, in your mind, is the relationship between a practice of mindfulness and greater social change?
Mindfulness helps to stimulate the prefrontal cortex (PFC), allowing us to regulate our behavior rather than responding with our primitive and reactive fight-or-flight reaction. If we can respond to others in a mindful way, we may be able to recognize the commonality between us and "the Other," enhancing our ability to accept differences. This perception of difference was crucial to our survival in primitive times. Mindfulness enhances our ability to slow down and notice that we are safe. Empowering ourselves this way can create a huge transition in consciousness and enable social change.
What advice would you give to someone who is going to teach people with disabilities? What would be the most important thing for them to carry?
Expect that everything will be different from what you imagine. Be comfortable with critical thinking. Be compassionate and patient with others, but first with yourself. Things move very slowly, so results of any kind might be subtle or unnoticeable. Have a tool box of yoga skills to dive into at any moment with confidence.
Attend workshops to learn specific techniques for adaptive yoga and trauma. Matthew Sanford's book Waking: A Memoir of Trauma and Transcendence is a must-read for anyone considering this work. His teachings have been a huge inspiration for me.
We are never fully healed, yet our work supporting others comes from having processed the things that drive us to do the work. It is possible to transform judgment, fear, and loss into compassion and the enthusiasm to be present with others.
What are some of your ideas about, or hopes for, the future of service yoga in America in the next 10 years?
I hope to see yoga become more available to children and youth, and to those who do not have the financial means to easily access yoga. I hope that within the next decade it will become a required and regular practice for healing.
I have a friend who walked into her daughter's 3rd grade class of 75 children and they were having their daily quiet meditation practice. Imagine 75 children sitting in silence. Those children's lives and relationships will be transformed by this simple practice. The transformation has a ripple effect that can help dissipate hatred and fear. I want that for everyone! The outcome would benefit us all.
We are living in tumultuous times, and my biggest hope is that yoga will help us re-vision our relationships with self and with others.
Are you a yoga instructor giving back to underserved populations? E-mail Executive Director Rob Schware if you're interested in being interviewed for this series. And thanks for all that you do in the name of service!
Popular in the Community