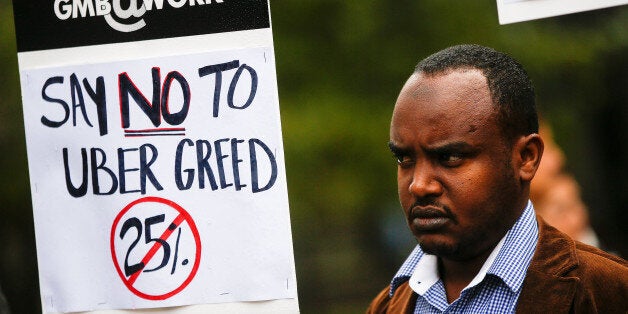 The advantage for a business of using such non-regular workers is obvious: It can lower labor costs dramatically, often by
, since it is not responsible for health benefits, social security, unemployment or injured workers' compensation, paid sick or vacation leave and more. Contract workers, who are barred from forming unions and have no grievance procedure, can be dismissed without notice. A small percentage of contract workers earn high enough wages to make it all work. But most contractors are just grunts down on "Shaggy's Farm."
But increasingly it's clear that this huge increase in convenience comes with a price, both environmentally and labor-wise. The reason Uber and Lyft drivers arrive so rapidly is because these companies have flooded the streets with cars. In city after city, from New York to San Francisco to Seattle, already-thick traffic has gotten even more congested.
In New York, transportation analyst Charles Komanoff
Uber's own numbers and concluded that Uber-caused congestion has reduced traffic speeds in downtown Manhattan by around 8 percent. Incredibly, there are now far
ride-sharing cars operating in New York City than there are yellow taxis. Uber cars and those of its ride-sharing competitor Lyft also now vastly
taxis in several American
. Uber and Lyft have put an estimated 15,000 autos on the streets in San Francisco; Ed Reiskin, director of transportation for the Municipal Transportation Agency in San Francisco,
: "They're all contributing to the increased traffic."
Ride-sharing defenders respond that increased congestion is being caused by an improving economy; undoubtedly there's some truth to that. But I've lived in San Francisco for 20 years, and I've seen the city streets in both good times and bad. The number of cars -- and increasingly desperate drivers -- choking in traffic has never been so in your face. Urban cores cannot simply add thousands of additional cars to already crowded streets and not expect rather dramatic knock-on effects.
Welcome to "Shaggy's Farm." That's why, according to Uber's
, most drivers work only part-time and about half leave within a year. New drivers like the flexibility, but after a while they burn out, with frequent
and unfair treatment (in early January, Uber
wages once again, this time by 30 percent to about 50 cents per mile, less than the $0.54 reimbursement rate set by the government for wear and tear on a vehicle -- many drivers aren't even earning enough to reimburse their vehicle's depreciation). If driving for Uber was such a great job and paid halfway decently, wouldn't more drivers last longer and drive more hours? Not surprisingly, many Uber drivers have called for forming a union, and recently pioneering legislation was
in Seattle to allow NGOs to organize these drivers.
"Shaggy's Farm" is increasingly relying on these types of business operations as a core part of its model to maximize profits. It's a big contributor to the ongoing race to the bottom. But fortunately there are solutions. One
that I and others have proposed is creating a "portable safety net." Each worker should be assigned an "individual security account" into which every business that hires that worker would pay a small "safety net fee," prorated to the number of hours a worker is employed by that business. Those funds would be used to pay for each worker's safety net.
We don't have to wait for a dysfunctional U.S. Congress to pass this "new new deal." State governments and even city councils in the worst-hit cities could pass this, requiring its businesses to pay into individual security accounts for each worker. This would be a major step (out of the many needed) towards forging a new kind of deal, one in which most workers would be enriched by technology and innovation, instead of being disrupted and impoverished by this "share-the-crumbs" economy down on "Shaggy's Farm."
Related
Popular in the Community