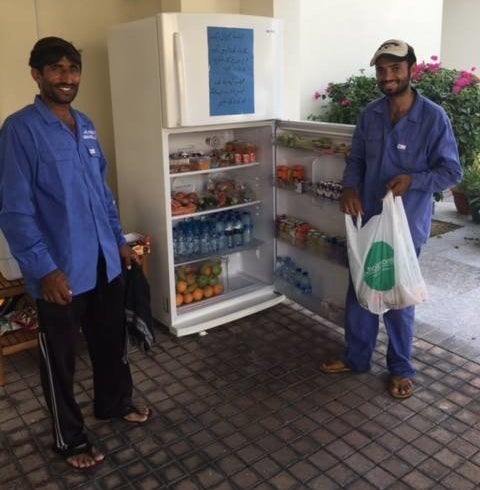 Residents of Dubai, United Arab Emirates are coming together to set up and stock so-called sharing fridges across the city to make food and drinks available to the poor and hungry during the holy month of Ramadan — when Muslims fast during daylight hours.
Sumayyah Sayed, a 29-year-old Australian woman living in Dubai, launched the project in early June, during the first week of Ramadan. Her idea was to place refrigerators in easily accessible locations — such as on porches or in garages — and stock them with food and beverages that workers observing Ramadan can use to break their fast.
"Seeing people work hard in the heat outside, some of them while fasting, made me want to do something -- no matter how small," Sayed told HuffPost Arabi.
The fridges seek to serve gardeners, security guards and construction workers, many of whom work outdoors in temperatures exceeding 100 degrees Fahrenheit.
"Everyone who works in our communities is welcome to it," Sayed said.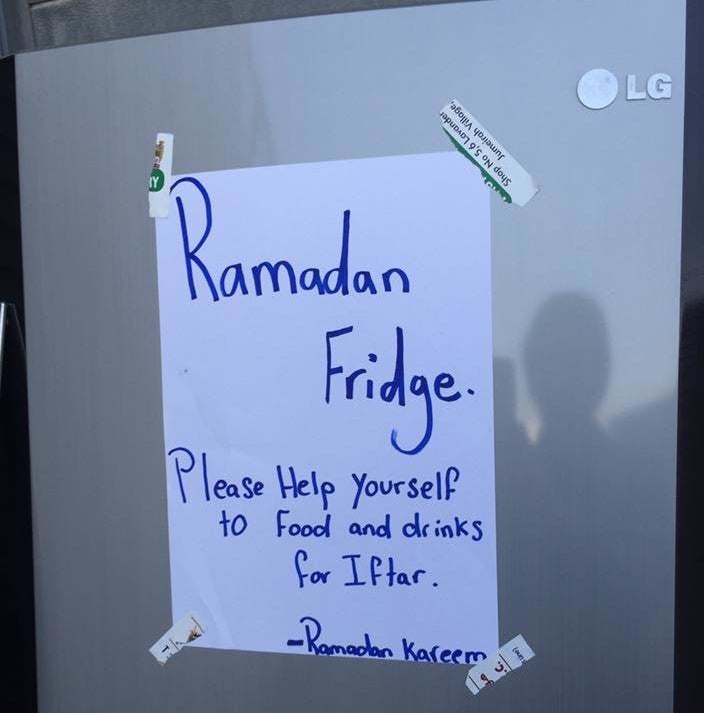 The map that organizers have built to plot the growing number of sharing fridges indicates that the project has spread to other emirates, including Sharjah and Abu Dhabi. There are about 50 fridges in Dubai, and about 70 around the UAE. 
There are approximately 5 million low-paid migrant workers in the UAE, most of whom are South Asian, live in appalling conditions, and are subjected to rights violations. 
When the workers arrive at the fridge and they take what they like, the smile on their faces feels like a million dollars.

Sumayyah Sayed
Inspired by Fikra Yel, another Dubai resident who has had a fridge set up outside her house for about three years, Sayed started a Sharing Fridges Facebook page to mobilize people around project. It had attracted nearly 15,000 members as of Thursday afternoon. 
Among them is Ahmed Abulhassan, a 27-year-old Egyptian man living in Dubai. He told The WorldPost that he drove to one of the fridges and found it "beautifully stocked today with fruit yogurts, milk bottles, individually portioned fruit and vegetable packets and cold water."
The most popular items donated have been fruits, vegetables, milk products and drinks, according to the project's Facebook page. Many families have also dropped off hot meals, Sayed said.
"When the workers arrive at the fridge and they take what they like, the smile on their faces feels like a million dollars," she said.
The community has responded enthusiastically to the initiative, Sayed said.
"The group has been amazing in that they'll pinpoint an area and chip in to buy a fridge and set it up," she said. "It's a very cohesive community spirit, and that's what Ramadan is all about."
"I think it's a really good-hearted and necessary initiative. And it comes from the unfortunate fact that people overproduce and overpurchase food during Ramadan," Abulhassan said. "But in reality, what they should do is keep this running all year."
Organizers are currently discussing extending this project beyond Ramadan, at least for the remaining summer months, Sayed said. 
Mona Moussly contributed to this report. 
Calling all HuffPost superfans!
Sign up for membership to become a founding member and help shape HuffPost's next chapter