Grieving can be an isolating and confusing journey. Sometimes seeing other people grieve and sharing experiences with them can be just the thing we need to clarify our own feelings.
I met my friend Patty at a support group for people who have lost loved ones to suicide. Her fiancé, Frank, took his own life about six months before my mom.
I bonded quickly with Patty and Shannon, another woman who entered the group around the same time as us. Week after week we gathered and shared our grief in a tiny room at the end of a hallway in a hospital.
I watched Patty and Shannon start to look better and wondered if I, too, was starting to look healthier. I heard their thoughts become less scattered and more peaceful and wondered if that was possible for me, too.
As the second anniversary of Frank's death approached Patty asked Shannon and I to go with her to Big Bear, California. It was in Big Bear that Frank had ended his life, but it was also a place where she had many happy memories with Frank.
We sat with her alongside a path lined with trees as she searched for a little bit of peace near the place where Frank had died. I felt honored that Patty trusted Shannon and I enough to share this day with her. In the car home we laughed a lot and cried a little.
I realized that Patty and Shannon were like grief barometers for me. Maybe it was silly to wonder if I was grieving correctly, but I did. Had I cried enough? Had I moved on too quickly? Too slowly? Was sharing my mom and I's story the right thing to do or was it some desperate attempt to keep her memory close?
Of course our grieving processes weren't the same. Patty and Shannon had lost their fiancés and I had lost my mother. Each grief process is as different as the person doing the grieving, but watching them reassured me that the three of us were making progress. Being with them helped me realize that, even though I would never get over the pain of losing my mom, I could journey through it.
Not long after that trip to Big Bear I founded Hope After Project, an initiative where I build community service experiences in memory of people who have died. As I began the program Patty and Shannon supported by listening to my ideas, encouraging me and volunteering their time.
When Patty asked me to build a Hope After Project for Frank on the third anniversary of his death I said yes without hesitation. Here's the video from the inspirational day.
As I built Frank's Hope After Project I kept thinking about our trip to Big Bear the year before. Patty wanted her Hope After Project to focus on helping kids or doing something in nature because Frank loved spending time with his family outdoors. I found myself thinking about our trip to Big Bear over and over. I kept thinking about the trees.
After some searching I found an incredible organization called The Tree Musketeers. At The Tree Musketeers they plant trees to combat pollution in Los Angeles and to teach kids about nature. It was the perfect fit.
It was an honor to spend the day at The Tree Musketeers remembering Frank's life with Patty, Shannon, Frank's children, his family and our Hope After Project volunteers. We were surrounded by trees.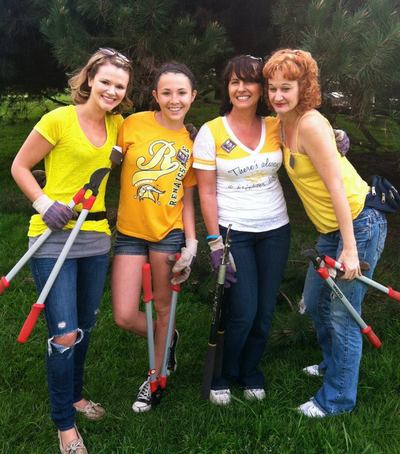 It was a different experience from our day remembering Frank in Big Bear. Both experiences were powerful and crucial to Patty's healing process. This year we found ourselves using our bodies to prune trees and to haul away branches. Just like our trip to Big Bear we laughed a lot and cried a little.
We laughed as we tried to cut through branches that were too thick for our tools. Patty and the rest of Frank's family told stories about Frank. We said his name often and without hesitation. I felt connected to Frank, a man I never met and I felt connected to my mom. I felt aware of my own progress and healing. I felt good about myself for giving back to my community. In the video from her Hope After Project Patty sums up the feeling of memorializing a loved one through community service,
"I feel so much more connected now. And I almost feel Frank's presence here more now. And it's still sad, it still hurts. But it was different this year. Not different because it was three years, different because I'm doing something different. So I feel so much more connected than I ever did before. And yeah it still hurts, but it also feels good."
With every Hope After Project I build I learn more about grief and, therefor, about life. This Hope After Project reminded me of something grieving has taught me. I've learned that life is filled with lots of gray space. I've learned that when I remember my mom and share my experience with others it, like Patty says, still hurts, but it also feels good.
To have a Hope After Project built in memory of your loved one or to volunteer with Hope After Project visit www.HopeAfterProject.com
If you or someone you know is struggling with thoughts of suicide please call 1-800-273-TALK
REAL LIFE. REAL NEWS. REAL VOICES.
Help us tell more of the stories that matter from voices that too often remain unheard.