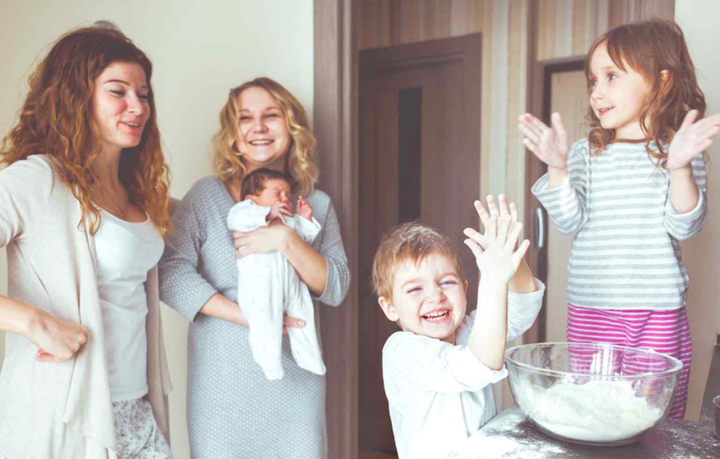 They arrived in their white 12-passenger van one Monday afternoon, unloaded their supplies and settled in our spare room downstairs. My best friend and her family — eight people in total — had chosen to give birth to their sixth child in my home as they have been traveling in an RV and she desired a home water birth.
We weren't sure how long they would stay, maybe a day depending on how fast her labor lasted, but when the days stretched into nearly a week, I honestly was thrilled. We all were.
Why? Life was simply easier.
You would think with 11 children (once that adorable baby girl was born in my bathtub!) and four adults in our home, we would be going crazy with chaos. My five kids can be loud and messy, so adding five more to that may sound insane to some. Truthfully though, it was often less chaotic because our families were excited to mix for the week and everyone blended perfectly. It was like a giant sleepover for us all.
I suppose the big difference is that they weren't just guests — we actually all became a team.
Sure, we were two families sharing a space who had their own rules and sleeping quarters — but we worked together in the common areas. We shared meals together in giant proportions, combining what they could offer with what we could offer.
The chore of cooking and washing dishes wasn't so bad with many helping hands — there was always an adult or an older child to rotate the dishes with. My sink is usually filled with dishes because I can't keep up (even with my little helpers) and 'do the dishes' often is one of the first things to slide on the to-do list. So it was nice to have a clean kitchen with ease!
For once, it didn't all fall on me. I found myself thinking: Is this what "the village" looks like?
"Many hands make for light work" is what their family declared when it was time to clean up (which I have now stolen to encourage my crew!) and that was the marked difference between parenting my days alone. I often feel like I'm bouncing from chore to chore, just to have it undone minutes later. With many helping hands, there was always someone to chip in and rotate the repetitive household duties with. I admire how helpful they have raised their kids to be. I took notes.
"Moms, it's important to have your own village. We need it. We deserve it."
We also had each other to help with our children — someone to stay at home during school pick-up so I could leave the baby to nap, or I happily stayed at home to watch their kids so they could grocery shop in peace. It was a beautiful dance of give and take, which helped to take the stress off one another. At times, I was there to give snacks to her little ones while she nursed or she was able to better calm my crying daughter than I could with her words of advice.
Beyond the tidier kitchen and childcare advantages, it simply was a time of enjoyment to always have someone around. Myself — having struggled with being an introvert, a busy work-from-home mom and varying degrees of anxiety — I honestly hardly have to leave the house. But yet my soul craves real talk and connection when I'm not wanting to retreat into my internal shell to recharge.
Usually my friend and I have to resort to hurried phone calls and bursts of texting, but it was heavenly to always have her here when we needed to chat. Also, our kids always had someone to pair off with to go play. There was less screen time and more laughter.
The atmosphere was filled with joy.
As my friend and I sipped our coffee in the morning glow and ogled at her sweet sleeping newborn, we dreamed of what life would be like sharing it together — closer. It made us want to buy land and live as neighbors, have a garden and share the crops, let our kids discover nature together and allow our best friend hearts to always having each other nearby.
We imagined ourselves much like villages across the world that they still hold fast to — and for good reason. This week taught me how far off our western culture is in regards to how we shut ourselves off in our boxes of homes. We felt complete and joyful in our roles as we worked side by side. There was a sense of, "Ah, this is what life is supposed to be like! This is what we are wired for and what our ancestors had."
Sharing the load of life's excitements, hardships and household duties gave us a glimpse at what we deserve more of in our culture — a village. While we may not be able to combine houses or share land, we still deserve to have friendships like this. A friendship that gives and takes, that helps and allows to be helped. It makes for happier mamas and families all around. Sure — the help is nice when we are the one in need, but it also fills us up to give to one another as well.
While uprooting our lives doesn't seem like a possibility right now and would be incredibly scary — I know that I can still have a similar feel with the village I've been growing as I've settled into motherhood with five kiddos. That is, if I allow myself to.
And what does that mean, exactly?
That means more reaching out asking for help. More trading, more giving, more taking. More putting myself out there into my village that I know loves me back.
Moms, it's important to have your own village. We need it. We deserve it.
A village can consist of so many different people — neighbors, family, close friends across town, our wiser elders , and younger people, too, for us to mentor. People to share life with, run errands for, share meals with, exchange childcare, create soul connections and playmates for our kids.
It's not just physically helpful, but emotionally as well. Knowing that we aren't alone makes all the difference as we navigate the treacherous waters of motherhood. It gives us something else to grab onto for hope and move toward the shore of stability.
There is so much value in others' different experiences and companionship to enhance our own. Don't be afraid to reach out and make the step into the village around you. Let's be honest, we can't do it all or be it all by ourselves. Life bares too much weight without others helping to support us, and us them.