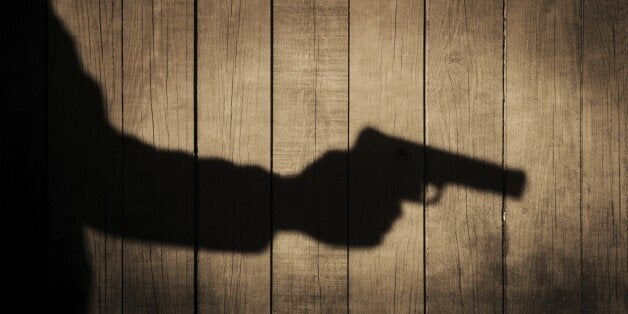 Yesterday was the fourth anniversary of the mass shooting at Sandy Hook Elementary School that took the lives of 20 beautiful children and six inspiring educators. Last night, to honor their memory and rededicate ourselves to stopping the epidemic of gun violence that takes the lives of over 30,000 people in our country each year and injures tens of thousands more, I joined family members, advocates, faith leaders, and elected officials at the Vigil for Victims of Violence at St. Mark's Episcopal Church in Washington.
We sang, danced, held each other tightly, and shared stories of loss, heartbreak, and wounds that will never heal, as well as of love, courage, and resilience. It was especially moving because their stories illustrated the ties that bind us to a club to which nobody wants to belong.
I didn't have the strength to share my personal story last night as I had done there one year ago, but after listening to others very bravely do so, I found the courage to share mine again today.
I come to the issue of gun violence not just as a Senior Advisor to President Obama, but also, sadly, as a granddaughter with first-hand experience. My grandfather was an avid hunter and owned several guns. He practiced dentistry in an office in the basement of his home here in D.C. Forty-five years ago, two burglars broke into his office in search of opiates. They threatened my grandfather with what turned out to be a toy gun. In an attempt to scare away the burglars, my grandfather pulled out one of his guns. They grabbed his gun, then shot and killed him.
I respect my grandfather's right to own his guns and his desire to try to protect himself, but I am haunted by the question of how many more years would he have lived had he not pulled out his gun? It is understandable to want to purchase a gun to protect oneself, but I'll never forget my grandfather's example - that we are not always safer just because we own a gun.
Of course, those who have experienced the loss of loved ones from gun violence know you never forget where you were, and what you were doing, when it happened. We all learn to cope with a lifelong pain in our own deeply personal ways. I am so encouraged by the many who unselfishly channel their pain to try to end gun violence and save other families from experiencing their grief. As I reminded those at the vigil last night, I remain hopeful because although our politics have remained disappointingly stuck in Congress, I do believe there is growing grassroots momentum thanks to groups such as the Newtown Foundation, the Brady Campaign, Everytown, Americans for Responsible Solutions, Sandy Hook Promise, and the Coalition to Stop Gun Violence, among many others, who are all organizing across the country and sharing the stories that are changing hearts.
My message to those with a personal connection to gun violence, and all those dedicated to stopping its spread in our country, is simple: keep organizing. Keep sharing your stories. We honor those we have lost by making America safer.
Calling all HuffPost superfans!
Sign up for membership to become a founding member and help shape HuffPost's next chapter