By: Lara San Gil and Julie Kervadec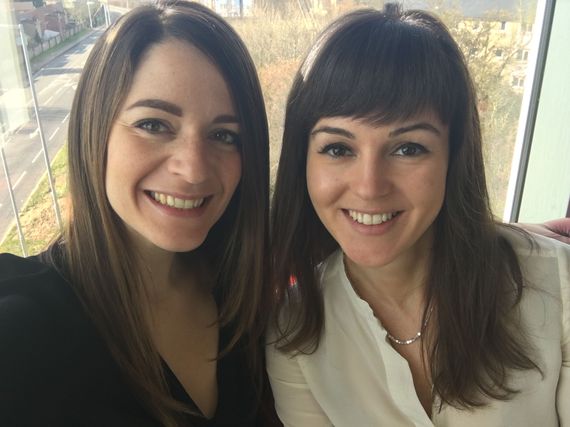 Years ago I met my best friend, Julie, whilst studying for a Master in International Marketing in Madrid. Towards the end of the programme, Julie and I took part in a competition for L'Oréal, making it through as finalist. Although we did not win the competition, the great prize we got was that we realized of how well we worked together and of the complimentary skills we had.
Although working in different industries and countries, Julie and I dreamt of starting a business together. Our idea of doing good business, a business with a positive impact and without further harm on this planet, was really attractive to us.
As we evolved professionally, we felt the need to do something more meaningful with our time, skills, and experience. The idea of conforming our professional careers to something that will only benefit shareholders did not appeal to us. We believe businesses to have a responsibility towards the environment they operate in and not to not exist only for the purpose of private profit.
The idea of ethical lingerie
We use to brainstorm about potential business ideas every time we saw each other. One of those days we started talking about how difficult was to find attractive cotton underwear. Being very mindful of health, we love cotton because is the best breathable material for your skin but we were frustrated with the available options. There we had an 'aha' moment. Why not making our own lingerie made from organic cotton and ethically produced?
Julie's buyer experience in the textile industry frequently traveling to the world's garment manufacturing hubs, involved her into business practices that were clashing with her values. There was a strong dissonance between what she believed in and what she had to work for that made her deeply uncomfortable and unmotivated.
Personally I have always been very concerned about the harm we are doing to this planet. I still remember when I was little girl and I learned that plastic six pack rings are a contributor to marine litter causing wildlife fatalities. I started cutting all the rings I found and telling all my friends at school about that. Throughout my life, I always wanted to make a contribution and learning more about sustainability volunteering for conservation and recycling projects.
The combination of our frustration as consumers, Julie's experience of unethical business practices and my strong environmental consciousness are the motivatiors behind AmaElla Ethical Lingerie.
During my MBA at University of Cambridge, I got really encouraged by the entrepreneurial spirit amongst its community. The strong collaboration culture and people's generosity with their time are things truly unique to Cambridge. Towards the end of my course, I did some research and came to the conclusion that there was an opportunity for our ethical lingerie idea and dream. As it happened, I was at the perfect place to set up a business.
Julie and I had a very serious conversation after which we decided to go ahead and set up AmaElla. Getting into Cambridge Social Ventures, an incubator from Judge Business School at University of Cambridge, was a great step. After we received the offer from Cambridge Social Ventures, Julie resigned her job in Paris and we both fully committed to make AmaElla succeed.
Today we are proudly running a crowdfunding campaign to help us finance the first production run of our lingerie.
One thing we have realised in our social entrepreneurial journey is the importance of networks and connexions to drive social impact. Making the world a better place is not about social entrepreneurship. It takes public sector, private sector, third sector, all connected together to change things, which is the real challenge.
Pioneers for Change is a seed-bed for innovative thought. An activator of personal potential. A catalyst for collective energy. A community to drive social change.
Our annual, international Fellowship is open to anyone aged 28 - 108 years old. We gather change-makers -- a business person, a community person, an investor, a thinker or doer -- who are willing to harness their talents, energy and resources as a force for good. Pioneers for Change is an initiative of Adessy Associates.
Adessy Associates believes social and business objectives are mutually reinforcing. We equip and enable organisations and individuals to make positive change happen, and contribute to a sustainable future. We focus on benefit for people, planet and profit. Our bespoke services harness sustainability, innovation, consciousness and purpose. We are proudly B Corp certified.
About Lara San Gil
Cambridge MBA with marketing background in fast moving consumer goods and e-commerce. Her experience in managing brands ranges from leading media campaigns to conducting market research and launching new products. Willing to learn more about fashion design and the lingerie industry, she did a couple of courses at the London University of the Arts. A lover of natural spaces, she likes to spend time by the sea and at the countryside. Her concept of active lifestyle involves physical exercise for the body and thought provoking conversations and meditation for the mind.
About Julie Kervadec
Former textile buyer with more than 6 years of experience in the retail and fashion industry. Julie has been in charge of apparel collections construction, development and purchase. Her previous role involved dealing with sourcing suppliers with frequent travels to China, Turkey, Bangladesh and India. In her free time, Julie likes to travel and make new connexions. As a healthy lifestyler, she enjoys practising yoga, dancing, and revitalizing moments in the mountain or on the Brittany coast.
Related
Popular in the Community