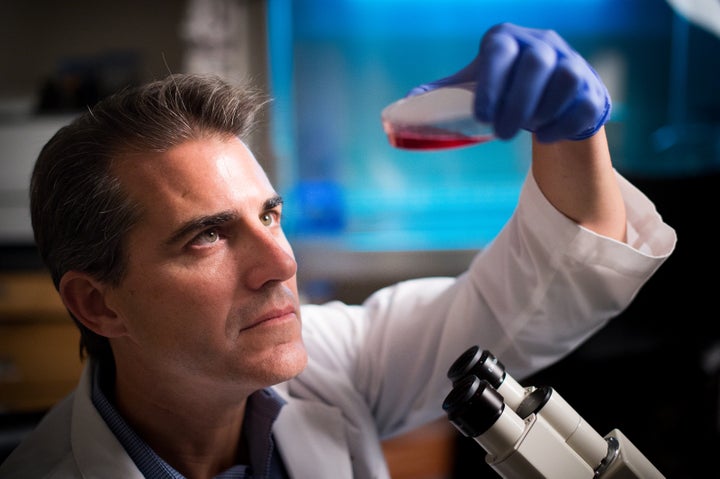 My colleague Dr. Alberto Pappo, an international expert on childhood solid tumors, recently shared he had just delivered devastating news to a 10-year-old child and her parents. Her tumor had returned and had spread despite 14 rounds of intensive chemotherapy and high doses of radiation therapy.
As longtime researchers of pediatric solid tumors, Alberto and I both knew what this meant. This child's chances of survival are now very slim.
Despite better outcomes for adult solid tumor patients, we are often reminded that science and medicine have made little progress on these cancers in pediatric patients for the last 20 years. But at St. Jude Children's Research Hospital, we're doing something to change that.
As a scientist at St. Jude, I've dedicated my career to helping understand rare childhood cancers—especially those with low survival rates. But finding cures for these tumors is not a solitary activity. True progress requires the collaboration of the best and brightest researchers worldwide.
To accelerate movement toward cures, my colleagues and I have constructed the world's most extensive collection of pediatric solid tumor samples and drug screening data. Now, through the Childhood Solid Tumor Network at St. Jude, we're freely sharing those resources with scientists around the globe.
Solid tumors of the bone, muscle, kidney, eye and other organs make up about 30 percent of all childhood cancers. Long-term survival rates for these tumors are lower than for many other pediatric cancers. Scientific resources such as patient tumor samples are also scarce.
The Childhood Solid Tumor Network is changing that scenario. Our network gives researchers access to the world's largest and most comprehensive collection of scientific resources for studying pediatric solid tumors and their related biology.
The tumor samples, plus information about tumor drug sensitivity and related data, have all been generated at St. Jude with the help of our patients and families. The resources are available at no cost and carry no obligation to collaborate with St. Jude scientists.
Since creating the network in 2013, we've distributed more than 800 tumor samples, along with detailed related information, to more than 130 investigators at 66 research centers. Those scientists are in the U.S. and 10 countries in Asia, Australia and Europe. Investigators are responsible only for shipping costs.
While overall survival rates for young solid tumor patients are 75 percent, survival rates for patients whose tumors return have been stalled at less than 30 percent for more than 20 years. That's unacceptable. We have to do better for these children.
Since 2010, our researchers have produced almost 100 different solid tumors representing a dozen pediatric cancers. The list includes 18 new samples of the eye tumor retinoblastoma and another 20 new samples of the bone tumor osteosarcoma. That is an increase from the two cell lines widely used to study retinoblastoma and the five cell lines widely used to study osteosarcoma.
The samples are from St. Jude patients. These samples were grown in laboratory models to help speed advances in understanding and treating the disease. An advisory panel oversees and responds to requests for access to the tumor samples and related information.
Along with creating the network, we have developed a new method to use the tumors to identify drugs or drug combinations that show the most treatment potential. The resulting database includes more than 500,000 pieces of information about drug sensitivity alone. We believe it is the only searchable drug-sensitivity database for pediatric tumors that is free to the global biomedical research community.
Research to advance our understanding and treatment of childhood solid tumors continues. The pediatric solid tumor repository is adding samples as new patients arrive at St. Jude and agree to participate.
The Childhood Solid Tumor Network is a unique resource for the international biomedical research community. The work is a reflection of our mission at St. Jude, to find cures and save children ― which means sharing data, resources and expertise to advance biomedical research around the world.
The network unites scientists and clinicians in a common goal: saving the lives of children around the globe. Our hope is that none of us has to deliver such heartbreaking news ever again.
Authored by Michael A. Dyer, Ph.D.
Michael A. Dyer, Ph.D., is a Howard Hughes Medical Institute investigator and chair of the St. Jude Children's Research Hospital Department of Developmental Neurobiology. He holds the Richard C. Shadyac Endowed Chair in Pediatric Cancer Research at St. Jude and is co-leader of the Comprehensive Cancer Center Program's Developmental Biology and Solid Tumor Program at St. Jude.