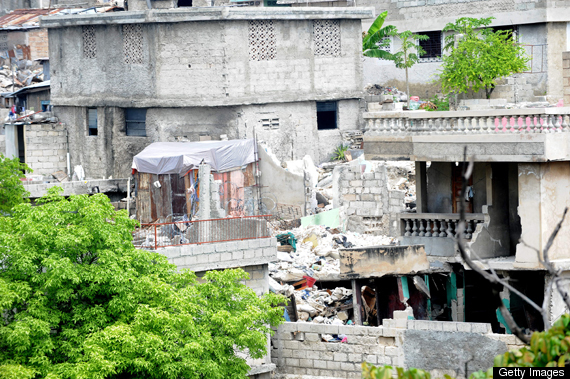 I traveled to Haiti a few weeks ago for the second time since January's earthquake. I'm not so naive that I thought I'd find miraculous progress had taken place, but I was, just the same, unprepared to witness despair that wasn't only not better, but worse.
This is a nation, remember, that had its share of hardship even before January's earthquake, knew poverty and hunger and illness long before the bottom dropped out 4 months ago. What has happened in the island nation, as a result of the earthquake and in its aftermath, is compounded tragedy and pain and devastation. And for all the good effort and intention of NGOs and aid workers the world over, Haiti remains largely on its knees, struggling to regain footing that was precarious at best.
In 4 months' time, very little has changed. In fact, rain has made everything worse. The tents that we thought would provide much-needed shelter and protection for displaced earthquake survivors are of little use, as each one is filled with mud up to mid-calf. The food we continue to send fills stomachs today, but there's not enough for tomorrow. And worse - there's no obvious plan to create a structure that will fill the pipeline for next week, next month and next year. The pronounced lack of leadership is as debilitating - more, even -- as any other ailment the nation is battling right now.
The purpose of my first trip to Haiti this year -- 2 weeks after the earthquake -- was to bear witness to the devastation, because I believe to be an effective part of the solution you've got to have a solid understanding of the problem. I got that in spades during my first few days in post-quake Port au Prince, and four months later the smells and sounds and sights of the trip are still firmly embedded in my memory. On my second and most recent trip I played the role of convener, taking with me a small but powerful group of unique individuals, including leaders from the anti-hunger movement (Billy Shore and Cat Cora, founders of Share Our Strength and Chefs for Humanity, respectively) and champions for prosthetics (former Senator Bob Kerrey and Winifred Danke from Prosthetics International) who each brought distinct strengths to share and interest and intent in helping to create long-term solutions for Haiti.
I'm a bootmaker; I'm the last person on earth qualified to be organizing any sort of relief mission - even one that's as small as half a dozen people. But absent leadership, what else can you do? We could sit and wait for the UN to do something helpful, like appointing an interim president or governing board who has the authority and responsibility for charting a course out of this despair, but we've been waiting - Haiti's people have been waiting - and 4 months later, they've got nothing to show for it but mud. You know that old adage, nothing happens if nothing happens? Funny thing is, it's actually true. Only if nothing happens in Haiti, some things DO happen. More abandoned children show up outside clinics and churches because their parents believe that's their best strategy for survival. More people suffer from malnutrition and die of thirst - which is painfully ironic in a country where the inhabitants of tent cities are sitting and bathing and sleeping inches deep in filthy water because it rains - every, single, night. And that rain? If nothing happens in Haiti, that rain continues to wash away topsoil and damage irrigation systems and weaken an already weak topography to the point where the next time the earth decides to crack open at its seams, the whole of Haiti may very well fall right in.
And so absent leadership, we the people interested in helping Haiti rise up out of the mud are charting our own course and coming up with our own solutions. It's not ideal - you've got a lot of good intentions and not a lot of organization which yields single-point solutions that are neither cohesive nor sustainable. Single-point solutions that are aimed at serving a singular need -- feeding the hungry or getting tents to the homeless or caring for the ill -- they're better than no solutions at all ... but they're not what Haiti needs to survive.
Aside from accountable, active leadership, what does Haiti need to survive? What strength does a bootmaker have to share?
Our company sells boots. That's not very helpful to a country that's been repeatedly devastated by natural disasters - but over the last 10 years or so, we've also developed a keen interest in and passion for tree planting. We're an outdoor company, which means we care about the outdoors and want to do what we can to protect and preserve it ... and trees fall pretty neatly into that category. We just last month celebrated the milestone of planting one million trees in Inner Mongolia's Horqin Desert and committed to two million more in China -- a region of the world, not unlike Haiti, that has long suffered the disastrous environmental and physical impacts of large-scale deforestation.
And not unlike China, one thing Haiti is in dire need of is trees.
Through our partnership with Yele Haiti, we've started a reforestation initiative in the Haitian city of Gonaieves, where we've already planted the seeds that will eventually grow to fill nurseries full of trees - fruit bearing and otherwise. Local farmers and their families are volunteering their time to work at the nursery in return for trees that will help feed their families and reforest the barren hillsides surrounding the region. With time, a little luck and a lot of effort, the Yele nurseries will develop into the central community hubs of sustainable, community-based agriculture initiatives that build a stronger, healthier community invested in its own future.
In the spirit of convening, we're talking with Partners in Health and Trees for the Future -- other NGOs working on their own reforestation initiatives in other parts of Haiti -- in hopes of sharing strength, resources and intellectual capital with them. The ultimate goal will be expanding the impact of our collective efforts ... and turning our vision of 1 million trees a year to 10 million.
I'm choosing to remain hopeful - for now - that the leadership Haiti desperately needs and is looking for will appear. I'm choosing to remain hopeful that the stories and scenes of devastation the country continues to suffer will be too much for even the most cavalier in our global governance to continue to ignore. Until then, I'll continue to do what I can to share the strength I have.
Popular in the Community