A North Carolina mother of three who lost her arm to a shark this month is speaking out about the harrowing attack while summing her survival up as "a miracle."
Tiffany Johnson, 32, had been snorkeling with her husband in the Bahamas on June 2 when out of nowhere she was "bumped" by something in the water, she told WRAL.
"I just casually turned to my right to look to see, and that's when I was face to face with the shark. He had my whole arm in his mouth and he was just floating there, just staring at me," she recalled.
Johnson, who was on the last stop of a cruise, said she tried pulling her arm out of the shark's mouth, but it wouldn't let go.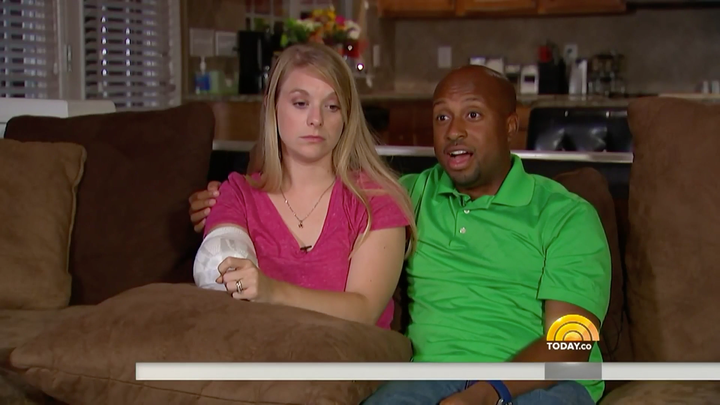 "I kept trying to yank my hand back and then the last time when I yanked it he had cut it clean off," she said.
The water around her clouded with her blood, with her arm being severed near her elbow. Instead of panicking, however, Johnson said she felt a notable sense of calm, one that she credits to her religious faith.
"I remember thinking, 'This is not the end for me. I am not going to die here. He is not going to take my life,'" she told NBC News.
Johnson cried out for help, alerting her husband James, who dove in after her. She was able to get back into their boat, where, with remarkable clarity, she gave her husband instructions on what to do.
"I was calm, and I told him go get something, get a towel, I need to wrap it up," she said.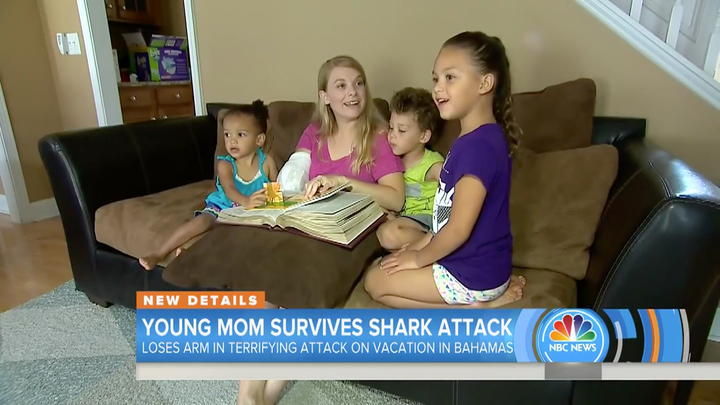 Once that was done, she said, "I closed my eyes and I just began to pray hardcore prayers."
"For her to be able to keep her calm during that whole time, I've never seen anything like it," her husband added.
Despite severe arterial bleeding, she was able to make it to a Nassau hospital, where she underwent surgery. She was then flown via Medevac to Carolinas Medical Center in Charlotte, North Carolina, for additional surgery.
That Medevac flight would have cost $16,000 in out-of-pocket fees alone. Instead of leaving them with that five-digit bill, she said, the company offered to cover the expense for them. After hearing that news on the phone, she told WRAL that she and her husband broke down crying.
"I'm thankful to be able to share this story," she told WRAL. "I hope and I know that it's going to change people's lives, because you can't hear this story and not see God in it."
A GoFundMe account has since been set up to help relieve the family of some of their medical expenses, which may include a prosthetic.
Popular in the Community