 I saw something very disturbing pop up in my twitter feed this past weekend. Another senseless killing of an awesome apex predator. A dead 948 pound tiger shark was held up as a trophy at an ill-conceived fishing tournament. Is this what people call sport? I call it a nightmare -- and for our ocean ecosystems it is simply a travesty. Enigmatic fish this majestic have much more to offer us alive than dead. Wouldn't you rather see a marvelous creature, (such as the spectacular tiger shark that follows... ) moving through the water column in the wild with power and grace? Or by contrast as a sad, lifeless, wasted form on a hook? I will always advocate for the former.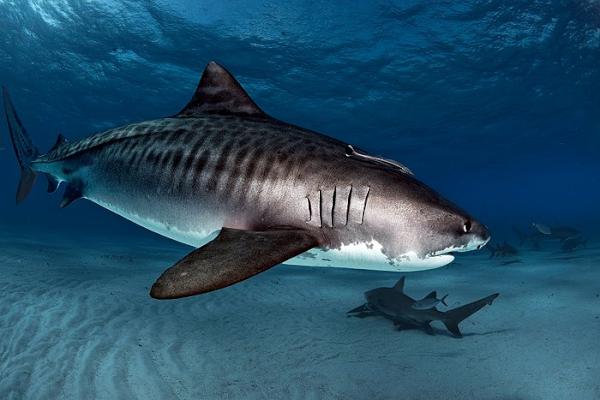 Photograph courtesy of Daniel Botelho©
So we find ourselves presented with an opportunity -- given the annual media festival that is Shark Week -- we can choose to better inform ourselves and to appreciate that we as humans have very little (if nothing) to fear from sharks as evidenced by the infographic below. Everyone can actively participate in saving sharks by making simple choices in what we choose to eat. Using a handy pocket-guide like Seafood Watch makes it quick and easy to choose sustainable seafood where sharks, sea turtles, sea birds and other animals aren't accidentally killed as bycatch in fishing gear. And maybe with an outpouring of diverse voices using social media, we can put an end to destructive tournaments that needlessly kill sharks and put energy into science that supports keeping them alive. Let's have the abhorrent practice of death trophies fade as an archaic memory of how far we've come in our understanding of the true value of sharks as a species.
Calling all HuffPost superfans!
Sign up for membership to become a founding member and help shape HuffPost's next chapter