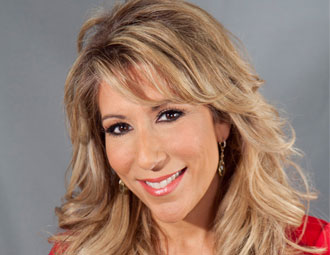 I am thrilled to see that Shark Tank executives have now realized they can do more than just "fill the quota" of one woman on the panel, and have both Barbara and Lori on the show at the same time! If you tuned into last week's premiere, you will agree it was the best Shark Tank yet.
Lori Greiner started with one idea and turned it into a multimillion-dollar international brand. She is now regarded as one of the most prolific inventors of retail products, having created over 400 products, and holds 115 U.S. and international patents. A well-known celebrity personality on QVC-TV, Greiner has hosted her own show, Clever & Unique Creations by Lori Greiner, for more than 10 years. She is also starring as a "Shark" on the ABC hit show Shark Tank.
What time of the day do you work best? Morning? Evening?
Evening -- I'm a definite night owl! It's quiet time where I can focus, I get reenergized at midnight.
Do you spend more time in the office or on the go?
What do you love most about what you do?
Making people happy, whether it's a product they enjoy that makes their life better and easier or a new entrepreneur that I'm helping and their family.
Is there anything you dislike about what you do or about your industry?
I dislike when other companies knock off my products or other people's products.
Do you work in silence? Listen to music?
Sometimes silence, sometimes I listen to music, depending on the level of concentration required. If I'm reading a legal document, then silence; if I'm in creation mode, then music.
Under what conditions do you best generate ideas?
On the airplane, when no one is around and I can be free to think and not be disturbed by a phone or any interruptions.
Are business decisions for love or for money?
I'm driven first and foremost by what's my passion. I think that if you love what you do, you're successful at it and everything else falls into place.
Is the customer (client) always right?
Yes, I think good customer service is extremely important. Maybe the customer isn't necessary always "right," but it is important to always respect, listen to and understand their position and do what you can to help them. And let them know that they're important.
Who did/do you look up to?
Beyond family, I would say two personal favorites of mine based on their accomplishments are Tennessee Williams and Barbara Walters.
If you could say one thing to the younger you, what would it be?
Don't worry, don't sweat the small stuff (and it's all small stuff). Everything will be okay, just know that you have the power to make things work out.
Tune into QVC at 8 p.m. EST tonight for an episode filled with Shark Tank products and right after tune into Shark Tank at 9 p.m. EST. You will be seeing a lot more Lori on this season's episodes.
Popular in the Community