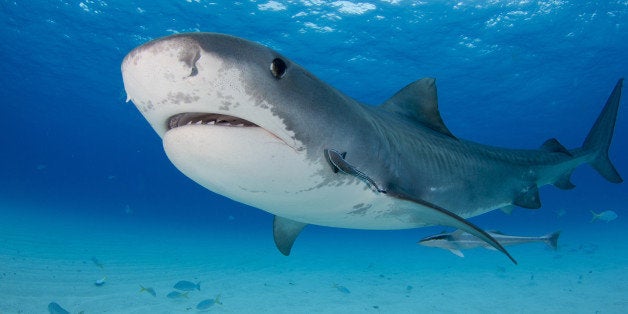 "For shark conservation to gain traction, we need a supportive public," Suzannah Evans, a doctoral student in science communication at the University of North Carolina at Chapel Hill, told The Huffington Post. Evans said she fears that support might be harder to come by "if people are constantly being exposed to images that portray sharks as violent and dangerous."
Evans is the co-author of two papers examining how Shark Week might contribute to the public's general fear of sharks, as well as the public's interest in promoting shark conservation.
A content analysis of Shark Week episodes between 2001 and 2012 found the program "relied heavily on presenting audiences with images of sharks as violent killers," the paper states. Furthermore, the study found that after viewing violent clips of shark bites and shark attacks -- either real or dramatized -- subjects were generally more likely to express fear of sharks or overestimate their risk of a shark attack.
That could be a problem for sharks, scientists say. The possibility for misunderstanding is one reason why ocean conservation nonprofit Oceana and other conservation groups have partnered with Discovery since 2010 to promote shark protection and improve the image of sharks.
"Negative perceptions further perpetuate the misconception that these top predators do not need protection," Oceana marine scientist Amanda Keledjian told HuffPost.
Sharks do need protection -- and humans are a far bigger danger to sharks than they are to us. Shark attacks on humans are relatively rare, and fatal attacks are rarer still. While sharks killed 12 people worldwide in 2011, humans kill an estimated 11,417 sharks per hour.
Most of those sharks are killed either for shark fin soup or as bycatch -- meaning sharks are killed unintentionally by fisherman targeting other types of fish, Keledjian said. She added that of the nearly 500 shark species in the world, only around 20 percent are believed to not be in danger of extinction. The species that are threatened are "too many to name individually," but those in the greatest danger are hammerhead sharks and angel sharks, she said.
Matt Littlejohn, Oceana vice president for marketing and strategic communication, told HuffPost that Discovery approached the nonprofit in 2010 because the channel wanted to "increase their commitment to conservation."
Since then, Shark Week has included PSAs focusing on shark conservation, and Discovery has launched a slew of initiatives devoted to protecting the toothy predators. This year, the network created the Sharkopedia, a digital encyclopedia on sharks that includes a section dedicated to saving sharks. They also started the Shark Finbassadors program, where they allow scientists and shark advocates to take over their social media accounts, Howard Swartz, the vice president of docs and specials for Discovery Channel, told HuffPost.
Evans, the UNC researcher, found in recent research that Shark Week included more hard science in its programming after 2010, but "continued to depict sharks primarily as violent killers." That study, "Shark Week and the Rise Of Infotainment In Science Documentaries," was published in Communication Research Reports this July.
The PSAs may be making an important difference anyway. Evans and Myrick found in 2014 that people who had viewed a shark conservation PSA tended to be more likely to take an interest in shark conservation -- even if they had also seen frightening imagery of sharks, Evans said.
Littlejohn said that Oceana is happy with Shark Week's commitment to promoting conservation, and noted that Discovery worked with Oceana to encourage the passage of the Shark Conservation Act, which strengthened a U.S. ban on shark finning.
Plus, sharks' dangerous image is what makes many people find them so appealing in the first place.
"Sharks are cool because they're dangerous, they're thrilling," Evans said.
Discovery Channel's Swartz agreed. "There is something primal about the fear that sharks generate on our collective psyche," he said. "We go to great lengths to show that sharks are not mindless killing machines, but rather intelligent, curious and oftentimes social creatures. We stress that incidents with people are almost always a case of mistaken identity."
Evans stressed that she doesn't hate Shark Week. "Some of the media coverage [of the study] has painted our approach as really anti-Shark Week, but I'm not anti-Shark Week. I think it's hugely entertaining, but they've made some missteps in the last couple of years."
"[Megalodon] was presented in such a way that you could very easily watch it and not know it was fictional," shark researcher David Shiffman told NPR.
Swartz argued that the network never meant to confuse anyone. When they determined the show might be misleading, they abandoned the mockumentary format, he said.
"Moving forward, we are entirely focused on science, research and expeditions and amazing cinematography," he said.
Contact The Author
Support HuffPost
The Stakes Have Never Been Higher
Related
Before You Go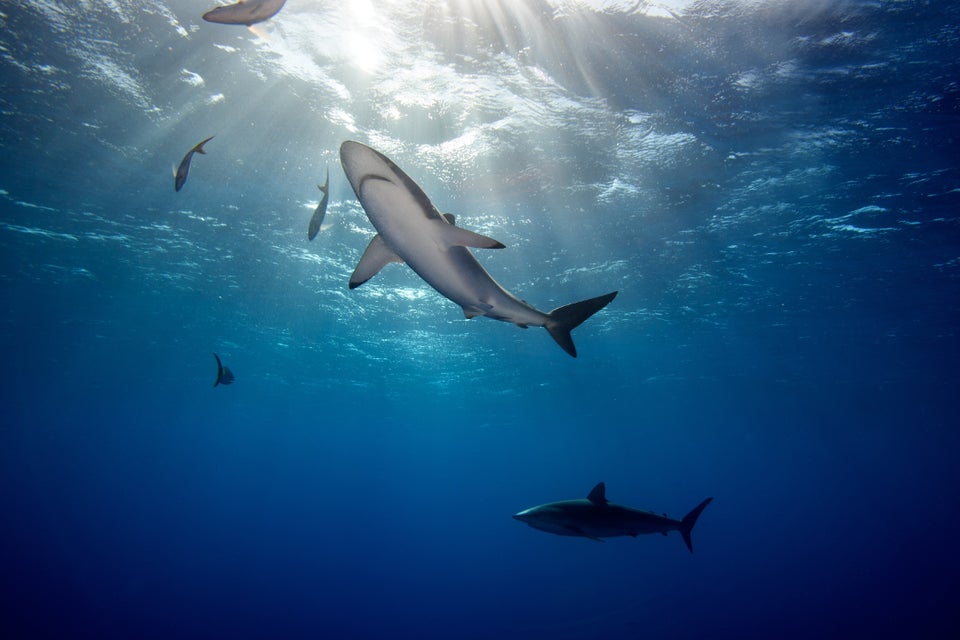 The Beauty Of Sharks
Popular in the Community