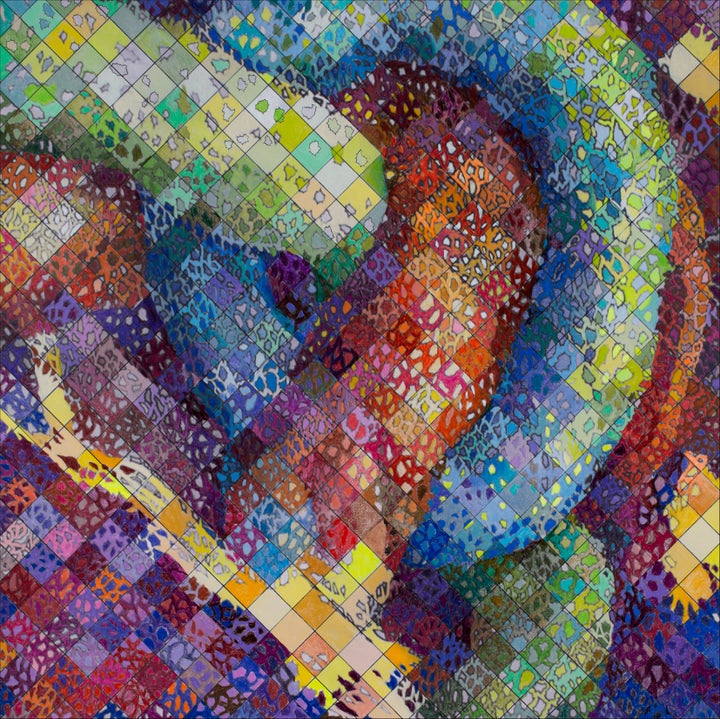 With a long career that has encompassed practices from performance art, to radical knitting, installation, photography, painting, and video, Sharon Kagan's meta motif is the pursuit of a kind of craft-based conceptualism, in which both experience and idea are given equal prominence in her vibrant, fractal aesthetic. At the moment, she is deeply immersed in a painting project that finds her contemplating at length what she calls "all the different ways throughout art history that artists have worked out to make the eyes dance." Kagan is working in an attenuated amalgam of knitting, photography, painting, and drawing; her visual guides include painters as diverse as Pierre Bonnard, George Seurat, Victor Vasarely, Richard Pousette-Dart, Yayoi Kusama, Lawrence Alma-Tadema, and Chuck Close -- each of whom found new and marvelous techniques for keeping the eye in motion, and with it, the mind and even the spirit.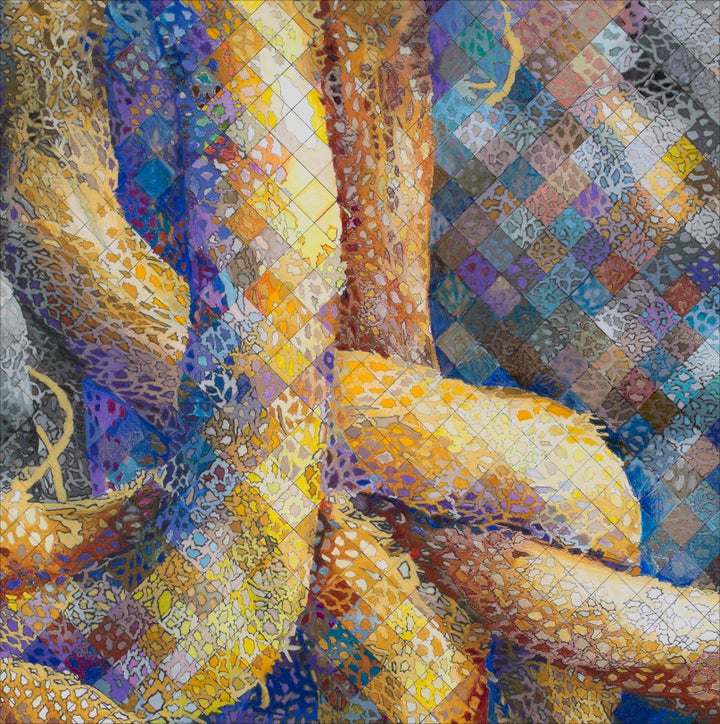 Kagan's current series derives from a large mound of knitted hemp rope she installed outdoors on a painted blue ground. When the light hit, the shadows made it look like water. She photographed it, enlarged those pictures, rendered them as pencil drawings followed by pen and ink, using old-school technology like the rapidograph. Tiny sections became new large grounds and at this point the imagery transformed into a kind of organic, wiggling abstraction, and she began to grid it, deploying gradient, geologically inflected color throughout. In a meticulous but ebullient structure, she outlines tens of thousands of pixel clusters. It takes a long time to execute, but Kagan has a special gift for maintaining her momentum and emotional investment throughout the process, a patience perhaps gleaned from years as a knitter of tactile monuments. Likewise resulting from her past in performance art, Kagan's process invests the paintings with a theatrical energy, saturating them with so much information, rich detail, and sparkling color that looking at them is like watching something happen. More than observing a static image, it's impossible not to imagine the artist at work. And that is just what she's going for.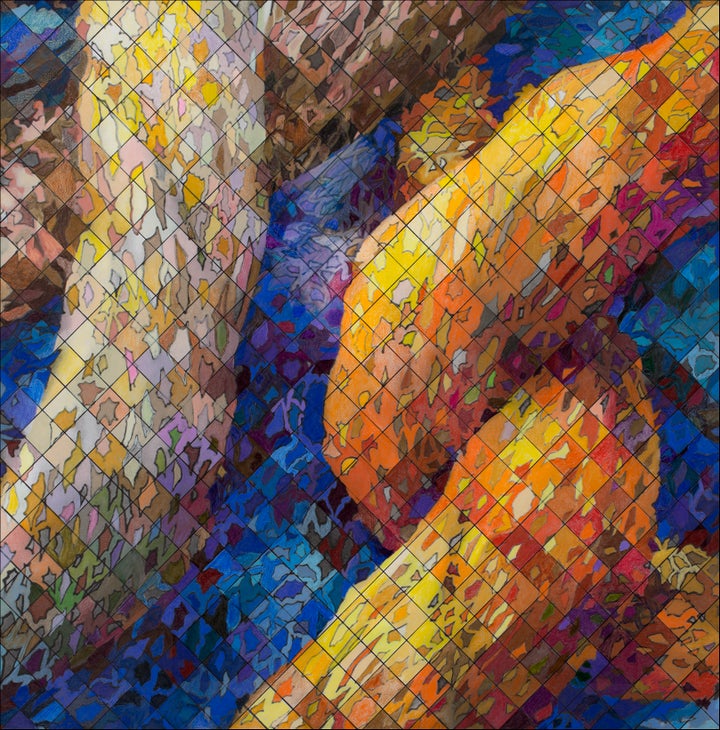 "This series is about making tangible the knowledge possessed by physicists and mystics," Kagan says. "That all matter is composed of rapidly moving energy," in which nothing is solid and nothing is separate. This language of spiritual science animates the paintings, infusing them with both a luminous ambiguity and a hyper-stylized specificity. Like water under a microscope, the waving tendrils of sea anemones, the pulpy flesh of earthworms, the frantic sparkle of amoebas, the coiling tresses of root systems, all bouncing to the disco beat of molecular heartbeats and at a great distance dissolving once again into something else entirely. Her palette is vividly intense, blue and gold, chartreuse, aubergine, oxblood, peach, goldenrod, lilac, seaweed, amber, ochre, sand, and swimming-pool blue.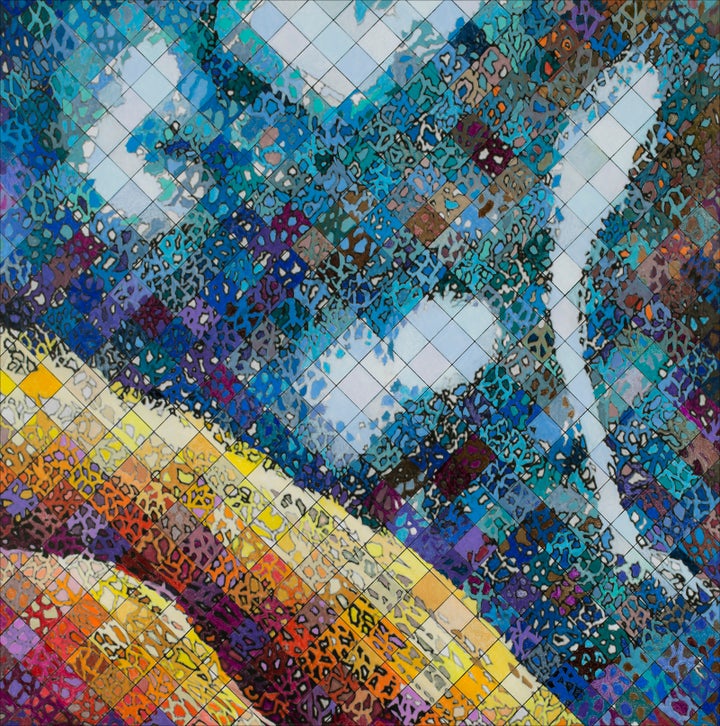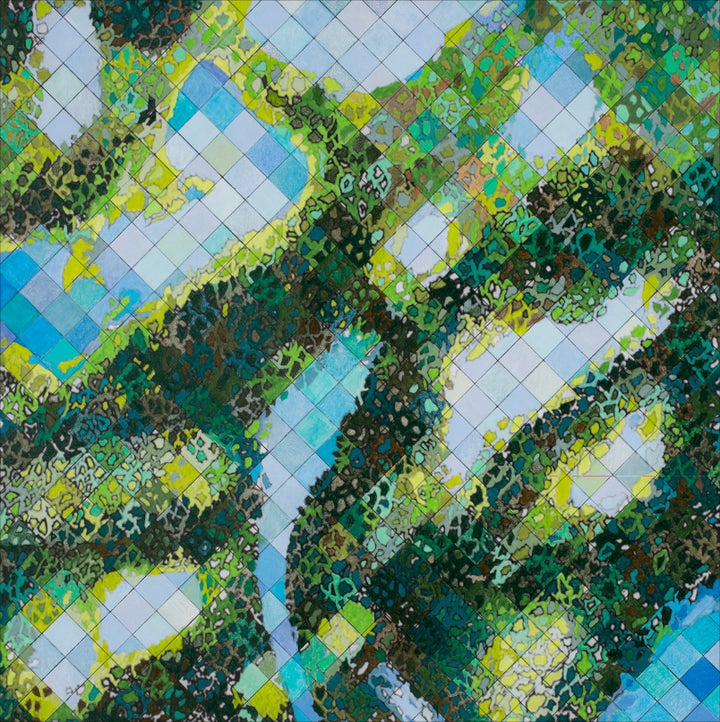 The grid that underlies and hovers above and runs through the whole is a grounding agent, visual context to defines and tether, bringing in the weaving-based metaphors of connectedness, and suggesting that edges both in the painting and the world are just a necessary cognitive illusion. The grid here is an armature, a page from art history, whose literal usage is as originally intended -- to hold abstraction together, even as the ambiguity of the image engages the viewer and compels them to ask: Is this image of the micro or macro? Is it in the body, or from nature? Are the ink marks a form of language, or a code? When we look at a photograph what are we really seeing? "I am happy with whatever people bring to it," says Kagan. But what the work means to her has to do with the memory of her mother, a consummate knitter, and ideas about what knitting means, what it can represent. The vibrating energy core of the entire universe that is depicted and embodied in the paintings by the jostling tumult of radiant pixels, also speaks to knitting as a literal and metaphorical fabric, "a field that is unified until you cut it -- anywhere," and through the rift you start to see what's on the other side.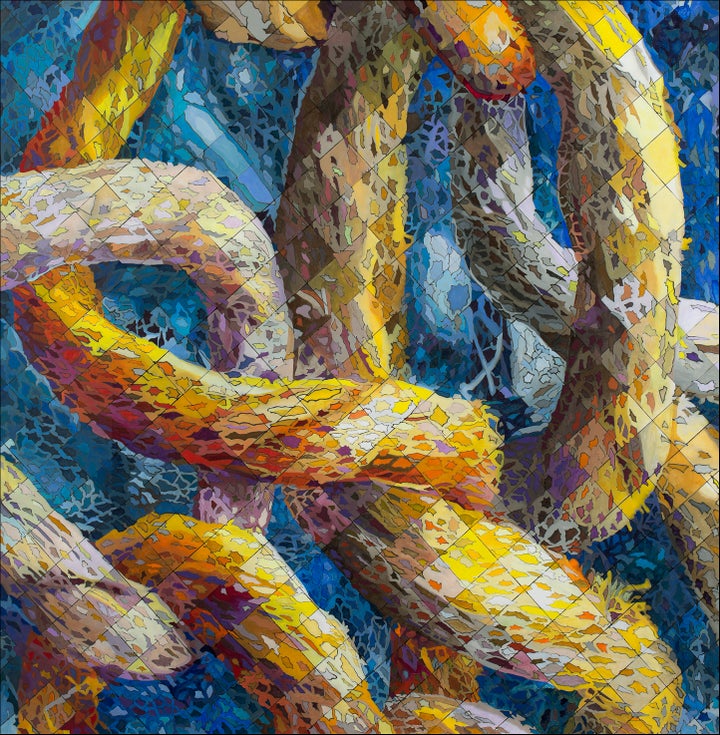 Sharon Kagan In Residence: March 3 - April 23, 2017
Kagan will be honoring Spring as she works to create a communal painting that celebrates and challenges conceptions of diversity and unity. The community painting project will constantly evolve and change over the course of Kagan's residency, as everyone is invited to paint with her or on their own, mixing their own colors, and working at their own pace on the foundation of her large-scale drawing. Kagan will be present during events scheduled at Pico Union Projects as well as to-be-determined events throughout her residency. The communal process brings together different ages, religions, and races to create a painting that will reflect the community's strength with even the artist learning how to look at artworks differently.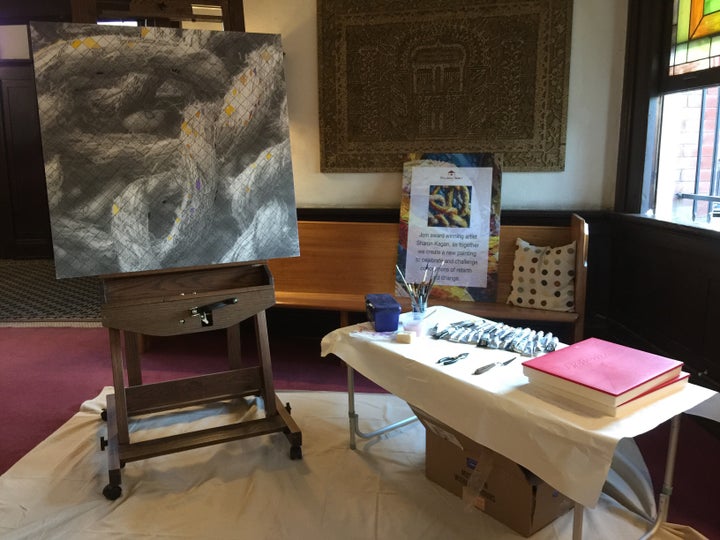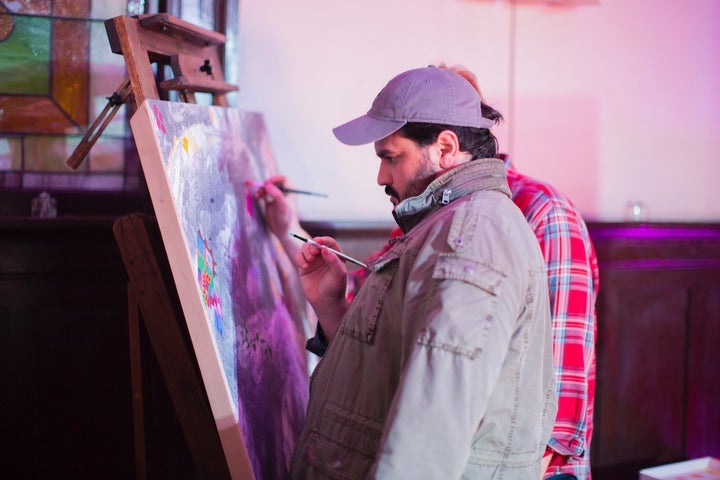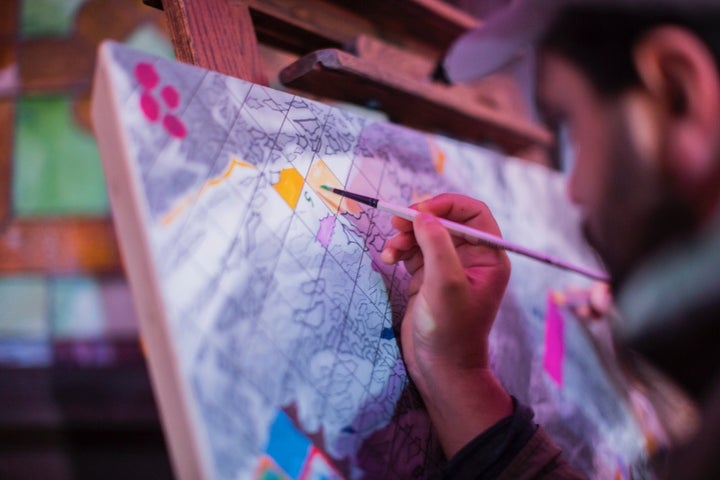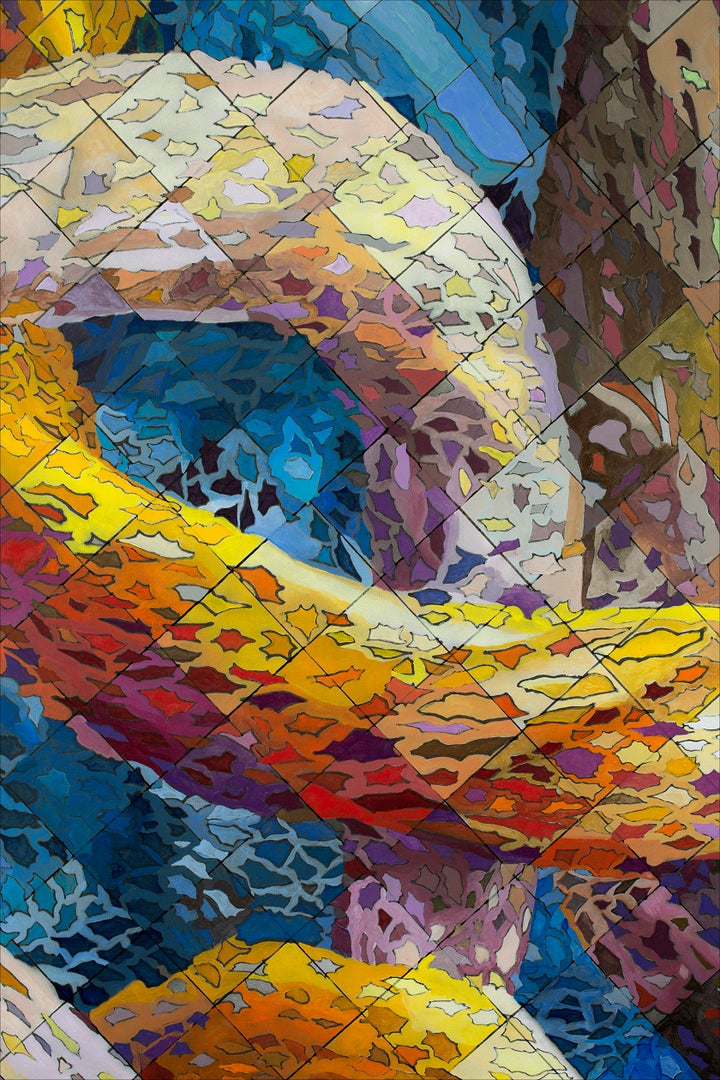 Related
Popular in the Community