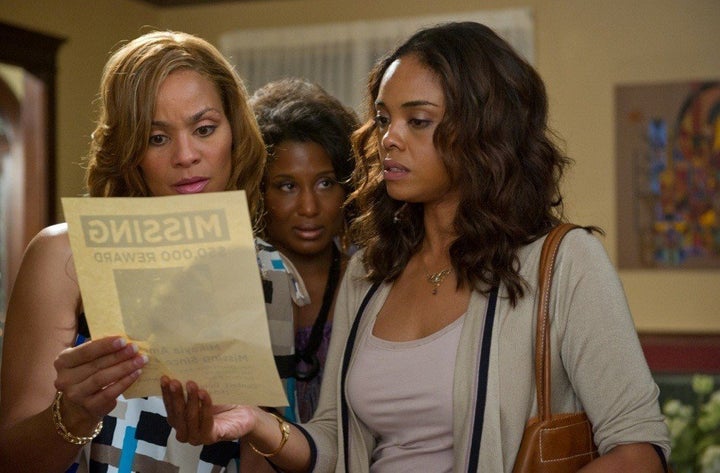 This weekend marked the release of Bishop T.D. Jakes' latest motion picture, "Woman Thou Art Loosed!: On the 7th Day," starring Blair Underwood, Sharon Leal, Nicole Beharie and Emmy Award nominee Pam Grier. Shot in New Orleans in less than a month, the film depicts a happy couple whose lives are turned upside down when they have only a week to rescue their 6-year-old daughter from abductors.
The making of the Neema Barnette-directed suspense thriller was an artistic process that began in Los Angeles, according to Leal.
"We kind of went scene by scene and broke everything down, got all the ideas of what we needed to tweak and elevate," Leal recently explained to The Huffington Post. "And that process continued throughout the film. I think one of the great liberties that you have when you're doing an independent film is really to approach it in a artistic, thoughtful way. And we did that and we had those kinds of licenses to take with a script."
"There was a lot of research on children who have been abducted in the past," Leal said, "photographs of parents, particularly mothers who were in desperate search of their child. Because the subject matter was so intense, it really sits with you."
Working with an experienced cast was a benefit to Barnette's rigorous shooting schedule, in addition film's final outcome. "One thing that I think 'On The 7th Day' has is that it has a lot of self-love in it, it doesn't have any self-hate," Barnette proclaimed. "It presents problems, it presents situations that people go through in their lives, but it presents it in a way that you don't feel that they hate each other, or that the people who made the film hate what they're doing. Everyone who was involved in this film was a warrior. I handpicked them because I knew that I would need warriors in order to make this film happen in 20 days."
As the film marks the second installment in Jakes' "Woman Thou Art Loosed!" franchise, Barnette was also mindful of making a faith-based film that would appeal to a general market while maintaing the integrity that was important to the first film. "It was very important for us not to preach to people, because that's not our job," she said. "But what I tried to do was recreate the faith-based genre so it would have a wider audience, so everyone who saw it could walk away taking something from it. Because film is the strongest political tool that we have. It's kind of a mind-molding art form."
Leal added that it was an amazing experience to shoot the full-length feature under the direction of Barnette's passion and integrity. "She's the kind of director that really stops at nothing to get the best product," she said. "And with limited time, we all really put our trust in her vision and she really implemented this artistic tone. And took a very artistic approach with visual metaphors, so that wherever we were in the storyline, she was very mindful in strategically placing the metaphors. She's incredible and I hope to work with her again."
"Woman Thou Art Loosed!: On the 7th Day" is now playing in select theaters.
Popular in the Community