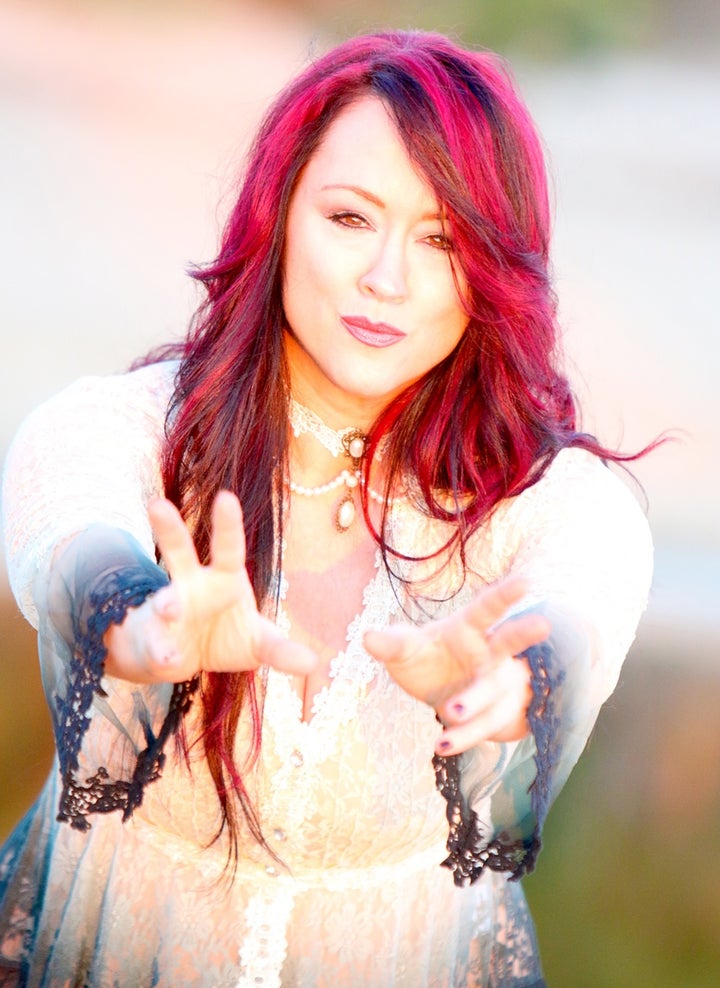 Being introduced to singer/songwriter/musician and recording artist Sharon Lia was a treat in itself, speaking to her became even more special but hearing her music suddenly harmonized into the titanic icing on the cake!
Hailing from New Jersey, Sharon played Keys and began to write songs at age 14. It was then that her mom so impressed with her talent awarded her daughter music lessons. Inspired by her music teacher's magic words, "a creation isn't a creation until you share it with someone", Sharon went on learning her craft, performing in talent shows, and finally forming a band of her own. In 2014 she won her very first "Breakout Artist" competition, and from there began touring with the band, winning fans from NJ to New Orleans, and hasn't stopped since.
Currently Sharon is in the midst of recording with Grammy-nominated, multi-platinum engineer and producer David Ivory. Sharon was named 2017 Pop/Contemporary Artist of the Year at the Josie Music Awards in Nashville. Having been invited to play at The White House, becoming a voting member of "The Recording Academy", (Grammy Association), Sharon Lia is experiencing the journey of a lifetime.
Her music is generated from the heart and soul of an artist who cares about others. Her genuine lyrics and sonic innocence and vulnerability pierces the hearts of her listeners leaving a a lifelong impact on those who hear it. Although some of her music seems inspired by personal tragedy including her own fight with cancer which has inspired her to form "Ladies Who Rock 4 A Cause", a music driven organization, she tends to create vivid and vibrant colorful pictures of songs people can relate to.
On January 12th Sharon will be unleashing her newest single entitled, "Anomie"......Sharon Lia is an artist's who serves as an inspiration to those who don't believe in themselves, but who are following their dream. She is living proof that "Fairytales' do come true,
When did you actually start to sing?
I actually started playing the piano and singing when I was about six, and I wrote my first song when I was 14. I turned to my mom and played her a song that I had written, and was really cute. Her jaw dropped, and then she let me start taking lessons. It wasn't until high school until I started really integrating singing, writing lyrics, and playing the music all at the same time, because that's really hard to do.
What have you been working on as far as your recent music projects?
It's really an amazing story, what's happening right now. We are working with Grammy nominated, platinum winning producer and engineer David Ivory. He's known for working with artists such as Patti LaBelle, Hailstorm, Silvertide.... I had worked with him a couple of years ago, but I was just getting my band together. So I started my band, "The Sharon Lia Band", and we did covers and originals. We covered a lot of ground as a band, getting the word out of who we were. We put out an album last year, and that was the first thing we did together. I went back to David, wanting to work with him again, and it was great because he wanted to work with us as well. So we are working with him and we have a song coming out called, "Anomie". That will be coming out in January and after that we have a song called. "Why Can't We Pretend" following that....hopefully we will just keep building from there. I've really been on a journey. I've gone through a lot of things in my life including cancer. I've had to fight for my voice. I finally became a voting member of the Grammys. That's not just something they give out. I was really very thrilled because I bought a dress many years ago, and I had said to myself that "this was the dress I was going to wear to the Grammys one day". I just put it out for the universe because at the time I did not believe in myself. I was in a situation where there wasn't a whole lot of hope. There wasn't a whole lot of reason to believe, but I had this blind faith and this force inside me that said, " you have to keep on going".
What inspires your song writing?
As a writer, I write what comes from my heart. I sit down at a piano and I start writing this music and then I start writing words. The way I know that this song is going to be a beautiful song is if I started to well up in my eyes. Then I sing the song to myself over and over. If I do sing it over and over to myself that means it's memorable, which hopefully means the fans will think that it's memorable. Songs that are memorable, will hopefully be things people will remember and go back to. I have gone to different people to record my music and the one thing that I have noticed is that one song is like a Donna Summer song, one song is like an Adele song.....so here it is I'm in all of these different lanes. The dance song had dance Instruments and the rock song had rock instruments....and you can do all of this but you have to use sort of the same instrumentation so you can tell that it's a Sharon Lia song. So the producer that I'm working with now is helping us stay in that lane. The new song that's coming out is alternative rock, similar to "Coldplay", but it's not pop. The subject matter is very intimate. It really describes things that people go through that we really don't talk about. Your outward face to the world may be beautiful. I see pictures of you with your pink hair, and you look awesome, and everything looks great..... but you don't really know what a person is going through. A lot of times we keep all of that well under wrap. My A&R guy pointed this out to me explaining that I write about what people may be going through. They may look like everything is fine on the outside, but they are encountering these things on the inside that they don't talk about. He said that I write music about that, and that's something I didn't realize about myself.
So basically people connect with you deeply through your songs?
You're also a graphic designer correct?
I am a graphic designer. All of the graphics that you see on my web site I designed, but it's very time consuming. I do posters, logos, book covers, text for booklets, anything that you can imagine. Plus I have a regular day time job. I also write for a magazine myself, but I just don't have time and I had to take a break. I'm usually the one asking the questions.
So I sent over my lyrics and the meaning of the song to my team. I really had to sit down and think about what each song meant, but "Anomie" was pretty interesting because no body knows what that word means. You have to listen to the song. When we release the song, we might actually run a contest for people to guess what this song is about. It's a subject matter that no one has ever sung about, or written about.
Popular in the Community