Drag performer Sharon Needles, known for his hauntingly beautiful goth appearance, is the perfect pick for PETA's newest campaign: a jaw-dropping ad that takes a stab at the flesh-eating craze, telling people that "eating shouldn't cost an arm and a leg."
In the Halloween ad, Needles stands in a white gown dripping with blood, clutching a dismembered human leg and arm in his hands. The caption reads: "If gnawing on flesh turns your stomach, why not go veg?"
"The campaign I'm donating my rotten face for is 'Dead things should be buried, not eaten,'" Needles said during a behind-the-scenes interview. "Being a vegetarian, it kind of shows how gory it is to see ripped off arms and ripped off hands of people of our own species. But I think it brings a campy, disturbing and grotesque realization to the fact that that's how animals are being treated, especially in commercial farming."
PETA's Halloween ad echoes the ghoulishness of stories from recent news headlines. "Like the bath-salt zombie in Florida and Luka Magnotta the Canada cannibal, there's been a lot of focus on cannibalism," Needles says. "Which is funny, because if you treat all creatures the same, then a lot of Americans are cannibals."
Cannibalism is also a running theme in pop culture these days, and PETA is capitalizing on the trend.
"With the public's zombie obsession at an all time high, PETA is releasing its first-ever Halloween campaign aimed at the throngs who can't get enough 'Walking Dead' or other eerie series and movies flooding the market this month," a PETA rep says of Needles' shocking ad. "As the recurring 'flesh-eating' theme dovetails perfectly with PETA's vegetarian promotions, we created a provocative zombie poster with the sarcastic slogan, 'Eating Shouldn't Cost an Arm and a Leg.'"
PETA is currently in talks with Logo to air a TV component to Needles' flesh-eating ad during the network's new horror series "Fearce!," hosted by Needles himself. The series premieres Nov. 1.
Other celebrities have lost their clothes in the name of animal rights, such as model Austin Armacost, ex-boyfriend of fashion designer Marc Jacobs, who joined PETA to campaign against the use of fur.
In a July ad, Armacost posed naked and slammed Jacobs for using animal products in his designs, saying: "As a gay model, I have always been dismayed that some otherwise progressive people in the gay fashion pack have such disregard for the animals who are skinned alive for coats, collars, or cuffs [including my ex Marc Jacobs]."
LOOK: Sharon Needles' Halloween PETA ad.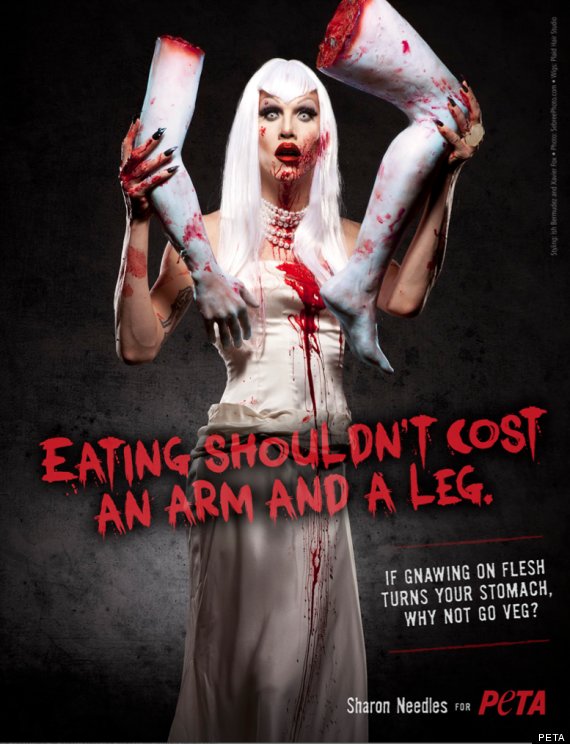 PHOTO GALLERY
Celebrity Vegetarians
Calling all HuffPost superfans!
Sign up for membership to become a founding member and help shape HuffPost's next chapter
BEFORE YOU GO