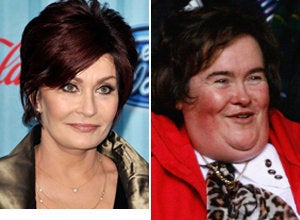 Sharon Osbourne has some colorful words to describe Susan Boyle's appearance.
Osbourne, who is a judge on 'America's Got Talent,' slammed the 'Britain's Got Talent' superstar's looks on Sirius XM's 'The Opie & Anthony Show.' She says Boyle was "hit with the f***ing ugly stick"....as opposed to the surgeon's scalpel?
Here is a partial transcript of her expletive-laced tirade. You can watch the entire thing below.
"I like everybody to do well. Even somebody that looks like a slapped arse. God bless her. It's like, 'You go girl'. She does look like a hairy arsehole. She is a lovely lady. You just want to say 'god bless' and here's a Gillette razor."
WATCH:
Popular in the Community