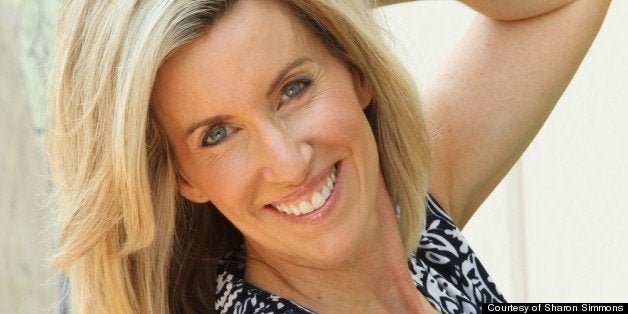 Last year as hundreds of beautiful and talented women auditioned for a spot on the Dallas Cowboys' cheerleading team, only one warranted a number of stunned headlines: Sharon Simmons.
"Why not now?" may just be Simmons' midlife motto. While the grandmother of two didn't make the cut, it's not the first time -- or the last -- that the now 56-year-old has put herself out there. Simmons competes in fitness competitions (she started training for her first one at 49 after being inspired by a younger fitness classmates physique), models, has written two books about fitness after 50 and is considering race-car driving.
"Seems like I didn't start anything until I turned 50," Simmons told the Huffington Post with a laugh. Here Simmons shares her eight lessons for aging well from her home in the Dallas area.
1. "It's really not all about winning."
"It's about getting there," she realized after her first fitness competition in Las Vegas in 2006.
"I [recently] watched the video and I was no stretch of the imagination great or even good. I didn't place very well, I actually came in last. [But] when I hit the stage the crowd went nuts. I was excited, everybody was going crazy just because I was there," she said.
"There's nothing like it: [it's] exhilarating, [it] boosts your self-confidence over the top. The minute you hit the stage, you've already won, and it's like winning first place in your heart."
"My very first and only [other] time auditioning for cheerleader was in the 8th grade," Simmons said. "It was so traumatic. I felt so inadequate. I felt [too] skinny, I didn't have the right clothes, all the cheerleaders had the pretty blond hair and money, and kids can be cruel. I could not wait to get off that gym floor."
It wasn't until Simmons was in her 50s that she allowed herself to indulge that old dream. For a fitness competition routine, she wore an outfit modelled off the Dallas Cowboys' cheerleader uniforms.
"The audience went nuts," she remembered. "I placed at the top five at the national competition. [I thought], 'I'm going to go back to Dallas and audition,' and I did. I did it, 30, 40 years later."
3. "Never allow anyone else to set your limitations for you."
Over the course of her fitness modeling career, Simmons has had her fair share of criticism from friends, family and strangers alike, she said.
"People think that people over 50 should be on a porch in a rocking chair... Where would I be if I listened to them?" she said with a laugh. "We are in control of what we do to a certain extent. There's this stigma that 'Oh, they're grandparents, they should really start slowing down or retiring.' Well, why? We're only just beginning!"
4. "Age is a state of mind."
You're only as old as you feel, Simmons said, so why age yourself with negative thoughts and inactivity? "I feel like I'm in my 20s," Simmons said. "My husband tells me, 'I forget how old you are.'"
5. "We're never too old to start working out."
Age isn't an excuse to forego getting back into shape, Simmons said. She went to the gym five to six times a week, but ramped up her training by meeting with a personal trainer once she decided to pursue fitness competitions. And the results speak for themselves.
"Our bodies will respond," she said. "It was amazing. I never knew I had abs until I saw them."
Simmons' advice to those who have a hard time getting motivated? "This is something you do for just you. Be selfish with it," she said. "[Say], 'This is what I'm going to do for me, because this is what I deserve.'
"If you're moving it and you're eating properly," she says, "things are going to happen. I'm not going to say it's easy. It's not. But typically things that are good for you aren't easy."
7. "Don't lose sight of your goals. If you get sidetracked, get back on."
Don't beat yourself up if you find yourself veering off course from your goals, Simmons advised. Failing to get back on course is worse than dusting yourself off and trying again. "[Figure out] how do I get there and then establish those steps," she said, "because it will be small steps that get [you] to that goal."
8. Don't hold yourself back.
It's a familiar tale many boomers can relate to -- dreams get put on the back burner to focus on family and career. But with her children (a 40-year-old daughter and 28-year-old son) out of the nest, Simmons didn't see any reason to keep those dreams locked up.
"It was a wild idea," Simmons said of her cheerleading attempt at 55. "Doesn't matter that it's wild. Find out the steps and have the courage to do it. What is the one thing that you've been afraid to do your entire life? Why not do it? We all have that one thing that makes us nervous. Wouldn't it be fun if everybody tried that one thing they're afraid to do?"

Calling all HuffPost superfans!
Sign up for membership to become a founding member and help shape HuffPost's next chapter
BEFORE YOU GO
PHOTO GALLERY
Sharon Simmons, Fitness Competitor