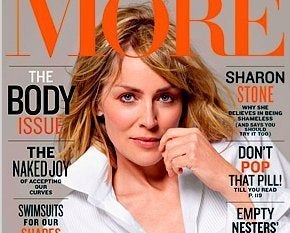 Sharon Stone covers the June issue of More magazine and in the interview the actress, 52, talks about her dating life and the plastic surgery disaster that happened six years ago after her divorce from newspaper editor Phil Bronstein.
On why she got lip injections:
"Nobody loved me. I'm 103. My life would be better if I had better lips."
On her reaction to the procedure, which made her swear off plastic surgery:
"What the hell?" and "(I looked) like a trout."
On her divorce:
"It takes a long, long time to come to the point where you can actually say that you got married because you were in love with the person. And it makes me cry... To admit your own lovingness was, for me, a harder step. Not to be embarrassed or ashamed that I could love somebody who didn't love me. And that can be OK."
On her current dry spell:
"Life and love is like the ocean. Sometimes the tide is in and sometimes the tide is out, and sometimes it's like the frigging Mojave. Fortunately, I like the desert. I'm a desert flower."
On dating younger men:
"I really get pursued by men in their twenties, like, a lot," she says. "They probably know there's food in the fridge and that somebody's there to talk to them and ask them how their day was."
Popular in the Community