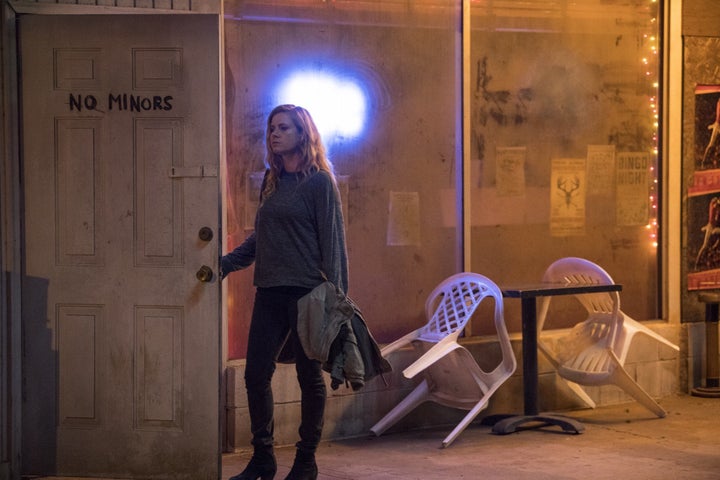 Just as Amy Adams walks into frame in "Sharp Objects" ― dressed in dark skinny jeans and a casual long-sleeved top, a bag swinging low on her hip ― the camera cuts to a vision of a young girl in a casket, looking ashen in bright pink lipstick. Pretty soon we're back on redheaded Adams, who's gingerly opening a bedroom door before disappearing again, this time into the image of hesitant teenage Sophia Lillis inside a funeral home.
From there the viewer is transported, back and forth and back and forth, between Adams' tear-filled eyes scanning her sister's childhood bedroom and Lillis' screams and sobs as she tries to wipe colored stain off a dead girl's lips. Finally, the door closes in our faces.  
This is what the story of Camille Preaker, the leading woman (played by Adams) in author Gillian Flynn's debut novel Sharp Objects, looks like filtered through the mind of director and editor Jean-Marc Vallée. His eight-part HBO miniseries of the same name follows reporter Camille as she returns to her hometown to cover the murders of two girls. Flynn says it's a "whodunnit" disguised as a "who is she," told through the lens of a broken woman trying to come to terms with her own tragic existence. 
What could've been just another TV crime thriller is transformed into a dreamy drama with Vallée, Flynn and showrunner Marti Noxon opting to mix the procedural story with consistent, jarring flashbacks. It's an experimental viewing experience, slowing burning its way to a climax rather than throwing all the detective work in your face. Some will enjoy it, others may yawn through it, but most will appreciate its exploratory storytelling ― which lets Adams, the cynosure of the series, absolutely shine. 
"We decided very early on that we weren't going to do voiceover, and I think that had a big impact on how we would film it and the vibe of it all," Flynn said during a Build Series interview last week. "The way that we would then go in and out of Camille's memories, which are such a huge part of this story, [is] triggered by these sense places as she walks throughout her day and goes throughout the town of Wind Gap, [Missouri], where she's gone back to. It gives us a much more dreamy and unsettling feel." 
Camille is the narrator in the book, and she helpfully alerts readers to her flashbacks. But in the TV miniseries, Adams' character remains mostly silent. Viewers peer into her memories without direction as she takes a swig of vodka, listens to a morose song or submerges herself in a hot bath. Vallée prefers to let the characters' actions do most of the talking and purposely fills in plot gaps piece by piece with shots that would typically be considered throwaways. For example, he gives viewers insight into the day-to-day rituals of the residents of Wind Gap by splicing in clips of breakfast food, candles and window fans amid silence, alerting us to pay attention to every detail. 
"That's what Jean-Marc did really well, is create this feeling of freedom and naturalism while also having to provide a lot of information ... because we are trying to solve a murder," Adams said in the same interview. "It was really fun to have both worlds existing at the same time and creating this sort of dream-like state, constantly trying to grasp reality." 
"He's got a great cinematic language that's really his own," added co-star Chris Messina, who plays Detective Richard Willis on the show.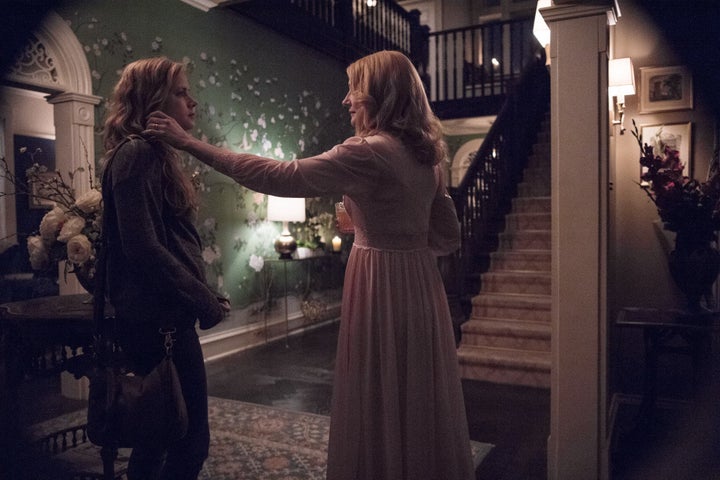 Vallée, best known for "Dallas Buyers Club," "Wild" and breakout HBO series "Big Little Lies," relies heavily on music, montages and alternative footage to lead his stories. Noxon, however, prefers to focus on the script. The marriage between the two is what makes "Sharp Objects" a compelling watch. 
Noxon, the creator of "UnREAL" and "Dietland," admitted that she and fellow producers, including Jessica Rhoades, Flynn and Adams, went "toe-to-toe" with Vallée over the screenplay. 
"It was over the nuance of language because Jean-Marc is ... much more interested in imagery and telling stories through pictures," Noxon told Vulture.
We see this mesmerizing combination of visuals and dialogue in a mid-season scene, in which Detective Willis walks through Camille's family home with her overbearing mother and town matriarch Adora, wickedly played by Patricia Clarkson. As Adora discusses the historical design details in the Victorian mansion, the camera moves ever so gently around the pair, catching glimpses of a stained glass window here and perfectly coiffed curtains there.
"It's your job to see the bad," Adora tells the detective as he sips a plastic cup of beer. "I just want to remind you, there's good here too, no matter what you've might've heard."
Dressed like a Southern belle in a wide-brimmed hat and multicolored, floor-length dress, Adora then immediately asks him to take his shoes off before stepping on her ivory floor tile.
The exchange is proof of the production team's ability to translate the cinematic cues Vallée is known for into an ability to "shoot the text," as Noxon suggested ― to stay true to not only the novel's imagery but its words. Words that home in on the generational scars of Camille's family, afflicting her mother and her unruly half-sister, Amma, played by impressive newcomer Eliza Scanlen. The series shows these women inflicting psychological pain on one another in an array of ways, battling it out over appropriate party attire and half-heartedly embracing in an eerie hallway. 
Adams, for one, is ultimately magnetic as Camille, as she is in nearly every role she takes on. The actress' "Enchanted" past is nowhere to be found as she oozes the angst and uneasiness of a depressed alcoholic trying to get a grip on her own past amid a troubling investigation. If you stick around to finish "Sharp Objects," Adams' performance will surely be the reason why.
But the melding of Vallée's and Noxon's styles are what bring out Flynn's original text. Together, they help "Sharp Objects" subvert the expectations built into the whodunnit genre. The hybrid style allows for a protagonist arc more gripping than the crimes and relationships unfolding around her, and that's a detective drama we can get behind. 
"Sharp Objects" premieres Sunday at 9 p.m. on HBO. 
Calling all HuffPost superfans!
Sign up for membership to become a founding member and help shape HuffPost's next chapter
BEFORE YOU GO