This is the eleventh installment in a series titled "FABRICATIONS" that elevates the work of up-and-coming queer individuals working in the fashion world. Check back at HuffPost Gay Voices regularly to learn more about some of the designers of tomorrow and the way their work in fashion intersects with their queer identity.
Leon Wu is a queer fashion designer and founder of the ready-to-wear clothing line, Sharpe Suiting. A response to the need for clothing that fits the bodies and lives of butch, androgynous and masculine-of-center individuals, Sharpe Suiting is filling a valuable niche within the fashion world for members of the queer community. In the words of Wu, "Everyone deserves to choose for themselves what expresses who they are. Everyone deserves to be seen." Read the interview below to learn more.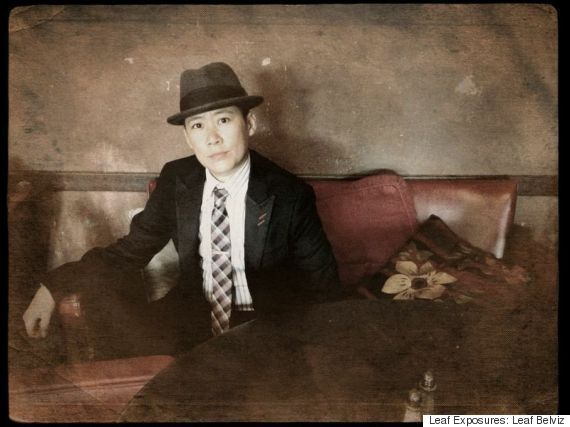 The Huffington Post: What has Sharpe Suiting's journey as a ready-to-wear queer fashion designer entailed?
Leon Wu: Fashion is identity, so the journey really began with understanding myself and how I fit into the world. At an early age, I desired to wear menswear and idolized the clothes my father wore. I would sneak into his closet and try on his clothes when my parents weren't home. When I finally physically matured into an adult, I was disappointed that I still didn't fit into his suits, my brother's, or anything else available off-the-rack in the men's section. I resorted to wearing baggy men's clothes and justified incorporating it as part of my urban style.
Several years into my adulthood after college, I co-produced one of the first Butch Fashion shows in Los Angeles with Vanessa Craig, who is now also part of the Sharpe team. Masculine or androgynous clothing that fit gender-queer bodies was still not really available during that time (circa 2005), but by then we had each developed a knack for sourcing and styling clothing to match our body types and identities. The crowd was excited about the production and we received a lot of supportive feedback.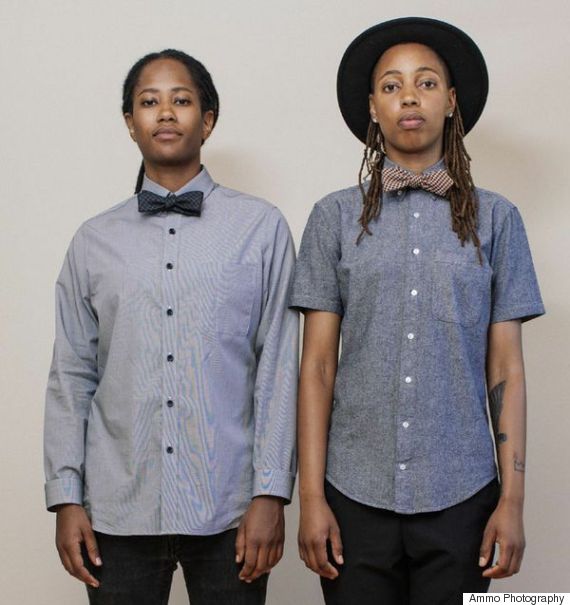 Who is your target customer? Who are you designing for?
Sharpe began designing clothing for people who are masculine-leaning or androgynous, as this was the immediate solution to issues myself and my community directly experienced. We had a very successful Kickstarter campaign to create a ready-to-wear line for this niche. During the campaign and throughout the early successes of my company, however, many cis-gendered straight men and women not only praised our mission but also voiced their concerns about feeling left out of the fashion industry as well. Christine Wu -- my sister, professor, and CEO of a biotech non-profit -- summed it up perfectly: "What about me? I don't want to be pigeonholed either. Can I get something from Sharpe too?" I saw that the issue of being excluded from the market was a much larger problem then I myself had experienced. Thus, Sharpe is now looking at the potential opportunity to broaden our market into producing and distributing unisex, fashion-forward luxury clothing for everyone.
Why is clothing like this so important?
Bridging the gap between menswear and womenswear is going to have a large social impact in that it defines the acceptance of queer identities, as well as advancing gender equality in the larger straight community. Just take corporate or office-wear as an example. Why do we necessarily need to have a separate dress code for men versus women? In my previous corporate life I could always tell when I wasn't being taken seriously when I interviewed in a suit and tie. Their preconceived notion of what I should be wearing didn't let them just see me, a well-qualified prospective employee. I learned I had to tone-it-down by perhaps leaving the tie out or going for the more androgynous no-nonsense look. Fast forward a few years I got a job working as a corporate project manager at a major entertainment studio. It was there, for the first time, I felt an enormous amount of support from my senior management and peers wearing a suit and tie to work. I finally felt seen.
At Sharpe Suiting, we don't judge clothing by an individual's gender. We will make you custom dresswear (suit, dress, etc) for whoever wants it. Everyone deserves to choose for themselves what expresses who they are. Everyone deserves to be seen.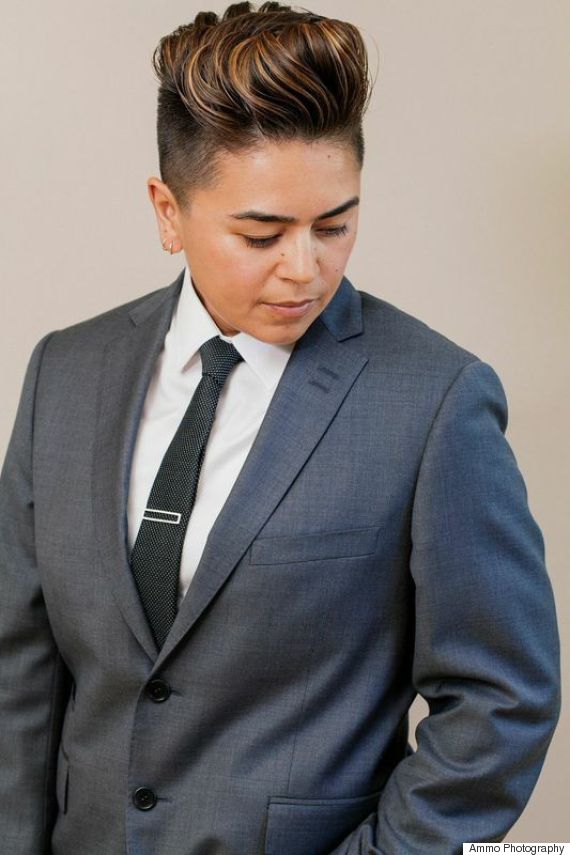 What does it mean to you to be a queer designer? How does your queer identity intersect with your work?
As a queer designer I'm able to see fashion outside of the box. Identity is based on experiences, and because I've experienced the shame, frustration, and anxiety gender-queer bodied people often do, I wanted to create not just a clothing line to fill the lack, but a place to rectify this issue of not being welcomed or accepted. We encourage all Sharpe team members to bring their histories to the table, and this inevitably produces incredible creations. For example, one of the Sharpe signature touches is the contrast double buttonhole on the lapel to symbolize the equality sign.
A suit worn should speak for the person wearing it. Is it understated with a pop of color in the lining? Is it double-breasted to inspire images of speakeasies? By understanding the queer mentality and queer bodies, we understand how to create clothing that fits like a glove and better showcases the client as a person.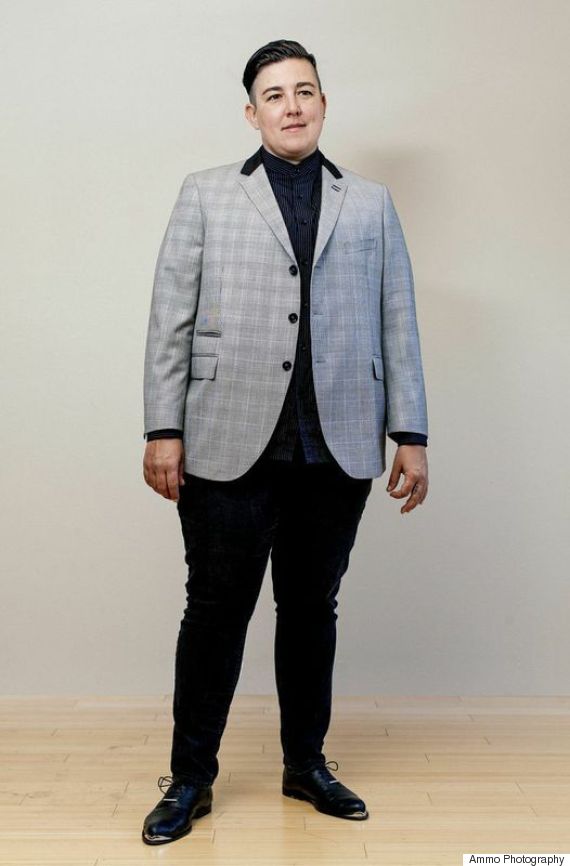 What has the reception been like in the fashion world surrounding brands such as Sharpe Suiting?
We have received an enormous amount of support inside and outside of the queer community. The majority of gender neutral or cross-gendered clothing brands have done extremely well using Kickstarter and Indiegogo, usually far surpassing their goals. From these crowd-funding campaigns alone queer fashion companies are already seeing revenues in the multi-million dollar range.
What does the future hold for Sharpe Suiting?
First things first: keep our promise in fulfilling all the goods to our supportive Kickstarter backers. We are currently in production for our first ready-to-wear line this spring which will be available on our brand new e-commerce shop this summer. Starting February 2015, we now offer bespoke dresses for our feminine-identifying patrons. Long term, we want to continue designing luxury dresswear that is inclusive as well as expressive.
Want to see more from Sharpe Suiting? Head here to check out the website. Missed the previous installments in this series? Check out the slideshow below.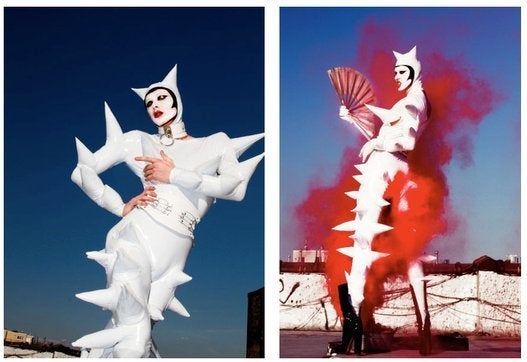 FABRICATIONS
Support HuffPost
Every Voice Matters
Popular in the Community