Like, probably, most New Yorkers, I hadn't thought much about Uber. That is, until Uber, the yuppie-slinging, app-based company that lets you hail a ride from your smartphone, stuck its nose into race politics.
The company, worth somewhere along $50 billion, brought in former Barack Obama campaign manager David Plouffe to help mold its political campaign as it tried strong-arming the city for less regulation.
Last week Plouffe met with political opportunist-in-chief, the Reverend Al Sharpton. That might make sense for Uber, which is fighting the the New York City Council and Mayor Bill de Blasio on a temporary cap of Uber business. Sharpton, a loyal lapdog of Obama, sent a representative to an Uber press conference in Harlem where this was uttered:
"If [Eric] Garner had a job, today he would be alive..."
It was the week leading up to the one year mark of the day Eric Garner was choked to death by NYPD detective Daniel Pantaleo. Uber had put together a smattering of black politicians and clergy members to denounce the city's bid to cap the number of Uber drivers while it conducted a traffic study. The disgusting remark, clumsily trying to tie in police killing of unarmed black people to having "a job" was made by Gerald Seabrooks, a bishop from Brooklyn. Other black so-called leaders included Bronx Assemblyman Michael Blake, who's recently been parading around with counterfeit reform group Justice League, which in turn is co-led by Tamika Mallory, Sharpton's former national executive director at National Action Network (stay with me now).
The crux of the argument goes that limiting Uber actually discriminates against black and brown people, who not only can work for Uber, but can benefit as Uber's customers, which has 25% of its business in the outer-boroughs. Traditional taxicabs (the natural opponents of Uber's growing market power) have notorious track record going back to my childhood of not liking to pick up black people in New York. However the Uber talking points mean that 75% of Uber business serves richie rich Manhattan. And that's generally how I've seen Uber: the latest in another techy-capitalist improvement to the lives of yuppies and gentrifiers. Throw in the fact that service in the outer-boroughs, like gentrified Brooklyn, could just as much serve slightly-less-rich drunk white kids, then the Uber-as-racial-equalizer argument seems pretty flaccid.
But if this all sounds familiar, it's probably because it's not unlike the charter school shtick we've had ringside seats to for years. Charter advocates have argued that the charter industry needs to grow, an argument also made on racial justice grounds. As a former charter parent who's fought to save one (and written on it), my feelings on charters are complex--but ultimately oppose the histrionics of people like Eva Moskowitz, CEO of a powerful charter chain, Success Academies, which also attacked de Blasio when he only approved 14 of 17 charters.
The superficial racial justice stuff in the charter advocacy (which actually has some bona fide kernels that we won't get into here) was always meant to distract from the meat and potatoes of the agenda. With both charters and Uber there's a mix of tricky race and labor politics. Charters critics saw the movement as a way to gut the teacher's unions while charter advocates suggested the mostly white unions cared more for themselves than the poor black and brown students they taught. Similarly some see Uber as a threat to the taxi industry, while Uber predictably describes taxi drivers, almost all immigrants, as some powerful "special interest" group.
Putting aside the face-palming back and forth of one interest group calling out another for being an interest group, the great Uber debate heating up in New York is an interesting one. The growth of app-based hyper capitalism has had Hillary Clinton chime in. And while the majority of New Yorkers are more concerned with paying basic rent, the AirBnB debate drew the fascination of media just last year.
Is an app-economy one we want to live in?
We already kind of live in one, anyway. The city, regardless of the politics with the Uber cap, is already part of the app-society, with numerous services contoured for the smartphone-obsessed citizen. I myself am usually disgusted with the general idea of finding profit at every opportunity, not to mention technology created to fuel that desire. So I was glad when MonkeyPark, an app designed to enable people sell parking spots, was shut down in San Francisco. However SpotPog, a similar credit-based app, has launched in Brooklyn with the support of local politicians.
The apps keep coming, with people and politics playing catch up.
It may be more complicated for other people, though. During a rare (for me) cab ride last year, the taxi driver told me he moonlighted as an Uber driver. He shared the medallion with another driver and was generally pleased with some extra income. He was also more comfortable picking up Uber hails because he thought street hails still posed some safety risks. Hannington Dia, a friend and fellow activist, drove for Uber last year but gave that up after complications around the car he shared. He now does messenger work for Uber on bike and isn't for or against the company necessarily, although he notes Uber, which has no benefits or worker protections (or workers, technically--independent contractors), has been cutting wages and bonuses recently.
With Uber's courting of Sharpton, the bullshit-radar is starting to pick up some pings. Lord knows what benedictions Uber has bought for itself from Reverend Sharpton, whose big birthday party last year was sponsored by the likes of Walmart, McDonalds and Forest City Ratner, a powerful real estate firm. Walmart was good enough to achieve "preacher level" while Forest City Ratner only got "activist level". De Blasio, still politically kissing Sharpton's ring then, called the party one "fit for a king".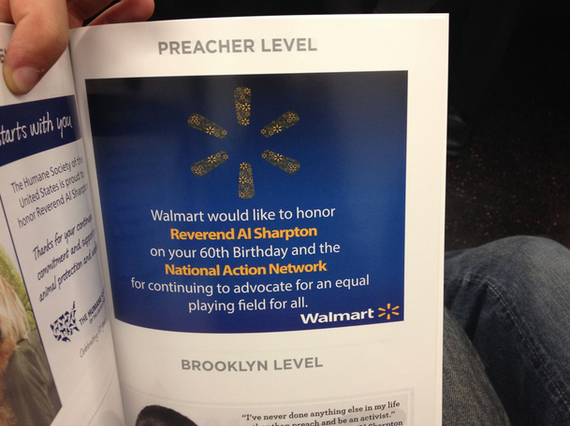 Calling all HuffPost superfans!
Sign up for membership to become a founding member and help shape HuffPost's next chapter