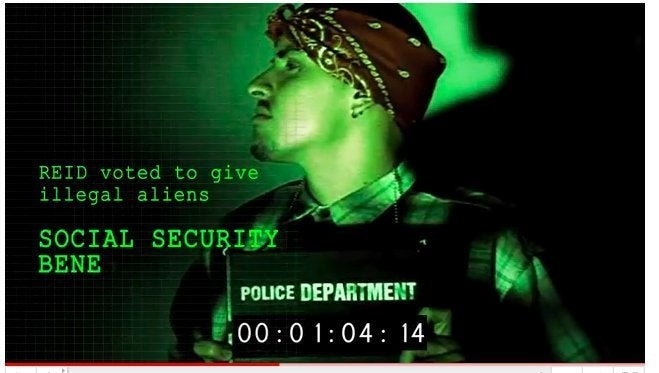 Sharron Angle and Harry Reid are entangled in a neck-and-neck race for Nevada's Senate seat, and the Republican nominee is out with another vicious ad that links the Senate Majority Leader to threatening Latinos.
In the new ad, "The Wave," a narrator warns of "waves of illegal aliens streaming across our border, joining violent gangs, forcing families to live in fear." Accompanying the message is footage of intimidating-looking Latinos strolling down a dark alley. The ad cuts to a black-and-white photo of four hostile men, one of whom is holding a gun. Continuing, the narrator delivers the rest of the message as unflattering pictures of Reid are mixed with ominous photos of more Latinos.
And what's Harry Reid doing about it? Voting to give illegal aliens social security benefits, tax breaks and college tuition. Voting against declaring English our national language twice, and even siding with Obama and the president of Mexico to block Arizona's tough new immigration law. Harry Reid. It's clear whose side he's on, and it's not yours.
Angle's ad is especially brazen as it comes on the heels of a bizarre exchange in which she unconvincingly denied that one of her other immigrant-bashing spots clearly showed Latinos.
On Sunday, Rachel Maddow blasted Angle on "Meet the Press" for running "the most overtly racist ad" of 2010, which showed "a group of white college students being menaced by some tough-looking Latinos."
Angle has repeatedly proven unafraid to vilify Latinos in her campaign ads. Scroll down to see the latest.