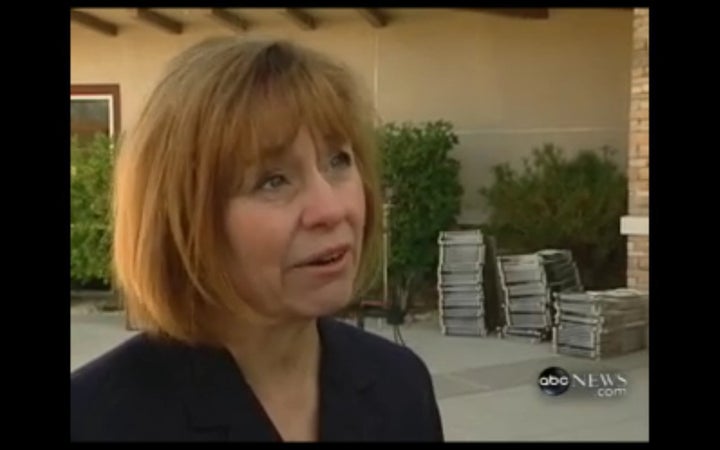 Tea Party-backed Nevada Senate candidate Sharron Angle again fielded questions about some of her more controversial statements Wednesday, including those about "Second Amendment remedies" and "domestic enemies" in Congress, and again chose to explain them as perfectly acceptable and logical rather than walk them back.
Asked by ABC News's Jon Karl to clarify an earlier conversation regarding the role of "Second Amendment remedies" in combating a "tyrannical" government, Sharron Angle at first shied away from the answer, then claimed that the entire exchange was taken out of context. In the end, however, she maintained that she believed a "revolutionary situation" was indeed "possible."
KARL: And of course, Jefferson said the tree of liberty needs to be fed with the blood of tyrants from time to time. But do you really can you foresee us getting into a situation where there is such anger in this country that we're in a revolutionary situation again?

ANGLE: Well, I think at the conclusion of that discussion, I said I hope not.

KARL: But, but you think it's possible? I mean hoping...

ANGLE: Well, of course, anything is possible, I suppose.
Karl then pressed Angle on her comments concerning so-called "domestic enemies in Congress," to which she again replied that the original statement was removed from its intended context.
Here's how Angle expounded on the remarks:
ANGLE: In context, we were talking about the policies of the government that have really caused problems for us in the past 18 months. We have seen policies come down that have really become the enemy of the people.

KARL: Do we have enemies of the country in the halls of Congress?

ANGLE: Certainly people who pass these kinds of policies -- Obamacare, cap and trade, stimulus, bailout -- they're certainly not friends to the free market system.

KARL: So, so what are they?

ANGLE: (laughs) They're not friends.
Angle has been provided with ample opportunities to walk back her usage of both the "Second Amendment remedy" and "domestic enemies" phrases, yet each time she has instead chosen to justify them and attack the context in which the media has chosen to place them.
In an interview with CNN earlier this week, Angle played down the importance of her rhetoric -- which has triggered many attacks from her opponent, Senate Majority Leader Harry Reid -- and announced that she would in fact be a "mainstream senator," a claim that she repeated in her interview with ABC News.
Watch Sharron Angle on ABC News's "Top Line":
Popular in the Community