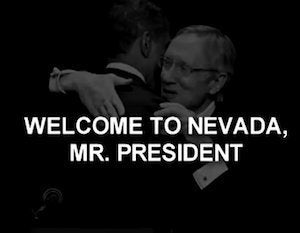 In the final weeks of her campaign to unseat Senate Majority Leader Harry Reid, Nevada Republican Senate candidate Sharron Angle is out with a new attack ad taking aim at President Obama as he heads to the Silver State to rev up support for the Democratic incumbent's campaign.
The 60-second spot from the Tea Party-backed contender -- titled "Welcome to Nevada, Mr. President" -- is being promoted by Republicans with the line "Team Angle Launches First Ad of 2012." It features footage of then-presidential candidate Obama from the 2008 campaign and aims to capitalize on the issue of the economy, which has taken center stage in the heated Senate race.
As Obama is shown speaking directly to the devastating nature of the financial situation, audio overlays the clip with supporters chanting his name. "The truth is that while you've been living up to your responsibilities, Washington has not," says the then-presidential hopeful.
Text reading, "In 2008, we were promised change we could believe in," then flashes across the screen before a clip of Obama after essentially securing the Democratic nomination in June of that year, "This was the moment when the rise of the oceans began to slow and our planet began to heal. This is the moment when we ended the war and secured our nation and restored our image as the last best hop on earth."
At the conclusion of the hard-hitting ad, a montage of images of Obama alongside Reid appear with dire economic issues for Nevadans highlighted across the screen.
"In 2008, Nevadans were promised change they could believe in," explained Angle spokesman Jerry Stacy of the line of attack. "Now Reid has mistakenly decided that President Obama is the answer to his campaign woes. What they don't realize is that Nevadans don't want to buy what they are selling," said Angle spokesman Jerry Stacy. "This election will be a referendum on the failed policies of Harry Reid and his co-conspirator President Obama. Here's hoping President Obama decides to stick around for awhile. It can only help Sharron Angle."
Kelly Steele, spokesman for Reid's campaign, responded to the attack by calling Angle, "pathological," Politico reports. "On every single issue, Sharron Angle's extreme and dangerous agenda for Nevada would only make tough economic times worse."
Calling all HuffPost superfans!
Sign up for membership to become a founding member and help shape HuffPost's next chapter