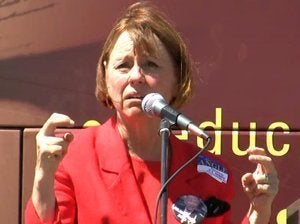 Speaking at a Tea Party rally last year, Nevada Republican Senate candidate Sharron Angle appeared to mock the notion that health care coverage for autism treatment and maternity leave should be mandated.
"Take off the mandates for coverage in the state of Nevada and all over the United States," she charged in making remarks that were captured on camera and now are being circulated by the Nevada State Democratic Party. "You know what I'm talking about. You're paying for things that you don't even need. They just passed the latest one, is everything that they want to throw at us now is covered under 'autism'."
In video shot of Angle making the criticism, she can be seen making air quotes as she says "autism."
The Tea Party darling went on to say, "So, that's a mandate that you have to pay for. How about maternity leave? I'm not going to have anymore babies, but I sure get to pay for it on my insurance. Those are the kinds of things that we want to get rid of."
Nevada-based station My News 4 reports:
Her comments regarding autism coverage refer to Assembly Bill 162, which passed with sweeping bipartisan support in the Nevada Legislature in 2009. Only two Nevada legislators voted no on the bill: Assemblyman Ed Goedhart, R-Amargosa, Churchill, Esmeralda, Lincoln, Mineral, Nye counties, and AssemblymanDon Gustavson, R-Sparks, Humboldt, Lander, Washoe counties. The bill passed 60-2 in both houses with one legislator absent.
The Las Vegas Sun first reported on the clip of Angle's comments coming to light on Wednesday.
Angle is vying to unseat Senate Majority Leader Harry Reid in November. The four-term incumbent's camp didn't hold back in reacting to the matter.
In a statement, Reid campaign spokesman Kelly Steele said, "Sharron Angle's extreme and dangerous agenda for Nevada has included some exceptionally callous rhetoric, including calling out-of-work Nevadans 'spoiled' by unemployment benefits and saying that rape victims should 'make lemons into lemonade' by having their attacker's child, but mocking those suffering with autism - and in fact scapegoating their coverage for our nation's current health care woes - is exceptionally cruel and represents a new low, even for Sharron Angle."
WATCH: Angle Slams Mandated Health Care Coverage For Autism Treatment, Maternity Leave
Popular in the Community