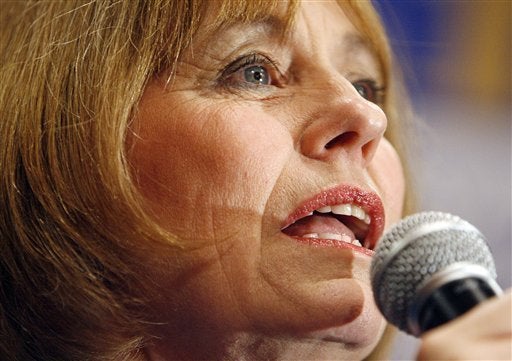 Nevada Republican Senate candidate Sharron Angle once partook in a campaign against a local high school's use of black football jerseys, arguing that the dark color was ungodly and wicked, Bill Roberts of Nevada's Pahrump Valley Times recently reported.
It was Homecoming of 1992 and Nevada's Tonopah High School football was seeking to depart from their school colors, specifically in wearing black jerseys instead of the usual red and white. The uniform change was meant to be a display of solidarity; the year before, the team had suffered an embarrassing loss at the hands of a rival that had, up to that point, been winless. The Homecoming game in 1992 was their chance to make up for that plaguing defeat in front of the whole school, and they wanted to do something special to build the team's spirits.
Enter Sharron Angle and her color-crusading cohort.
While some detractors made the argument that adopting the new color was unacceptable simply as a breach of tradition, Angle -- who was in the midst of an eventually successful campaign for school board -- and others argued that wearing black jerseys was closer to sacrilege.
"I cannot quote scripture as they did to justify their point but the gist of their argument was that black as a color was thoroughly evil, invoking the supernatural and especially the devil," Roberts reports. "Whichever argument prevailed, school administrators caved in and prohibited the Muckers from wearing the black apparel."
The black uniforms were then confiscated and held under "lock and key" by the administration, which refused to compensate the team for the money they had spent acquiring the jerseys.
Though Sharron Angle sought to downplay the nearly 20-year old incident at a press conference Wednesday, claiming that she had "no recollection of the controversy or any position she may have taken," such a stance would not be entirely uncharacteristic of the deeply religious Senate candidate that Angle has shown herself to be since capturing her primary victory in June.
From the "the beginning," Angle has described her campaign as divinely inspired, and said in July that she believed God had called on her to run for the U.S. Senate. She has also repeatedly made clear her positions on abortion -- that it shouldn't be accepted even in the cases of rape or incest -- and has expressed skepticism over the true necessity for a separation of church and state. Earlier this month, Angle painted the Democratic agenda as a "violation of the First Commandment," because it supposedly created idolatry in making the "government our God" with entitlement programs. Just a day later, she filled out a questionnaire of her religious views that uncovered her dislike of gay adoption, her support for the clergy taking part in politics, and a promise not to take money from any PAC or corporation that supported gay rights.
Popular in the Community