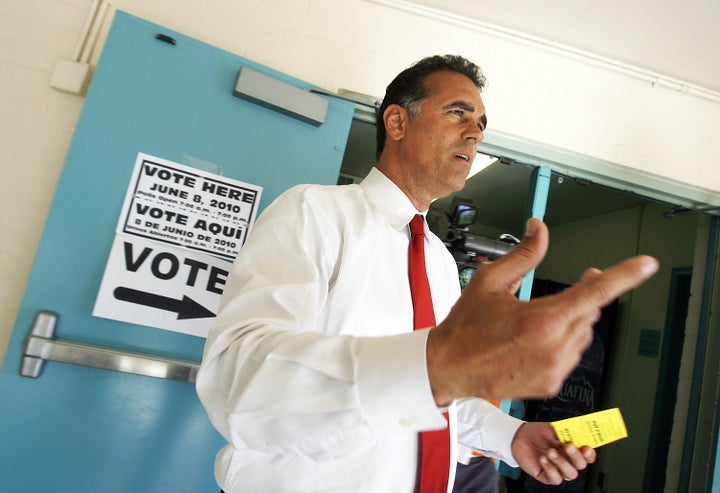 A surrogate for Nevada GOP Senate candidate Sharron Angle is saying that advocating "Second Amendment remedies" in order to effect political change is going too far and revealing that he was pressured to push such comments by some Republicans while running for the Senate.
In a Sept. 8 interview on the Mike Wiley Radio Show, Danny Tarkanian, who lost the GOP primary to Angle, said such statements -- which were floated by Angle -- were "a little bit extreme." From the exchange, captured by Jon Ralston of the Las Vegas Sun:
Reid's been attacking her on her comments saying that we have Second Amendment remedies, and I don't know exactly what quote that he's been using, and even if it's an accurate quote because he's misquoted her sometimes, that she had said we ought to use Second Amendment remedies if Congress doesn't change their direction. Now, I've been on the campaign trail, and I heard a lot of people say to me, you know, why do we have our Second Amendment rights, it's to, so the public can overthrow the government if they fail to respond to the government's will. That may be all good and well, but I'm not going to take the position that we need a civil uprising to overthrow our government.
What's perhaps more interesting is his admission that many people in the Republican Party were encouraging him to advocate a civil insurrection if Congress doesn't change hands. "I had people that were upset at me in the campaign that I wouldn't go as far to agree that there should be a civil uprising," he said, adding that there were "people in the Republican Party that, when I was campaigning, wanted me to go that far to say that." He was sure to add that he wasn't necessarily saying that Angle was calling for these extreme measures.
Popular in the Community