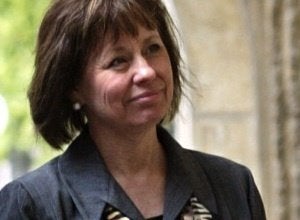 Despite coming under scrutiny for expressing a wide variety of controversial views, Republican candidate Sharron Angle insists that if elected to the U.S. Senate she'll "be a mainstream senator."
The Tea Party-backed hopeful, who is challenging Senate Majority Leader Harry Reid, made the assertion when CNN cameras caught up with her this week on her home turf in Las Vegas, Nevada.
In a twist of irony, when reporters from the network asked Angle about some of her most eyebrow-raising claims that have made headlines over the course of her campaign, the conservative candidate declined to walk back, or even explain, her remarks.
In a January appearance on the Reno, Nevada-based Bill Manders Show, Angle implied the purpose of the Second Amendment right to bear arms might be to keep the federal government in check. "I'm hoping that we're not getting to Second Amendment remedies. I hope that the vote will be the cure for the Harry Reid problems," she said, generating a slew of questions about her intent.

When CNN asked about Angle's ominous-sounding warning, she laughed off the notion she was promoting an armed revolution. "Those are not the issues people are concerned about. They're concerned about our economy, our homes, our jobs. That's what people are concerned about," she said, not offering an explanation of her remarks.
Angle also refused for the third time in recent weeks to disavow a suggestion she made last year that some members of congress can be classified as "domestic enemies."
Greg Sargent at the Washington Post reports on how the Nevada candidate reacted to the matter when it was raised by a conservative talk show host last month:
Angle was given two clear chances to disavow the claim that there are "domestic enemies" within Congress, an assertion she previously expressed unequivocal agreement with. Both times, Angle refused.
And, on Tuesday morning, Angle rejected yet another opportunity to walk back her controversial remarks. Sargent relays the exchange that went down between the GOP contender and ABC News' Jonathan Karl:
ABC NEWS: Do we have enemies of the country inside the walls of Congress?

ANGLE: Certainly people who pass these kinds of policies -- Obamacare, cap and trade, stimulus, bailout -- they're certainly not friends to the free market system.

ABC NEWS: So, what are they?

ANGLE: They're not friends.
It should come as no surprise that even in the wake of stirring controversy, Angle still contends her positions are not inherently extreme. On the heels of her come-from-nowhere primary win back in May, Angle suggested that she's "more mainstream" than Reid and that the four-term incumbent is the real "whack job candidate" running in the Nevada race.
"As you speak, as we're conversationally speaking, sometimes when you pick out words, they're not the best words you could have used," explained Angle to CNN. "When taken out of context, you can make anybody look like they don't know what they're talking about."
As for Reid, the Senate leader told CNN, "It's a little hard to take out of context when they say they want to phase out Social Security." He added, "Her words are what she is. My words are what I am. So I don't think you can run from what you say and what you do."
Popular in the Community