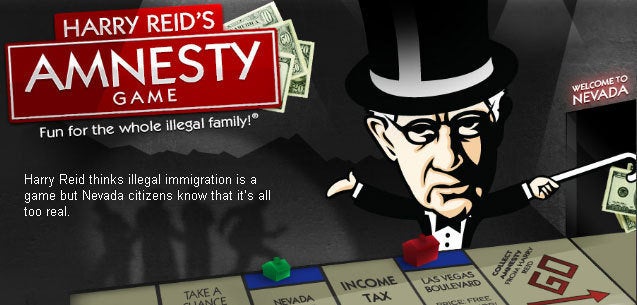 WASHINGTON -- Toymaker Hasbro has sent Sharron Angle's Senate campaign a cease and desist letter, saying the Nevada Republican never received permission to use the rights to Monopoly for its "Harry Reid Amnesty Game" website.
"The MONOPOLY image that you are referring to was used without permission -- and our legal department sent a cease and desist letter via fax to Ms. Angle's offices on Friday," said Hasbro spokesman Pat Riso in a statement to The Huffington Post on Monday.
As of the publishing of this piece, however, the site remained up, and Riso said that they have not yet heard anything from the Angle campaign. An Angle spokesman did not respond to a request for comment from The Huffington Post.
The Angle campaign launched its website last week as an attack on Senate Majority Leader Harry Reid's (D-Nev.) positions on immigration, touting the game as "fun for the whole illegal family." "Harry Reid thinks illegal immigration is a game but Nevada citizens know that it's all too real," reads the front page of the site.
The letter from Hasbro's counsel points out the similarities between Monopoly and the amnesty game, such as the property squares, "Go" corner, similar font styles, the Chance and Community chest cards, the title deeds and the fact that Reid is "made out to look like the MR. MONOPOLY® character."
"Hasbro has consistently sought to prevent the use of its popular family-oriented products in political campaigns," reads the cease and desist letter. "Aside from the strictly legal aspects of the matter, we hope that you would respect Hasbro's desire to avoid associations of its toys and games with partisan politics and that you would understand the damage that can be done to the image of the company and its products from such an association, regardless of person, party, or issue for which they are used."
The Angle campaign also ran into intellectual property trouble in September, when it was sued for reprinting two Las Vegas Review-Journal on its website without receiving permission.
*************************
What's happening in your district? The Huffington Post wants to know about all the campaign ads, debates, town halls, mailings, shenanigans, and other interesting campaign news happening by you. E-mail us any tips, videos, audio files, and photos to election@huffingtonpost.com.
Popular in the Community