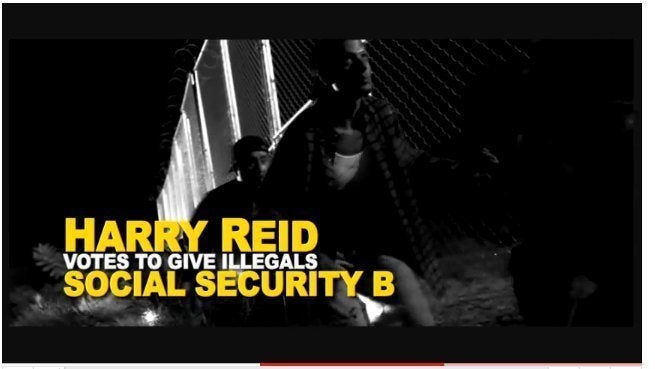 LAS VEGAS — U.S. Senate candidate Sharron Angle defended a series of campaign advertisements that use images of sullen, dark-skinned men and a map of Mexico to blast rival Sen. Harry Reid's immigration record.
Angle, a tea party favorite who has rallied for stricter border enforcement, played down her usual conservative rhetoric in a brief discussion with a Hispanic high school group Friday in Las Vegas. The students asked her to explain her repeated use of TV spots denounced by national pro-immigrant and Hispanic organizations as race-baiting attacks.
"I think that you're misinterpreting those commercials," Angle is seen telling the students in a video of the private meeting obtained by The Associated Press.
"I'm not sure that those are Latinos in that commercial. What it is, is a fence and there are people coming across that fence. What we know is that our northern border is where the terrorists came through. That's the most porous border that we have. We cannot allow terrorists, we cannot allow anyone to come across our border if we don't know why they're coming. So, we have to secure all of our borders and that's what that was about, is border security."
Rancho High School teacher Isaac Barron said his students organized the meeting with Angle Friday because they felt the ads stereotyped young Hispanics. Barron, a Democrat, said Angle's explanation was met with incredulous stares.
"Some of the kids, they couldn't help but chuckle at that," he said. "To deny they are anti-Hispanic when those are the only people shown in her ads, it doesn't add up."
Hispanics are an increasingly important voting bloc in Nevada, where they make up roughly 25 percent of the population. More than 80 percent of the Silver State's Hispanics hail from Mexico.
Reid has tried to brand Angle as "too extreme" in the tight race.
The Democrat is counting on the Hispanic vote to secure his fifth term and has also tailored his message on immigration to the crowd he is addressing. To mainstream audiences, he has touted his votes to beef up border security. To Hispanic crowds, he has vowed to make the road to citizenship more inclusive.
Angle's campaign has released more than five TV spots that accuse Reid, the Senate majority leader, of offering special breaks to illegal immigrants. The ads have drawn criticism from some immigration advocates worried that such messages encourage discrimination against Hispanics.
"Basically she is using the politics of fear and trying to tell Americans that, 'we are being invaded by Mexicans, so vote for me,'" said Lynn Tramonte, director deputy of America's Voice.
Angle campaign spokesman Jarrod Agen, who said Reid was "pro-amnesty," would not say why the images were chosen for the ads.
"Sharron has said several times before that illegal immigration is not about race, it is about the rule of law in this country," he said in an e-mail.
Agen said one of the most criticized images, a still of three stony-faced Hispanic men, was bought from Getty Images Inc. The Getty caption notes that the image is of Mexican men in Mexico.
Popular in the Community