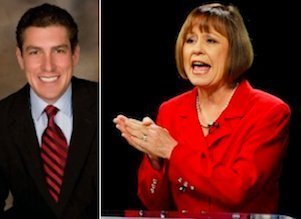 With Nevada's midterm election just weeks away, conservative Senate hopeful Jon Scott Ashjian -- a little known candidate who will appear on the state's ballot with the affiliation "Tea Party" next to his name -- is leveling charges against Republican rival Sharron Angle that could threaten to derail her campaign.
In an exclusive interview with ABC News's Jonathan Karl on Monday, Ashjian didn't mince words in taking shots at Angle over her credibility and competence to represent Nevadans on Capitol Hill in Washington, DC.
"I'm saying that Sharron Angle lies on her issues," he explained. "She's come off 100 percent of where she was in the beginning when I supported her, compared to where she is today. She went to Washington, DC, where you're from, and got schooled on what to say, when to say it, and how to say it. And, at the end of the day she's turned into the consummate politician."
Angle has admitted herself that the nature of her message has undergone a transformation over the course of her campaign. Speaking to the changes that have taken place from the primary to general election season, she told the Las Vegas Review Journal editorial board over the summer, "Understand, the rhetoric of a primary is a little different because obviously your audience is a little different so you're going to say things in a little more guarded way when you get into a general election precisely since your opponent is looking to cut up your words."
In speaking out against Angle, Ashjian pointed out that many big names in the Nevada GOP community have come out and voiced support for Senate Majority Leader Harry Reid, who the latest polls show to be extremely vulnerable in achieving success in his reelection campaign.
Nevada State Sen. Bill Raggio, who is considered to be one of the most influential GOP lawmakers in the Silver State, recently announced he would endorse Reid over Angle. Having served in the state legislature since 1972, he told political journalist Jon Ralston that never before in his long career had he lined up behind a Democrat.
"Most of the Republican leadership does not support Sharron Angle because she cannot get a deal done," explained Ashjian. "She's not a negotiator, she's not a deal maker. She will not, um, she is a product of the federal government that she complains against. She's lied about her retirement, her health care, and everything else involved. Harry Reid is Harry Reid. Probably the worst two words in Nevada is Harry Reid."
When pressed on who he would prefer represent his state in the Senate -- Reid or Angle -- Ashjian was noncommittal in offering up a response. He explained, "I think that as far as competence goes, or maybe, intellect goes, Harry Reid is probably a smarter person than Angle. Angle is, her claim to fame is 41 to Angle. That tells me that she has no ability to get a deal done, by any means."
Back in August, Angle herself vowed to bring a "just say no" mantra to the upper congressional chamber when given the chance to cast an up or down vote on legislation.
Regardless of any motive Ashjian may have in taking such harsh shots at Angle, his criticism comes with the potential to sway Nevada's highly contentious Senate race. The fact that speculation has swirled around how the Nevada ballot featuring "None of These Candidates" as an option could determine the outcome of the race underscores that in the Reid-Angle match-up, every vote counts.
Ashjian may get no more than a percent or two of the vote, but if those votes come from Angle, that could be enough to assure a victory for Reid, who can only win if some of the anti-Reid voters check boxes for third party candidates like Ashjian (there are 6 of them on the ballot) or "none the above."

That's why a pro-Reid organization called Patriot Majority is running radio ads now supporting Ashjian.
REAL LIFE. REAL NEWS. REAL VOICES.
Help us tell more of the stories that matter from voices that too often remain unheard.