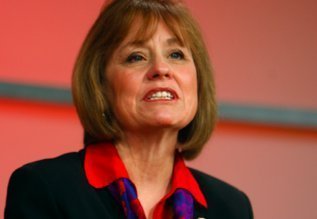 (AP) - A statewide poll says Sharron Angle appears to hold a clear lead in the U.S. Senate Republican primary.
The poll for the Las Vegas Review-Journal indicates the Tea Party candidate is favored to win Tuesday's primary. The poll was published Sunday.
According to the poll, 32 percent of voters surveyed last week said they would vote for Angle, a former Reno assemblywoman.
The poll says 24 percent said they would vote for Danny Tarkanian and 23 percent said they favored former front-runner Sue Lowden.
And 13 percent said they were still undecided.
Mason-Dixon Polling & Research of Washington, D.C., conducted the telephone survey Tuesday through Thursday.