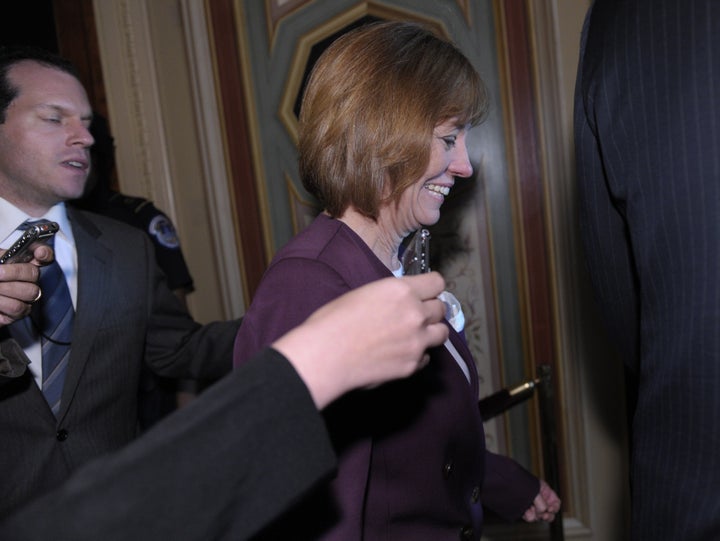 Nevada Senate candidate Sharron Angle spoke candidly about her reluctance to grant face time to media outlets over the weekend, facing voters at a Las Vegas event that was -- ironically enough -- closed to the press.
"We always say, 'If the press comes knocking, don't say anything,'" Angle said Saturday, according to a report in the Las Vegas Sun.
The Sun reports that the comments came in the context of a larger rebuke of the press, with which Angle's relationship has been markedly strained.
Angle and [conservative radio show host Heidi] Harris also took several opportunities to bash the mainstream media, which Angle has snubbed throughout her campaign, favoring instead conservative pundits who ask her softball questions and allow her to solicit donations -- both of which Harris, who called political reporters "little cockroaches" -- did Saturday.
Angle has been notoriously camera shy on a number of instances since winning the GOP Senate nomination earlier this year.
After receiving heavy criticism for the beliefs that she espoused in a number of interviews both before and after her primary victory, Angle's media blockade became more pronounced.
Angle gave reporters the slip following a press conference held for her in July, and when confronted, chose simply to ignore the questions.
The Tea Party-backed candidate has, in the past, been very matter-of-fact in explaining her view on the media, which she seems to view as a promotional tool.
In August, Sharron Angle granted Fox News an interview and explained rather bluntly that she wanted reporters to "ask the questions we want to answer so that they report the news the way we want it to be reported."
In an interview with Christian Broadcasting News over the summer, Angle also explained that she should be able to profit from the sources she chooses to talk to.
"In that audience, will they let me say I need $25 dollars from a million people go to Sharron Angle.com send money? Will they let me say that?" she said.
Calling all HuffPost superfans!
Sign up for membership to become a founding member and help shape HuffPost's next chapter