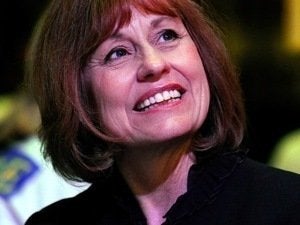 Republican U.S. Senate hopeful Sharron Angle says the nation's Social Security system needs to be privatized, and she says it was done before in Chile.
CBS affiliate 8 News Now reports on what the Tea Party-backed hopeful had to say on the matter in an interview on Thursday:
...Angle's new ads say she's out to save Social Security by protecting it from government raids.

But in the primary, she said that Medicare and Social Security needed to be phased out in favor of something privatized, saying, that it can't be fixed. 8 News NOW asked how is that not a flip flop.

"It is when we have a $2.5 trillion raid and pillaging going on and an empty trust fund and now we are upside down. As of last Friday, they said, (there was a) $41 billion shortfall in Social Security. $41 billion less going in than coming out. It's broken," she said.
Angle then referred to 1980s Chile -- then under a military dictatorship -- to explain her previous statements that the United States should phase out its current system.
"When I said privatize, that's what I meant," explained the Senate contender. "That I thought we would just have to go to the private sector for a template on how this is supposed to be done. However, I've since been studying and Chile has done this."
However, the pension system established in 1981 by right-wing Chilean dictator Augusto Pinochet is no longer a fully private system. Chile's system was revamped in 2008 to expand public pensions for groups left out of its system, including low-income seniors.
The tea party favorite challenging Democratic Senate Majority Leader Harry Reid says the current U.S. system is broken.
In a new campaign ad, the GOP candidate claims she wants to "save Social Security" and takes aim at the incumbent Senator:
Reid and Democrats say Angle's ideas about Social Security are extreme. The Senate leader's camp hasn't shied away from blasting the conservative contender on her stance and apparent flip-flops on the issue.
"Before her D.C. handlers put a muzzle on her, Sharron Angle spent her entire political career loudly and proudly denouncing Social Security and promising to dismantle the program entirely," said Reid spokesman Kelly Steele, the Las Vegas Sun reports. "At this point, she must believe that Nevada voters...are ignorant or they have amnesia."
Reid's camp deployed the following web ad this week in attempt to score points with voters over Angle's posture towards the Social Security issue:
Calling all HuffPost superfans!
Sign up for membership to become a founding member and help shape HuffPost's next chapter