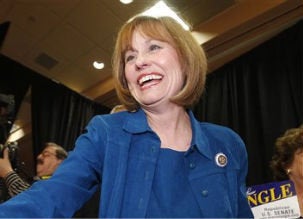 Since winning the Republican nomination in the Nevada Senate race Sharron Angle has drawn attention and controversy for a host of conservative policy prescriptions that seem well outside the political mainstream. Now, a Democratic source has passed along a radio interview she did back in January 2010 that could end up topping the list.
In an segment that has gone unnoticed since it first aired, the Tea Party-backed candidate told the Bill Manders show -- a favorable platform for Republican candidates -- that she opposed abortion even in cases of rape and incest. A pregnancy under those circumstances, she said, was "God's plan."
Here's a transcript of the exchange:
Manders: I, too, am pro life but I'm also pro choice, do you understand what I mean when I say that.

Angle: I'm pro responsible choice. There is choice to abstain choice to do contraception. There are all kind of good choices.

Manders: Is there any reason at all for an abortion?

Angle: Not in my book.

Manders: So, in other words, rape and incest would not be something?

Angle: You know, I'm a Christian and I believe that God has a plan and a purpose for each one of our lives and that he can intercede in all kinds of situations and we need to have a little faith in many things.
This is a line of politics that certainly has appeal to a religious conservative base. Indeed, Angle used her pro-life credentials as a cudgel against her primary opponent Sue Lowden. But opposing abortion in cases of rapes and incest is such a rigid platform to adhere to, that it stands to reason Angle's position could prove extremely problematic in a general election.
The Nevada Democratic Party, for what it's worth, has highlighted the comments on their website.
This post has been updated from its original version

Popular in the Community